On Tuesday, May 29, 2012, Andy Schleck won the 2010 Tour De France. He finished 39 agonizing seconds behind Alberto Contador on the road, but the Spaniard's suspension for taking clenbuterol meant that Schleck inherited the yellow jersey. Winning a proxy war against Contador was a cruel way to bag his first grand tour, and an administrative rewriting of history was a sad, flat postscript to cycling's best rivalry of the post-Lance era.
After Armstrong retired, a sport trying to reinvent itself was haunted by an era it had supposedly moved on from. Old teammates and rivals couldn't escape Lance's toxic gravity, and doping violations abruptly brought down an entire class of Grand Tour contenders. Without Armstrong, the center could not hold. Contador was an ideal intermediary to usher in the reinvention. He cut his teeth with the Spanish ONCE/Liberty Seguros team, but won his first Tour in 2007 on Armstrong's dying Discovery Channel squad. His history was enough to establish him, and his talent looked bound to dictate the immediate future. Schleck, as a talented youngster with tenuous connections to the previous era, seemed a logical candidate to bring in a new cycling, and become a superstar on his own terms. It seemed like the two were poised to swap wins for an extended interval, like Bird and Magic in spandex. Both lined up for the Grand Depart last weekend, but under very different circumstances. The overly tidy narrative had long since unraveled.
---
The Schleck-Contador rivalry started in earnest in 2009, which was the first time both riders targeted the Tour with full backing of their teams. Contador missed the previous edition, and Schleck worked as a super domestique for eventual winner Carlos Sastre. Schleck came into the race on the strongest form of his career, winning Liege-Bastogne-Liege that April on a bracing long-range attack.
Despite having a PR-minded and mutinous Armstrong on his team, Contador shredded the field and won by over four minutes. On Stage 17, Andy Schleck and his brother Fränk engineered a bold double attack that broke the peloton. Contador was the only rider who could follow, and the three gouged out minutes from all other contenders and stormed the overall podium. Fränk paid for his efforts and gave most of that time back in the next day's time trial, but Andy held on and ended up second when the race rolled into Paris. Contador was never quite troubled by anyone besides Schleck. He had found a foil.
Contador's time-trialing ability ultimately set him apart from Schleck. His first win as a pro was in a time trial in 2003, and despite his atypical profile, he excelled against the clock. Stylistically, Contador is reminiscent of Armstrong: undersized yet elite at time trials and volatile in the mountains. He dances with his machine, rocking his head back and forth with the cadence of his pedals until he attacks. It's violent, unlike any other racer in the pro-peloton, but it gets him precious separation.
G/O Media may get a commission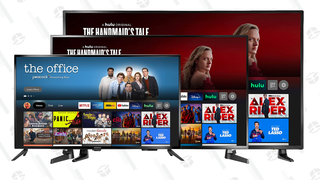 Up to 44% off
Prime Early Access - Insignia Fire TVs
Schleck is four inches taller, and doesn't have the bulk or physical geometry of an elite time trialist. Where Contador looks coiled and aerodynamic, Schleck appears angular and slight. However, the Luxembourger is a pure climber, comfortable on a hill whether he's attacking, grinding out a tempo in a group, or soloing at a steady clip. He floats, wasting no energy and maintaining a smooth, economic style while others swing their bicycles all around the road and bob their hips inefficiently. Cycling is a sport of suffering, and Schleck set himself up to suffer in a specific direction better than most.
---
The 2010 Tour was the fifth-closest edition of the race's history. Schleck rode into the yellow jersey for the first time a day after he won his first stage with a perfectly timed charge. He took a 31-second lead into Stage 15, when an already controversy-heavy Tour (there was a pretty serious fight involving bike wheels) devolved into a swarm of competing polemics. Two kilometers from the summit of Port De Bales, Schleck attacked a small group that included Contador. He abruptly stopped as his chain slipped off and he fumbled to fix his mechanical error. Contador zoomed past him and hit the gas, gapping his breakmates. Unwritten rules of the Tour say that the yellow jersey earns the benefit of the doubt in situations like this. If the race leader falls, usually nobody attacks; they wait for full reincorporation as a gesture of respect.
As Schleck crested the mountain, Contador's group was 13 seconds past the summit. Schleck eventually rolled into the finish in Bagneres-de-Luchon 39 seconds behind Contador, and eight seconds out of the lead. The moralizing and finger-pointing began immediately. Contador was booed as he received his yellow jersey. Schleck declared, "My stomach is full of anger." The incident was dubbed Chaingate, and the entire sport had a prolonged discussion about the tricky intersection between gamesmanship and implicit codes. The particularities of the incident are clouded even further by the nature of mechanical errors.
A chain slippage is not an act of God; Schleck's attack was somehow out of balance, and he popped the chain through his own force. Whether this still qualifies as something worth waiting for is unknown, because these particular rules are, at best, collective memories. Those 26 seconds Schleck lost on the descent are certainly attributable to Contador's aggression over the rest of the climb, but the road to Bagneres-de-Luchon is long, at around 20 kilometers. Whether or not Contador violated the spirit of the sport, he exposed Schleck's weaknesses as a descender and bike handler.
Lost in all of the yapping was that Schleck himself made a Contador-esque move on Stage 3. That stage was the last time the Tour utilized the dangerous cobbles of Northern France in the race. Including them is an invitation for chaos. Stick-thin overall contenders, their bodies near-emaciated for the high mountain passes, bounce all over the jaunty stones, unable to exert their will. Even the strongmen who specialize in cobbled races like Paris-Roubaix have a hard time making it through intact. Contador was caught behind a big crash and was forced to slow down and wait for officials to clear the carnage. Meanwhile, Schleck was up ahead tucked behind Fabian Cancellara, a three-time Paris-Roubaix winner, and they drove the pace mercilessly. Schleck picked up 1:13 on Contador. The Spaniard wasn't leading but he and Schleck were still rivals, and Schleck pushed an advantage.
That's what rivalry runs on. Each rider had his weaknesses and strengths, and each played his hand. Schleck used his horse of a teammate when the road tried to fight back, and Contador leveraged his superior descending and time trialing. Grand Tours tend to be decided on high mountains, but mountain stages make up only a third of any given race. Time gaps are most severe on steeper, hairier terrain, but the purpose of a Grand Tour is to be holistically difficult. Selection can happen on any stage, and that entropic madness makes them special. It's not necessarily about who can climb the best. You win a Grand Tour by being consistent and avoiding all the potential nested calamities of 92-plus hours of racing. Contador probably understood that at a more granular level than Schleck, or at least he raced like it. The rivalry hummed because the two riders were so different.
And then it all fell apart.
---
Contador's urine tested positive for clenbuterol just after the 2010, which he claims to this day was the fault of contaminated meat. He appealed the result persistently, which staved off the UCI's eventual suspension long enough for him to participate in and win the 2011 Giro D'Italia and take an exhausted fifth in the 2011 Tour a month later. He was finally suspended for six months in February 2012, and forced to miss the 2012 Giro and Tour.
Schleck finished 1:34 behind Cadel Evans for second in the 2011 Tour, his third second place in a row. He lost a little over the winning margin on Stage 16, when he was overly tentative on a slick descent and the rest of the overall contenders feasted on his hesitation. Contador was semi-anonymous, racing mostly just to race before his by-then-inevitable suspension erased whatever result he earned anyway. Schleck didn't fade out quietly. He went full knives out and won Stage 18 with a ballsy solo attack from 60 km out.
That type of move almost never works. Nobody wins like this. You have to stay away from a charging peloton, who will be highly motivated to work together if you happen to be an overall contender. Then, you have to forgo the comforts of peloton life, like easy access to food and water. These long flyers are usually reeled in quickly once enthusiasm gives way to the grim reality of two hours of solitary churning. Schleck's stuck. He charged up the legendary Galibier and won by over 2 minutes.
It was a brutal climb, his visage curled up into a smile that looked like he was in denial about some awful news. Behind him, Evans led the chase by himself. That type of internecine racing, where you can't hide behind teammates or tactics on a long, steep climb, is pure Schleck. His Galibier win was his magnum opus, an ostentatious triumph of his skill over his competitors' numbers. He has not won since.
A week before the start of the 2012 Tour, Schleck crashed hard in a time trial at the Criterium du Dauphine, the most important TDF tune-up race. Initially, he denied the severity of the crash, claiming he would finish the race and come out swinging at the Tour, a race he once again molded his whole season around. Unfortunately, he had a broken pelvis, and was forced to watch as Bradley Wiggins and Chris Froome dominated the Tour and established the Team Sky model as the stage race force it is today. The attack-swapping ways of Contador and Schleck had been replaced by Sky's corporate-boring reliance on power meters and statistics. It looked like a sea change—like the sport had found new heroes.
Worse than the injury was Schleck's inability to recover, physically or mentally. He started the last UCI World Tour race of 2012 that October, the Tour of Beijing, but abandoned. The next year, he fell into a similar pattern of optimism spiraling into abandonment. He would claim to finally be turning a corner then leave a race. Before the 2013 Tour, he finished around half the races he started. Management publicly defended his form and suggested he was instead short on motivation. A French politician infamously recounted seeing a drunk Schleck unable to operate an elevator shortly after abandoning Tirreno-Adriatico. His father publicly advised him to quit the sport. Teammates questioned his training regimen and drive. Whatever the root cause, crash or complacency, Schleck was cooked. He was phoning it in, appearing miserable and tortured. He rode to 20th in the Tour, his best result of the season, but all the spark was gone. The precocious climber who won audaciously on the Galibier was now a ghost.
Contador, who appeared to be headed toward a similar unraveling after suspension, aging, and extended time off, defied the narrative. He returned from his suspension to the Eneco Tour in August 2012 and then lined up for the Vuelta A Espana later that month, his first Grand Tour since the rushed 2011 Tour. The Vuelta is a different, more sinister race the the Tour. Where the French race features wide roads, gradual ascents, and a balanced race profile, the Vuelta embraces difficulty. Roads are sharper, narrower. Climbs are scattered throughout; even the time trials are hilly. It's the type of race that would seem to suit Contador perfectly.
But although he was in shape after his time off, a motivated Joaquim Rodriguez was a stiff match for Contador. Rodriguez is a puncheur, a climber who excels at summiting short, steep ramps. For the first 16 stages, Rodriguez dominated, winning three stages. Contador had a strong time trial, but Rodriguez held the leader's jersey with little interruption. Then, on Stage 17, Contador erupted. It was a deceptively easy stage, but Contador placed teammates in an early breakaway and made an unexpected and violent move 50 km out. He joined the break up the road, then rode away from everyone on the last climb. Rodriguez was unprepared and Contador picked up three minutes, winning the race right there. The ruthless attacking was vintage Contador, but the brilliant tactical decision hinted at a new racer, a smarter one.
Contador finished fourth in an exceptionally strong field at the 2013 Tour, but his 2014 has been frighteningly good. He hasn't finished lower than second in any stage race this year, and beat 2013 Tour winner Chris Froome by four minutes at the Dauphine. With Froome struggling this year and now dogged by doping allegations, Contador comes into this year's race with near-even odds with the Kenyan to win the race.
Andy Schleck also started last weekend. He and his brother were the last men on Trek's roster, and are entering the race with no expectations, which might be what Schleck needs to find some positive momentum. He has looked anonymous again this year, finishing more races but not winning anything. Where Contador has re-established himself and added moves to his game, Andy has retreated into himself. Schleck is younger, and on a team he helped found, but he hasn't found either the form or motivation to re-establish himself among the sport's elite.
---
Making it is hard. Both of these riders had to earn their stripes and bust ass for established stars with no rewards. When they got their chances, they showed their talent and skill and won a bunch of races, earning the right to lead their teams. But what's perhaps harder is resisting the forces that aim to unmake you, staying whole and not giving in to the difficulties of training, tedium, language barriers, and endless travel. Cycling is a fucking grind, like all sports. Race days are long and tense, and they are broken up only by the monastic isolation of training or mind-numbing bus rides. To win big races like the Tour, you not only have to go win the thing on the road, but you have to lay months of groundwork. You have to build a base through harsh winters, recon every hairpin of important climbs, and not give into small temptations, like seeing family or eating pizza. Collapsing under the weight of physical fine-tuning plus human concerns seems inevitable. Lance's accomplishment—even allowing for the doping—was in delaying the inevitable for so long.
Whatever could have been for Schleck, his crash in the Dauphine rendered him inert. He can line up next to Contador, but it's not as a rival anymore. Contador will clip in on that first stage thinking he can win; his suspension served only as a deep breath for him before coming back more focused. Schleck, meanwhile could find his magic again—he is 29, still in his physical prime, and July has always been an especially good time for him—but even if something like a stage win and a top-10 placing is attainable, it seems incredibly ambitious. Both have changed—and it's once again the Tour that will define their seasons, the same as always.
---
Patrick Redford lives and writes in Oakland, Calif. Bug him on Twitter @patrickredford.
Photo via Getty Images