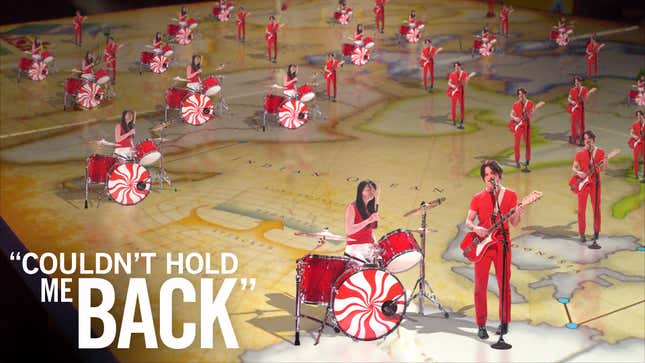 The march toward musical empire began on Oct. 22, 2003, in a bar in Milan, Italy, 4,300 miles away from Detroit. Fans of Club Brugge K.V., in town for their team's group-stage UEFA Champions League clash against European giant A.C. Milan, gathered to knock back some pre-match beers. Over a stereo blared seven notes: Da...da-DA-da da DAAH DAAH, the signature riff of a minor American hit song.
How running an NFL team is like running a restaurant | Chef Emeril Lagasse
By normal pop-music expectations, the White Stripes' "Seven Nation Army" had already passed its peak. Released in March of that year, the single reached No. 1 on Billboard's alternative rock chart in early July, stayed there for three weeks, then had begun to fade out. But the members of the Blue Army, a Brugge supporters group, liked what they were hearing and began to sing along. "It's a very catchy tune," Blue Army spokesman Geert De Cang wrote in an email.
Eight years later, the riff-turned-anthem is ubiquitous and seemingly inevitable, an organic part of global sports culture. On Thanksgiving night, 71,000 fans at M&T Bank Stadium in Baltimore chanted the riff in unison. You'll likely hear it again when the Ravens host the Texans on Sunday, in the background of the broadcast.
But in Milan, at the beginning, it was purely spontaneous and local. Kickoff was coming. The visiting Belgians moved out into the city center, still singing. They kept chanting it in the stands of the San Siro—Oh...oh-OH-oh oh OHH OHH—as Peruvian striker Andres Mendoza stunned Milan with a goal in the 33rd minute and Brugge made it hold up for a shocking 1-0 upset. Filing out of the stadium, they continued to belt it out.
The song traveled back to Belgium with them, and the Brugge crowd began singing it at home games. The club itself eventually started blasting "Seven Nation Army" through the stadium speakers after goals.
Then, on Feb. 15, 2006, Club Brugge hosted A.S. Roma in a UEFA Cup match. The visitors won, 2-1, and the Roma supporters apparently picked up the song from their hosts.
"I had never heard the song before we stepped on the field in Bruges," Roma captain Francesco Totti told a Dutch newspaper later. "Since then, I can't get the 'Po po po po po poo pooo' out of my head. It sounded fantastic and the crowd was immediately totally into it. I quickly went out and bought one of the band's albums."
So "Seven Nation Army," having gone from Milan to Bruges, marched back to Italy again. Italians call it the "po po po po" song. By the time the World Cup kicked off in Germany that June, it had become the Italian national team's unofficial theme. Sports Illustrated reported that fans had serenaded Totti with the song during Italy's group-stage win over Ghana. The Azzurri beat France in the final on July 9, and amid the ensuing celebration, "Seven Nation Army" chants popped up on the streets of Rome.
On July 11 in Milan, Italian soccer stars Alessandro Del Piero and Marco Materazzi—the victim of Zinedine Zidane's head butt—led a crowd rendition of "Seven Nation Army" from the stage at a Rolling Stones concert. Soon, Jack White himself weighed in: "I am honored that the Italians have adopted this song as their own," White said. "Nothing is more beautiful than when people embrace a melody and allow it to enter the pantheon of folk music."
"It's still hard for me to digest," said Ben Swank, an executive at Third Man Records, White's label, on the phone from his office in Nashville. Swank was present at the birth of "Seven Nation Army," in January 2002—a moment whose significance was notably lost on him.
"[H]e was with us on tour in Australia when I wrote that song at soundcheck," White told Rolling Stone in 2009. "I was playing it for Meg and he was walking by and I said, 'Swank, check this riff out.' And he said, 'It's OK.' [Laughs]."
"Weirdly enough," Swank said, "I didn't like it. I said, 'I don't know man, you can do better.'" But the finished product, the opening track on Elephant, made him a believer. "It's the directness and simplicity of it," he says. "That's the appeal of their band across the board. I feel that way about all my favorite music of theirs. It's more emotion-based than thought-out or planned."
What makes "Seven Nation Army" different from most stadium anthems is that it actually has replay value. In February 2004, it won a Grammy for Best Rock song. The Grammys aren't the ideal barometer of cool, but "Who Let the Dogs Out?" never won a little gilded gramophone, did it? [CORRECTION: "Who Let the Dogs Out?" won Best Dance Recording in 2000. Deadspin regrets overestimating the Grammys.] It's not syrupy like "Sweet Caroline," or melodramatic like "We Are the Champions," or gimmicky (or performed by a horrible, horrible person) like "Rock and Roll Part II." A few years ago, The Guardian wondered if it was "the indiest football anthem of all time."
"Seven Nation Army" made a beachhead in American sports in State College, Penn. According to a 2006 story in the Harrisburg Patriot-News, Penn State spokesperson Guido D'Elia—who is still the director of communications and branding for the embattled football program—was inspired by hearing a Public Radio International story about A.S. Roma's use of the song. D'Elia, who also introduced the now unavoidable German techno track "Kernkraft 400" to Nittany Lions fans, had found something new:
D'Elia had the Blue Band try it out during the soggy Blue-White scrimmage. And he's preparing a dubbed version of Jack White's seven-note guitar lick from the song in hopes the students will start in with their own wohhh-oh-oh-oh-oh-ohhh-ohhh. If they don't, he'll scrap it. If they do, he'll keep it.
By the middle of the 2006 season, "Seven Nation Army" was a Beaver Stadium staple. (This year, as Penn State students gathered on Nov. 8 outside the university administration building, they began singing Joe Paterno's first name over the riff.)
At the same time, Arrangers' Publishing of Nashville had begun selling "Seven Nation Army" sheet music for marching bands, turning the angry one-guitar song into ensemble music. The hypnotic riff—which White reportedly produced by feeding his guitar through an effects pedal to make it sound like a bass—fit the new arrangement nicely. "The doom of it," Swank says, "makes it perfect for a marching band."
The Boston College band picked it up immediately, and the song has kept spreading. "It was very simple to play, angry, very loud, and kind of aggressive," Arrangers' Publishing vice president Jeff Hearington said. "The minute I heard it I said, 'We need to try to license this.'" The company has sold about 2,000 copies, Hearington said.
Today, there are few athletic venues the song hasn't invaded. "Seven Nation Army" has appeared at both Michigan and Ohio State, and also at obscure schools (check out this rendition by St. Cloud State's band). At Euro 2008, it was played and chanted incessantly at stadiums in Austria and Switzerland. It's popped up in NBA arenas and at NFL stadiums, competing with standbys like "Hells Bells," "Welcome to the Jungle," and "Crazy Train" for time on the endless loop.
This past summer, the Ravens polled fans about what song should rally the crowd into the fourth quarter at home games. "Seven Nation Army" beat out "Enter Sandman" and Joe Satriani's "Crowd Chant," among others, in the final balloting, and it is now a ritual. The Detroit Lions joined in, too, playing the song at Ford Field. In October, coach Jim Schwartz mentioned it on Twitter. "I rarely notice music during timeouts," he wrote, "but I did enjoy #WhiteStripes 7 Nation Army last night. Great response by crowd."
Swank is still bemused by the song's all-conquering success. He glimpsed the extent of its reach more than five years ago, while vacationing on the island of Formentera during the 2006 World Cup. There, on a 32-square-mile dot in the middle of the Mediterranean, he heard a group of Italians chanting the riff White had composed at that Australian soundcheck. "He accidentally wrote a folk song," Swank said. "You do the best you can, but you can't predict where it's going to go."
Alan Siegel is a writer in Washington, D.C. Contact him at asiegel05@gmail.com; follow him on Twitter @alansiegeldc. Image by Jim Cooke.