Watching people have sex on film is fun. But there's also no denying that there are a lot of problems with the adult film industry (just look at the recent James Deen rape accusations). Want to be able to enjoy the thrill of watching people have sex, but without feeling like you're supporting a degrading and abusive industry? Try ethical porn.

Feminist porn star Annie Sprinkle once said, "The answer to bad porn isn't no porn…it's to try and make better porn!" That's at the heart of what her company and others are trying to create with ethical porn. The concept is largely amorphous, but is rooted in a sort of "best practices" for the adult film industry that seek to challenge the idea that porn is inherently exploitative, and can even be advocative. Yes, the goals of ethical porn hubs differ, but the six that we looked into abide by the following guidelines. The films should:
Treat actors with respect. Participants are given the agency to make decisions about the acts they want to perform on film. Some companies even allow the participants to make all decisions about the sexual content. They're also given fair pay and a choice in how to keep themselves safe from pregnancy and STIs during filming.

Show real sex and real pleasure. One producer says, "There's no expectation that the performers be 'open to the camera' or hamming it up for the viewer. They simply do what they do and I try and capture what I can." Some companies exclusively work with real couples.

Emphasize diversity. Most of these companies attempt to showcase different types of bodies, sexualities, ethnicities, genders, and sexual activities. Some devote particular attention to communities that have been marginalized by mainstream porn. If you're LGBTQ, a minority, or not able-bodied, skinny, or young, this is your opportunity to see sexy people that look like you having sexy times, without being fetishized.

Even if you've never even thought about the ethics of mainstream porn, these are goals we can all get behind! May I suggest you try out the following the next time you're looking for some real porn?
Pink and White Productions
Pink and White Productions is the brainchild of Shine Louise Houston, a queer woman of color. Her Pink Label site amalgames queer, feminist porn from dozens of like-minded production companies, and makes them accessible from one site. It's perhaps one of the easiest, most user-friendly ways to access responsibly-produced porn.
G/O Media may get a commission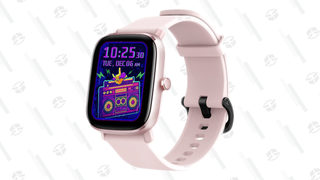 20% Off
Amazfit GTS 2 Mini Smart Watch
Get fit
Has built-in Alexa so you can ask questions and carry your smart assistant around with you; it has a battery that can last up to 14 days, has over 70 different sport modes, is 5ATM waterproof, and tracks stats like your heart rate, calories burned, sleep, and more.
Houston also created her own series (also available on Pink Label) called Crash Pad about a secret San Francisco apartment. Billing itself as a "dyke series," Crash Pad has the most diverse cast of any of the production companies listed here. The description on their site says,
"You'll find queer women (cis and trans) as well as trans men, cisgender men, genderqueer and other gender-variant people; performers who are femme, butch, or other gender expressions; people of color; people of differing abilities; people who are fat, thin, athletic, and/or otherwise; people aged 18 to over 50; people with and without tattoos or piercings; and more."
They also work with cast and crew to consent to all of the activities that are filmed, and are as upfront as you can get about their payment and sexual safety practices.
Creating an account is free. Individual movies are available to stream, and range from about $6-$18.
Erika Lust
Erika is a Swedish porn producer who makes gorgeous, artsy films that are also incredibly sexy. She's made feature-length films, short films, documentaries, and runs a series called XConfessions, where she takes user-submitted fantasies and turns them into short erotic films. You can submit your own fantasy on her website for possible inclusion in the next anthology of videos! Lust only works with actors (most of whom appear to be white), but there's some variation in the activities depicted (threesomes, crossdressing, domination). These are the most aesthetically-pleasing, high-quality movies of the bunch. You're definitely not going to feel like you're missing out on anything, and will probably find yourself wondering why more porn isn't this well-produced.
Full access costs $100 per year or $35 per month. Individual movies can be purchased for $10-$15 (to stream) or $20 (DVD).
Bright Desire
Bright Desire is a woman-owned and operated company that works primarily with real couples (though there are some films with professional porn actors). While the couples are mostly white and heterosexual. Bright Desire places a particular emphasis on showing real, non-glamorous, but still sexy sex.
On their website, they state, "Bright Desire is a celebration of sex. It's a deliberate attempt to show all the good stuff that we love about sex – intimacy, laughter, connection and real pleasure." These aren't big budget productions, but it's so refreshing to hear couples giggling and see them exchange shy looks. They also have a voice-over series for the aurally-inclined, and erotic fiction for the sexy book nerds out there.
Membership is $20 for the first month, then $10 for subsequent months, or $35 for three months.
Make Love Not Porn
MLNP is another site that primarily shows real sex. It's the brainchild of Cindy Gallop, who initially set out to make the differences between porn sex and real sex more apparent. Make Love Not Porn showcases user-submitted videos from real couples (in other words, no actors whatsoever). If you're into amateur porn, this is the site for you. MLNP declares, "MakeLoveNotPorn.tv is of the people, by the people, and for the people who believe that the sex we have in our everyday life is the hottest sex there is." It's still in beta, so there isn't a huge selection, but they are slowly ramping up.
MLNP charges a flat rate of $5 per video. The video creators make 50% of the proceeds.
O'Actually
O'Actually is all about creating beautiful porn that showcases women's pleasure. There are a few videos available for free on the website (half are clips from aforementioned director Erika Lust), and they're some of the prettiest porns you ever did see. They also have an Indiegogo campaign to raise money for three full-length, ethically-produced porn productions. The website has a small selection erotic fiction section, and it appears that they're looking to add more naughty images and audio. All of the content is available for free, so it's a good website to support even if you don't want to fork over your hard-earned cash. They're still a very small company (with a buggy website to boot), but this is another one to keep an eye out on.
Feminist Porn Awards
Since 2006, the Feminist Porn Awards have been nominating and awarding films that treat actors fairly, embrace diversity, and depict real pleasure. Most of the films are professionally-produced, but some are amateur works that feature real couples. There's even an educational section, with how-to videos on things like bondage and pegging. On the site, you can sort the long list of nominees and winners by year or theme. You do have to click through to stream the movies on separate sites, and some are only available on DVD, so this isn't a good site to turn to when your hand is already down your pants and need something hot to watch right this minute. Nonetheless, it's a tremendous resource.
The list of FPA nominees and winners is free, but you'll have to pay the individual companies for the movies you want to watch.
Producing porn like this takes a lot more time and effort than the tumblr GIFs or free PornHub snippets you may be used to, and the prices reflect that. Many people will balk about the idea of spending a significant amount of money on porn when so much of it can be accessed online for free, but again, aren't things like respect and diversity worth shelling out a few bucks for? We all have the potential to change the porn industry by showing that we're willing to support treating people by human beings and celebrating sex in all of its natural glory.
---
Illustration by Jim Cooke.
Adequate Man is Deadspin's new self-improvement blog, dedicated to making you just good enough at everything. Suggestions for future topics are welcome below.