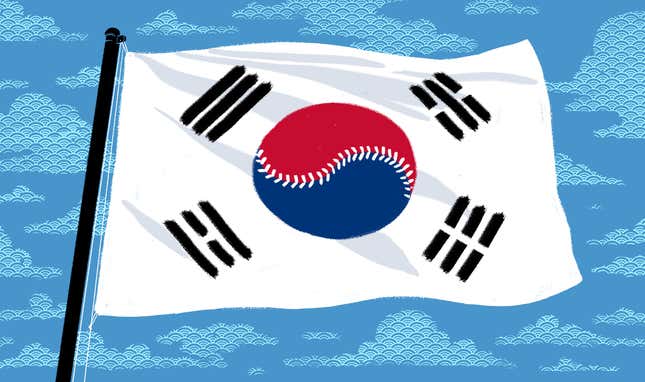 The baseball season is almost upon us, but you don't have to wait for MLB to get started. Opening day for the Korean Baseball Organization (KBO) is March 31. Why should you be care? Well ... can I interest you in bat flips?

There are some MLB-caliber talents at the top tier of the league, many who will likely soon make the jump to MLB. On the whole, though, the KBO obviously doesn't offer the same level of play as MLB. What it does offer is high-scoring, wild games, with comebacks, lead changes, and dingers aplenty. The game has skewed even more toward hitters in recent years: In 2016, 40 qualified batters hit .300 or higher. (And that's in a 10-team league. MLB, with three times as many players, only had 25 batters who hit .300.) Only seven starting pitchers in the entire KBO had ERAs under 4.00. It's baseball more reminiscent of the McGwire/Sosa/Bonds era of MLB, and it's a lot of fun to watch. But who should you root for?
The KBO started play in 1982 with six teams. Four of them have since changed their names and one has relocated, while the league added four more along the way. Flash forward to 2017, there are 10 teams in the league, all working towards the goal of being one of five playoff teams and winning this fall's Korean Series. So what are you waiting for? It's time to pick a team.
---
kt wiz
2016 finish: 10th (53-89-2)
The kt wiz are the new kids on the block of the KBO, debuting in 2015. They are based in the city of Suwon, which is easily reachable from Seoul by their metro system. (Five of the league's 10 teams are located in Seoul or close nearby.)
As you might guess, "wiz" is short for "Wizard." kt is a phone company. The wiz play at the Suwon kt wiz Park. And yes, you're reading all this right. It's "kt wiz" and not "KT Wiz." Because their parent company (short for "Korean Telecom") uses lower-case letters for their company name, they want to continue the trend for the team name. Journalistic publications tend to use "KT Wiz" but if you wanna be especially official about it, it's "kt wiz." We will not be doing that.
Note: KBO teams aren't always merely named after corporations on sponsorship deals, but are often owned by those corporations. It'd be kind of like if America had the Johnson & Johnson Jets, the Amway Magic, the Little Caesars Tigers, or the Cablevision Rangers.
Why should you root for them?
The Wiz finished last in the league (10th) in both their two seasons of existence. They started life with a very cool first pitch - a literal ball of fire:
They also started with a dismal 3-22 record. Well, they finished their first season 52-91-1 so that's an improvement. In 2016, they improved their record to a whopping ... 53-89-2. This is the team for those who want to root for the ultimate underdogs. I have a friend who became a Detroit Lions fan because of their 0-16 season. Same principle.

Experts think their design is pretty good. In 2014, after their visual brand was announced, the Wiz were won a bunch of sports design competitions. If you ask me, their logo looks like a more aerodynamic version of the New England Patriots' logo. It's not clear what KT thinks a wizard is supposed to look like.
If you like funky batting stances, you will love their speedster outfielder Dae-Hyung Lee. Dude has a very skinny build and seems like he has no stability whatsoever on the box. Here is one of his swings:
Here's a closer look:
His body is screaming "GO TO FIRST! GO TO FIRST!" even before the hands fire. He doesn't get the hips rotated properly and it just seems like your kid's first little league swing before you hire an expensive hitting coach. But you know what? Lee has pretty much mastered the technique, hitting for a .320 average in 2016 (though with pretty much zero power at a .358 SLG%).

Lastly, here's something that's legitimately cool. In last August, the Wiz teamed up with a virtual reality producer to offer the first-ever 360-degree livestream of a professional baseball game. MLB.tv is behind the times.
Why should you have second thoughts?
Again, it's unlikely that this team will make you smile by winning anytime soon. Also, last year, veteran slugger Sang-Hyun Kim was caught by the police jacking off inside his car while looking at women walking down the street.
And what the hell are their mascots supposed to be? The dark one's called Vic and the other is named Ddory (because if you combine their names together, it sounds like "victory"). They look like they came straight off the Monsters Inc. drawing board:
The look even creepier in real life: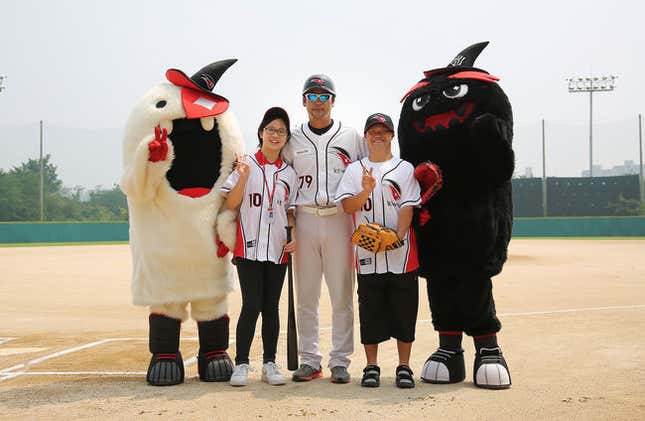 Did I mention the team is really bad?
Names you may know:
Andy Marte, who tragically passed away in a car accident in the Dominican Republic in January, played for the Wiz in their first two seasons. He was the first-ever star of the franchise, hitting .348/.396/.547 with 20 HRs in 2015. Filling his spot as one of the three foreign players allowed on each roster will be former Giants and Mets catcher Johnny Monell, who signed with KT on a $900,000 contract and will be asked to play 1B.
The other two foreign players are LHP Ryan Feierabend, who pitched for the Mariners from 2006-2008 and the Rangers in 2014. Feierabend pitched for the KBO's Nexen Heroes from 2015 until mid-season 2016, when he was cut and scooped up by KT. RHP Donn Roach, who pitched for the Mariners in 2016, is a newcomer and a former third-round pick by the Angels in the 2010 MLB Draft. If you paid close attention to this year's World Baseball Classic, you may remember RHP Kwon Ju of Team China. Ju is a Korean-Chinese pitcher and was a starting pitcher for the Chinese squad, but won't count as a foreign player for the Wiz.
Championship seasons:
Zero. I don't know how many times I can say this: They suck.
Samsung Lions
2016 finish: Ninth (65-78-1)
One of the league's official franchises, the Samsung Lions, are based in the city of Daegu in Gyeongsang Province, in the country's southeast, where it is hotter and more humid than other regions, earning the nickname "Daefrica" (Daegu + Africa). They primarily play at Daegu Samsung Lions Park, which opened in 2016 and can hold about 29,000. Once in awhile, they play at Pohang Baseball Stadium (capacity: 12,000), located an hour away from Daegu.
Samsung ... well, you know all about them. They make all kinds of electronics (including those phones that blow up) and recently, they've been in the news for their CEO being involved in the corruption scandals that led to the removal of the country's president from office. But anyways, I use a Samsung Galaxy S7 and I'm happy to report that I like it better than my old iPhone 5c. While Samsung dons their name, the Lions are also partially owned by CJ CheilJedang (a food company) and Shinsegae (a mall corporation).
Why should you root for them?
This is a historically good team that had a very bad year. They won the 2002 Korean Series on a dramatic walk-off home run in Game 6:
They made trips to the Korean Series every year from 2010 to 2015 and won four of them. In the 36-year history of the KBO, they failed to make it to the playoffs only six times.
The franchise's biggest star is 1B/DH Seung-Yeop Lee. If that name sounds familiar, it's because he delivered some ass-whooping dingers for Team Korea in the 2006 World Baseball Classic. He hit one against Dontrelle Willis that jumpstarted Korea's victory over the U.S. Remember, this was when Willis was coming off a 22-win season. Lee is already the KBO's all-time leader in home runs (443), RBIs (1,411), and slugging percentage (.576). His nickname, playing off the team's name and his iconic stature, is "Lion King." At 40 years old, 2017 is going to be his last season and he will receive a huge farewell from the league at season's end.
The Lions are traditionally home to the KBO's great hitters. OF Joon-Hyeok Yang played for Samsung from 1993 to 1998 and then from 2002 through his retirement in 2010. He still leads the KBO in ABs (7,332), hits (2,318), doubles (458), runs (1,299) and walks (1,380). His 351 homers and 1,389 RBIs rank second only to Seung-Yeop Lee. Yang also boasted a killer bat flip. This is some 80-grade shit. Check it out:
One of the league's brightest stars is Samsung 1B/OF Ja-Wook Koo. The 2015 Rookie of the Year, Koo maintained his high level of play in 2016 by hitting .343/.420/.547 with 14 HRs and a league-leading 13 triples. He can do everything, and because of his actor-like looks, fans have dubbed him a "six-tool player." Entering his age-24 season in 2017, Koo is roughly the KBO equivalent of, let's say, Francisco Lindor.
If you have a thing for the color blue, the Lions are the team for you. Here is their old-school look from the 1980s. Here is their look from the early '90s. From the late 90s through 2015 they wore this and in 2016 they introduced a snazzier look with red accents.
Unlike the KT Wiz, their mascots are fairly coherent.
Why should you have second thoughts?
They went to the Korean Series in 2015 and finished second-from-last the next year. Some dismiss that as a fluke, but others are worried that the loss of slugger Hyoung-Woo Choi to KIA in free agency will be a debilitating blow. Piss-poor contributions from a revolving door of foreign players was a main cause of the Lions' 2016 struggles. They had 3B Aarom Baldiris, RHP Allen Webster (released during the season), RHP Collin Balester (released during the season), RHP Arnold Leon (replaced Balester) and LHP Yohan Flande (replaced Webster). All of them combined for a WAR of -0.1. Optimists say if the three foreign players perform well this year, Samsung is due for a bounceback season, so we'll see.
In late 2015, a group of big-name pitchers were busted for being involved in an illegal gambling ring in Macau. Two relievers (RHPs Chang-Yong Lim, Ji-Man Ahn), a starting pitcher (RHP Seong-Hwan Yoon) and former closer Seung-Hwan Oh (yes, that guy) were named. The Lions, who placed first in the regular season and were preparing for the Korean Series, removed Lim, Ahn, and Yoon from their roster and went on to lose to the Doosan Bears in five games.
The Hanshin Tigers of NPB, who employed Oh in 2014 and 2015, decided not to re-sign him due to the incident. As a result, Oh signed with the St. Louis Cardinals and became a quality closer. Funny how that worked out.
Ji-Man Ahn, who once was a shutdown reliever for the Korean national team, was convicted of funding his friend's illegal gambling website. On July 21, 2016, Ahn was arrested for the charges and was immediately released by Samsung. Initially, he was sentenced to eight months of prison, two years of probation, and 120 hours of community service, but he is currently appealing. Once an ace set-up man for Seung-Hwan Oh, Ahn is unlikely to play in the KBO again.
Bottom line was that the Lions' image, and even their four championships from 2011 to 2014, became a bit tarnished by the scandal.
Names you may know:
Current Cardinals closer Seung-Hwan Oh pitched for Samsung from 2005 to 2013. "The Final Boss" is the KBO's all-time saves leader with 277, and had a career ERA of 1.69. Julio Franco played for the Lions in 2000. It was his age-41 season and he hit .327 with 22 HR and 110 RBIs. Here's his first KBO homer:
RHP Chang-Yong Lim, who briefly pitched for the Cubs in 2013, pitched for Samsung for 11 seasons. This year, the Lions have RHP Anthony Ranaudo (former Red Sox first-rounder) and RHP Zach Petrick (former Cardinals minor leaguer) as their foreign pitchers. They acquired former Phillies 1B Darin Ruf to boost their lineup.
Championship seasons:
1985, 2002, 2005, 2006, 2011, 2012, 2013, 2014
Lotte Giants
2016 finish: Eighth (66-78)
The Giants are based in Busan, the second-largest city in South Korea. That alone makes them one of the most popular teams in the league. Unlike Seoul, where there are three teams in the city and two more in the suburbs all fighting for the region's fans, the Lotte Giants are Busan's sole team. The city is on the coast in the southeast and is a popular tourist destination, especially for beachgoers.
They've played at Sajik Stadium since the 1986 season. As one of the older remaining ballparks, the stadium comes with a good amount of folklore and, for big games, a good amount of fans. But the venue shows its age. Back in 2009, Sajik received a C grade from safety inspectors. It's been a long-term project to fix it up, but they've made some cool changes. For instance, in 2016, they installed new lights and put on a light show before the home opener:
Lotte is a multinational conglomerate that has a big presence in South Korea and Japan. They pretty much do a little bit of everything. If you live in Korea, you might do some shopping at a gigantic Lotte Mart, go for a lunch at a Lotteria fast food restaurant, watch a movie at Lotte Cinema, book a room at a Lotte Hotel on a business trip and ... you get the idea. They also own a team in Japan, the Chiba Lotte Marines.
Why should you root for them?
Their first championship in 1984 came with an insane story. RHP Dong-Won Choi, one of the best pitchers in KBO history, pitched in five of the seven games of the Korean Series against the much-favored Samsung Lions. Choi racked up a 4-1 record with four complete games and 40 IP with a 1.80 ERA. None of that is a typo. He was basically the only pitcher worth trusting against the powerful Lions lineup, so Lotte rolled with him. Game 7, one of the storied matches in league history, ended with another Choi complete game win. Here is the glorious final out:
This all happened after Choi led the league in innings pitched. (284.2 IP in 51 games. Yeesh.) His season remains one of the most heroic feats in Korean sports history. After the 1986 season, however, Choi never broke the 100 IP mark again, and he retired in 1990.
The Giants have a vast fanbase and they have their own unique cheering culture. Maybe you're aware of general KBO cheering culture: cheerleaders, thundersticks, chants, etc. The Giants fans wear orange trash bags on their heads.
If you can ever make to to Korea, I highly recommend taking in a game at Sajik Stadium.

You probably already know their biggest star, large adult son Dae-Ho Lee. You loved him when he was with the Mariners. You want to watch him again in 2017 and beyond? Follow the Lotte Giants! Dae-Ho Lee played for Lotte from 2001 to 2011 and won the Triple Crown twice (2006, 2010) and the 2010 MVP Award. Lee's 2010 was just incredible, as he led the league in batting average (.364), home runs (44), RBIs (133), runs (99), hits (174), OBP (.444), and slugging percentage (.667). He also set a record with home runs in nine consecutive games. Here are all of them:
After spending 2012 to 2016 in Japan and the U.S., he signed with the Giants again for the biggest-ever contract in the KBO history, a four-year deal worth around $13.3 million.
The Giants have another fat guy in their lineup named Joon-Seok Choi. He is probably heavier than Dae-Ho Lee, which is something. Choi once made it to ESPN for his bat flip. The problem was that he did it after clearly hitting the ball into foul territory.
Whoops. Anyways, with Dae-Ho Lee and Joon-Seok Choi both in the roster, the Giants make a strong case as the biggest team in Korea.
Also while they are called the Giants, their mascot is a cartoon seagull. How could you say no to this fella?
Why should you have second thoughts?
Despite a loyal fanbase, their front office has been criticized for incompetence over most of the new millennium. From 2001 to 2004, they finished last in four consecutive seasons. While it got a little better in 2005 (a fifth-place finish), they went back being horrible in 2006 and 2007, finishing seventh among eight teams. They made the playoffs for five consecutive years from 2008 to 2012, but have failed to make it since.
All told, the Lotte Giants are the worst team in KBO history. On August 1, 2013, Lotte "accomplished" the feat of being the first franchise to reach 2,000 losses. And counting!
After the 2014 season, it was reported that the front office had spied on players during road trips by installing cameras inside their hotel. A "high-ranking official" from the team reportedly visited the hotel and asked the hotel workers to record players' activities and send the information over to the team. As the players found out what was cooking, they confronted the front office and demanded the resignations of an assistant coach and team president Ha-Jin Choi. Choi ended up stepping down few days after the report was published.
Names you may know:
You know Dae-Ho Lee, of course. You also know Jae-Gyun Hwang, who was Lotte's cornerstone third baseman until he signed with the San Francisco Giants, to whom he'll hopefully bring his legendary bat flip:
From the history books, you might might remember Felix Jose, who was an MLB All-Star back in 1991 for the Cardinals. Jose played for Lotte in 1999, 2001, and 2006-07. In his 2001 stint, he put up a ridiculous line of .335/.503/.695 with 36 HRs and 127 walks. He was as feared for his hitting as he was for his temper. He found himself involved in multiple bench-clearing brawls, and once threw a bat into the stands during a playoff game:
Former MLB OF Karim Garcia played for Lotte from 2008 to 2010 and was an absolute fan favorite. Just listen to the chants when he came up to bat. LHP Brooks Raley, who had a cup of coffee with the Cubs, is going to start his third season with Lotte in 2017. INF Andy Burns former Blue Jays minor leaguer) will be one of the Giants' new foreign players this season.
Championship seasons:
1984, 1992
Hanwha Eagles
2016 finish: Seventh (66-75-3)
The Hanwha Eagles play in Daejeon, which is in the middle of Chungcheong, which itself is basically in the middle of South Korea.
The Eagles started life as the Binggrae Eagles in 1986. Binggrae is a company primarily known for dairy products (and it looked like the team wore orange popsicles for uniforms back then) and later expanded to other foods such as cookies and ramen. In 1993, however, the ownership changed hands to the Hanwha Corporation. Hanwha Corporations started out as an explosives company (whoa!) but later grew into one of the biggest business conglomerates in Korea, kind of like Lotte. Nowadays they offer services in the construction, hotel, chemicals, and aerospace engineering industries, to name a few. They also have a baseball team.
Why should you root for them?
One of the league's best hitters, OF Yong-Kyu Lee, is the team's leadoff hitter and he's got a very unique swing. At the height of his kick, it literally looks like a pitching delivery. I'm not sure you'd teach this to kids:
Again, in glorious slow-mo:

His front leg is literally crowding over the plate as the pitch gets released. We've seen a lot of high leg kicks from Asian hitters, but Lee's is definitely unique. It's clearly worked for him: He's been a regular leadoff hitter for the Korean national team and hit for a .352/.439/.434 clip for the Eagles in 2016.

Hanwha employs another one of the best hitters of this generation in 1B Tae-Kyun Kim, who played for the Eagles from his KBO debut in 2001 (in which he hit .335/.436/.649 in 88 games) to 2009, and from 2012 to the present. Even though he's turning 35 during the 2017 season, he doesn't seem to be slowing down, hitting a robust .365/.475/.569 with 63 extra base hits last year. He's currently the all-time OBP leader in the KBO at .431. He also showed Manny Ramirez-like swagger hitting a massive dinger off Dice-K during the 2009 World Baseball Classic:
If nothing else, following the Eagles will provide you shit tons of funny gifs.
Since they hired Sung-Keun Kim as manager in 2015, the Eagles have built a reputation for volatile pitching and powerful hitting, which has led to many high-scoring and close affairs, and all-around wacky happenings. The team has earned the nickname "MariHanwha" (a pun off of "marijuana") for the drug-like addictiveness and general silliness of watching their games.
Why should you have second thoughts?
Like the Giants, the Eagles have had a stretch of futility in recent years (wow, now I feel like I'm talking about the NFL). Hanwha haven't made it to the playoffs since 2007. Here is how they've fared in the last nine years:
2008 (5th place)
2009 (8th/last place)
2010 (8th/last place)
2011 (6th place)
2012 (8th/last place)
2013 (9th/last place)
2014 (9th/last place)
2015 (6th place)
2016 (7th place)
So yes, the suffering is very much real. It is even more excruciating since they have the have the highest payroll in the league.
The current Hanwha manager, Sung-Keun Kim, is known for a hard-nosed, old-school management and training style. He took the SK Wyverns to four consecutive Korean Series trips from 2007 to 2010 and the Eagles brought him in for the 2015 season in hopes of repeating the feat. By the way, when I say "hard-nosed, old-school", I mean it. Here's footage of him riding his exhausted infielders down to the ground during a training session:
While Kim's managing dug Hanwha out of last place, he has been accused of some serious reliever overuse. For instance, LHP Hyeok Kwon pitched out of bullpen in 2015 and 2016 and threw a whopping 207.1 IP in 144 games over that span. The KBO has 144 games per year so he basically recorded four outs every other game. Kwon came down with elbow pain on August 2016 and, astonishingly, Kim demanded the lefty take painkiller shots and keep throwing. When Kwon expressed doubts, Kim was said to be "very enraged."
Dae-Ho Kim, a columnist for MK Sports, condemned Sung-Keun Kim's style of baseball as "inhumane, tyrannic and anti-democratic." Many fed-up Hanwha fans would agree with that notion. During the 2016 season, Eagles fans voiced their opposition to Kim all throughout the season. For instance, four fans were ejected during one game for hanging up a big sign that read "Manager, please get out."
The bad news for those fans (and for pitchers' elbows) is that Kim is still the manager. The good news might be that 2017 is the last year of his contract. In Spring Training, Kim ordered the players to abide by a schedule that features 10 hours and 40 minutes of training a day, broken up only by a 20-minute lunch break.
Names you may know:
Hyun-Jin Ryu, of course. Back in 2006, as a 19-year old, he entered the KBO like a comet and won the ROY and MVP. From 2006 to 2012, he compiled a 98-52 record with a 2.80 ERA before signing with the L.A. Dodgers. Dae-Sung Koo, responsible for one of the most exciting MLB highlights in recent memory, played for the Eagles franchise from 1993 to 2000 and then from 2006 to 2010. His 1996 season was incredible, by the way (18-3, 1.88 ERA, 139 IP, 24 saves, 183 Ks and 0.76 WHIP). Hanwha had LHP Dana Eveland for the 2013 season. While he was wildly mediocre (5.54 ERA in 172.1 IP), he managed to make his way back to MLB and has pitched for the Mets, Braves, and Rays.
Former Rockies top prospect C/1B Wilin Rosario plays for the Eagles, and this year, they brought in two veteran MLB arms: RHPs Alexi Ogando and Carlos Villanueva. In all, the Eagles might have the great MLB name-recognition going. Oh, and Chan-Ho Park played his last professional season with Hanwha in 2012.
Championship season:
1999
SK Wyverns
2016 finish: Sixth (69-75)
First off, what the hell is a wyvern? Dictionary.com: "A two-legged winged dragon having the hinder part of a serpent with a barbed tail." So a snake-dragon.
The SK Wyverns are based in Incheon, a very short drive or subway ride from Seoul. If Incheon sounds familiar, it's either because you studied the Korean War or because you've flown into one of the swankiest airports around.
SK is another one of those big business conglomerates in Korea. While they work in chemicals and construction, SK is best known for their wireless mobile phone and high-speed internet service, joining KT as one of the biggest phone service companies in Korea.
Why should you root for them?
The team itself was founded in 2000 and they signed up players from a previous team that was declared dead and bankrupt. (That team, by the way, was named the Ssangbangwool Raiders. That's a tongue twister. An amazing thing about "Ssangbangwool" is that it literally means "double bells" but can, however, be misconstrued to read "double balls." The team was understandably the subject of an endless amount of testicle jokes, which is incredible. Unfortunately, their mascot was just a single ball that kind of looked like Mr. Met's baby nephew.)
The Wyverns built a formidable dynasty from 2007 to 2011. In that five-year period, SK made it to the Korean Series every year, winning three of them. After finishing sixth in the 2006 season, the Wyverns acquired Sung-Keun Kim (yep, the current hard-assed Eagles manager) and he led SK to two consecutive Korean Series championships in 2007 and 2008. They lost the 2009 Korean Series after a dramatic seven-game affair against the KIA Tigers but easily swept the Samsung Lions in 2010 to reclaim the title.
The best player in franchise history is 3B Jeong Choi, who received a bit of attention stateside back in 2014. New York Mets blog Amazin' Avenue dubbed him as "Korean David Wright." I don't know how I'd qualify that comparison but Choi has been one of the best infielders of his generation. He has averaged a .292/.386/.507 line with 125 steals and 225 HRs in 12 seasons. He's just now entering his age-30 season, so yeah, pretty good time for you to buy a Jeong Choi jersey.
For my money, he has one of the prettiest swings of the league. Check this out:
All right, how about slow-mo?

Another awesome factoid about Choi? He won the 2011"Speed King" competition, a contest for position players to show off their arm strength from the mound. That's a thing in Korean All-Star games that should absolutely come to MLB. Choi clocked at 147 kph (91.3 mph) to win it. Check it out:

OK, so he was a little out of the strike zone. Here's the full contest.

On the pitching side, the Wyverns' biggest star is LHP Kwang-Hyun Kim. You might have heard his name back in the 2014-15 offseason, when the Padres won the bidding to negotiate with him but failed to reach an agreement. From 2008-2010, Kim rivaled Hyun-Jin Ryu as the uber-talented young lefty starter bound for stardom. In his age-20 season in 2008, he went 16-4, had a 2.39 ERA in 27 starts, and earned an exemption from mandatory military service by winning a gold medal at the Beijing Olympics. He had his best season statistical season in 2010 (17-7. 2.37 ERA, 193.2 IP, 191.9 ERA+). He suffered a series of injuries and ineffectiveness from 2011 to 2013 but has since rebounded as one of the best starters in the league (11-8, 3.88 ERA in 137.0 IP last year for a 134.7 ERA+). Unfortunately, Kim just underwent Tommy John Surgery, which means he will be out for the year. You'll have to wait until 2018 to see his killer slider.
The Wyverns also employ RHP Byeong-Yong Chae, who might be best referred to as the Korean Bartolo Colon. He's a big boy, but a solid pitcher in his own right. He was a big part of the Wyverns' first championship in 2007, going 11-8 with a 2.84 ERA in 146 IP as a starter. While he suffered from ineffectiveness from 2013 to 2015, he had a solid showing in 2016 in 68 relief appearances. Chae also throws a knuckleball once in a while. Here he is striking out Samsung's Han-Yi Park
Good luck with that knuckler, especially if you don't know it's coming.

Why should you have second thoughts?
Due to their short history and early success, rooting for the Wyverns might be kind of bandwagoning. Since 2013 though, they've been mostly mediocre, making the playoffs only once in 2015. In their only series of that postseason, they were eliminated by the Nexen Heroes on a walk-off dropped infield pop-up:
That's a heartbreakingly crappy way to go out.
In 2011, then-manager Sung-Keun Kim announced that he would not return to the Wyverns after the season, which came as a huge shock to the fans. Unlike right now at Hanwha, Kim was revered as the best manager in the game, heaving lead the Wyverns to four consecutive Korean Series. He was dubbed "Ya-sin," which means "baseball god." However, Kim's strong personality clearly clashed with the Wyverns' front office. Only a day after Kim's announcement, the Wyverns fired him. After the first game without Kim, a big group of fans crashed the field and burned their team gear:
Names you may know:
SK just introduced former Kansas City Royals manager Trey Hillman as their new skipper. This is not the first time Hillman is managing a team in the far east, as he oversaw Japan's Nippon-Ham Fighters from 2003 to 2007. Remember renowned racist and gun nut OF Luke Scott? He played for SK back in 2014 and it went as exactly as you'd expect: He got cut mid-season after getting into it with his manager. Former Braves LHP Jo-Jo Reyes pitched for SK for two years, but not well—he was released after racking up a 6.55 ERA in 78.1 IP in 2014. In his last KBO game, he was ejected for hitting a batter in the head. He later posted on his Instagram a picture of the Wyverns logo shot up by bullets at a gun range.
RHP Merrill Kelly (former Rays minor leaguer), a third-year starting pitcher with SK, has embodied consistency for the Wyverns, pitching for a 3.89 ERA (129.1 ERA+) in 60 starts in 2015 and 2016. He is joined by two new foreign players, LHP Scott Diamond (formerly of the Twins and Blue Jays) and OF Danny Worth (Tigers and Astros).
Championship seasons:
2007, 2008, 2010
KIA Tigers
2016 finish: Fifth (70-73-1)
The KIA Tigers are based in the city of Gwangju in Jeolla Province, in the southwest of the peninsula. Gwangju is known for pro-democracy movements back in the 1980s and some damn good food. It's definitely a city worth visiting if you ever go to Korea. They play at KIA Champions Field, which opened for the 2016 season.
The franchise originally started as the Haitai Tigers in 1982. They had this badass logo from 1982 to 1995 and then changed to a cutesy one through 2001. For my money, they had the sharpest uniform in the KBO.
In the late 1990's, Korea experienced an economic crisis, and Haitai was one of the companies hit the hardest. In 2001, the Hyundai-KIA car group bought out the franchise. Unlike the SK Wyverns, who started a new franchise and signed up the Ssangbangwool players, the KIA Tigers continued the lineage of the Haitai Tigers.
Why should you root for them?
The 2017 team has a pretty bright forecast. They signed OF Hyoung-Woo Choi (.376/.464/.651 with 31 HRs last year for Samsung) to a four-year contract worth around $9 million and retained their ace Hyeon-Jong Yang (10-12, 3.68 ERA in 200.1 IP) on a one-year deal. If their new foreign players — LHP Pat Dean and OF Roger Bernadina — perform as expected, the Tigers could be a strong playoff contender.
The Tigers also have the most championships in the KBO history, racking up 10 titles in the league's 35 years. Bonus fact: They have never lost a Korean Series, which is neat. Their latest championship, which came in 2009, is one of the most dramatic ones ever. Playing against the vaunted SK Wyverns, in the middle of their own dynasty, the Tigers fought all the way to Game 7 and won on a chill-inducing, bottom-of-the-ninth walk-off home run by OF Ji-Wan Na. I still watch this video over and over. It's one of the most thrilling moments in baseball history:
Back in the 80s and 90s, as the Haitai Tigers, the franchise employed perhaps the best pitcher the KBO has ever seen. RHP Dong-Yeol Sun, who pitched for Haitai from 1985 to 1995, put up some wicked, wicked numbers. Pitching both as a starter and out of bullpen, Sun has a career 146-40 record with a 1.20 ERA (1.37 FIP), 132 saves, 1,698 strikeouts in 1647.0 IP, while allowing only 968 hits, 342 walks, and 28 HRs (He allowed only 11 homers total over his first six seasons in 1073.1 innings). In his second season, as a 23-year old, Sun went 24-6 with a 0.99 ERA while throwing 19 complete games. I don't care what league you play in—that is goddamned incredible. The following year, he went 14-2 with a 0.89 ERA. In 1993, at age 30, he transitioned to reliever and put up a 0.78 ERA while throwing 126.1 IP in 49 appearances. Oh yeah, he also had a 10.27 WAR that season out of the bullpen. Sun was just simply monstrous. Here are some gifs of his nasty stuff:
Wait holy moly, how did that slider look from the other angle?

Yeesh.

Sun later signed with Japan's Chunichi Dragons and was still nasty over there, saving 98 games in four seasons while striking out 228 in 197 IP (2.70 ERA).
The Tigers franchise also claims the greatest five-tool player the KBO has ever seen in Jong-Beom Lee. Before Eric Thames had a monstrous 2015 season, you could make a case that Lee had the best ever offensive season in the KBO history in 1994. As a second-year shortstop, Lee hit for a .393/.452/.581 line while hitting 19 HRs and stealing 84 bases, good for a 0.462 wOBA and 198.3 wRC+. Per Statiz, Lee's WAR that year measures up as 11.77. (Thames had a 10.71 WAR in 2015.) According to Lee, he had a real chance to hit .400 that season but was slowed by a stomach bug that he caught after eating a raw beef dish.
In 2006, as a 36-year old, Lee had an iconic moment during the inaugural World Baseball Classic, hitting a go-ahead, two-run double in the bottom of the eighth against Japan to lead Korea to a victory. (FYI: The Korea-Japan rivalry is very real.) Inject this gif directly into my veins:
Why should you have second thoughts?
While the team was largely successful in the 80s and 90s, they also had a reputation of being under very hard-nosed, strict coaching. From 1982 to 2000, the team was led by Eung-Yong Kim, who is considered the greatest manager in the history of the league. He set up the team culture that was compared to being in the military. For instance, during the 1993 All-Star Game, Haitai's star third baseman Dae-Hwa Han hurt his hand while fielding. While Han was icing his hand before his at-bat, the manager Kim got pissed to see that his third baseman was not even getting ready to hit, went into the dugout and smacked and kicked him.
If he did that without hesitation during a live game for the TV cameras to see, imagine what went on behind the scenes.
Names you may know:
Former top Cubs prospect and ML 1B Hee-Seop Choi played for KIA from 2008 to 2015. Former Mets RHP Jae-Weong Seo also pitched for KIA those same years.
RHP Hector Noesi, who pitched for the Yankees, White Sox, Rangers, and Mariners, is entering his second season as a Tiger. He is joined by two newcomers LHP Pat Dean (who pitched for the Twins last year) and OF Roger Bernadina (formerly of the Nationals). You might have heard of LHP Hyeon-Jong Yang, who tried to go to the MLB via posting back in the 2014-15 offseason. While that didn't work out, Yang signed a one-year deal with KIA over the most recent offseason, leading to speculation that he might try again after the 2017 season.
Championship seasons:
(Takes a deep breath) 1983, 1986, 1987, 1988, 1989, 1991, 1993, 1996, 1997, 2009
LG Twins
2016 finish: Fourth (71-72-2)
The LG Twins are one of the three Seoul teams and one of the two that play in Jamsil Stadium, along with the Doosan Bears, leading to one of the league's best rivalries.
The Twins franchise began in 1982 as the MBC Blue Dragons. MBC is a broadcasting company that owns several channels, including the MBC Sports+, which airs MLB games (and the NFL very once in awhile). "Blue Dragons" was a great name but I am not quite sure about that logo. In 1990, the LG group bought the team and changed the franchise name to the LG Twins.
Surprise surprise, LG is another one of the big Korean conglomerates. LG actually stands for "Lucky Goldstar," and, as you might know, they make electronics, chemicals, telephone products, and more.
The Twins have been playing at the Jamsil Stadium in Seoul since their inaugural season in 1982. The OB Bears (now Doosan Bears) moved in in 1986. Since then, both LG and Doosan have been archrivals. When both teams perform well, the rivalry is at the Yankees-Red Sox level. Right now the Bears have the upper hand in the rivalry but the Twins are a solid team in their own right, placing fourth and making it into the playoffs last year.
Why should you root for them?
As someone who's been to their games several times, I can say their fans cheer really, really well. Even though they haven't exactly been perennial winners, the passion is off the charts. They're big into banners and tifos. Damn, I want to be there, right now.
The LG fans' love for the team and their star players can be illustrated with a video. During the 2014 playoffs, the Twins were playing the NC Dinos at Jamsil. Down 4-2 in bottom of the eighth, the LG franchise star OF Byung-Kyu Lee stepped into the plate and the level of noise that the fans brought out was just… otherworldly. Just watch the damn video. You'll fall in love with the Korean cheering culture, if you haven't already:
Do you see this kind of thing in MLB? I think not:
Byung-Kyu Lee is the most beloved figure in Twins history after playing his entire KBO career there, and in a park known for being power-unfriendly. In 1999, his age-24 season, Lee hit .349/.394/.620 with 30w HRs and 43 doubles while swiping 31. Lee is even more appreciated among Twins fans for being the team's star throughout the team's dark ages.
If you really paid attention to MLB rosters back in the early 2000s, you might remember LHP Sang-Hoon Lee. If you don't, that's fine. He appeared in only nine games for the 2000 Boston Red Sox. An ignominious stint for the best LG Twins pitcher ever. In eight KBO seasons from 1993-97 and 2002-05, he had a 71-40 record with a 2.56 ERA and 98 saves. Lee is remembered for his long hair and fiery mound personality. The fans dubbed him "wild horse" for his antics and "Samson" for his hair.
In the 1998 and 1999 seasons, Lee pitched for the Chunichi Dragons of the NPB, where his name was officially registered as "Samson Lee." I am not kidding. After retiring from baseball, Lee became a rock star. Again, not kidding. He was the vocalist and guitarist for his own band called "What". Here's footage of one of his gigs:
In 2010, his band played at a festival and Lee profanely insulted the country's then-president Myung-Bak Lee. After their set, the event was shut down. Samson is back in baseball now, as the pitching coach for the LG Twins.
The Twins are the kings of collectible crossovers, collaborating at various times on Star Wars and Hello Kitty gear. Marketing!
Why should you have second thoughts?
In early 2012, the Twins lost two of their starters in a massive game-fixing scandal. RHPs Hyun-Joon Park and Seong-Hyun Kim were banned for life for their involvement. Park intentionally gave up walks to hitters in certain games. Here is one that was particularly egregious:
Park was coming off a successful 2011 season in which he solidified himself as a top starter for LG. Had he not been involved, he could be enjoying a career as an ace for one of the most popular teams in the country while earning big money. Instead he now works as a cellphone salesman.
While they have developed solid prospects the Twins are notorious for losing players that later fulfilled their potentials elsewhere. 1B Byung-Ho Park was a highly regarded first-round pick in the 2005 draft LG but was traded to Nexen during the 2011 season after struggling for years. Park immediately started hitting with Nexen and became the 2012 KBO MVP. Ouch. Aforementioned Eagles OF Yong-Kyu Lee was also a Twins draftee but was traded to the KIA Tigers, where he became a perennial All-Star. 2B Geon-Chang Seo was an undrafted signee by LG but was released after suffering an injury. After finishing military service, Seo signed with the Nexen Heroes and became the league's Rookie of the Year in 2012 and MVP in 2014.
One of the Twins' chants sounds too much like the Washington NFL team's fight song:
My verdict: the resemblance is uncanny. The Skins' song was said to have been written in 1938, which is more than 40 years before the KBO existed, in case you are wondering who ripped off whom.
Names you may know:
Remember LHP Jung Bong from MVP Baseball 2005? He has been with LG since 2007. He was a solid starter up to the 2011 season, when he needed Tommy John surgery. Since his 2012 return, he's been pitching out of the pen. RHP Jae-Kuk Ryu, a former Cubs prospect who gained infamy for throwing a ball at an osprey nest, has been a solid mid-rotation arm for LG since 2013. The Twins' ace is LHP David Huff, who bounced around several MLB teams. Huff became a fan favorite after fueling the Twins' pennant race last year. RHP Henry Sosa, who pitched for the Astros in 2011, is entering his sixth KBO season and his third with LG. 3B Luis Jimenez, formerly of the L.A. Angels, is entering his third season with LG.
Championship seasons:
1990, 1994
Nexen Heroes
2016 finish: Third (77-66-1)
The Nexen Heroes are located in Seoul, like LG and Doosan, but they have their own stadium: the Gocheok Sky Dome, the first-ever professional indoor baseball venue in Korea. If that name sounds familiar, it's because they hosted Pool A of the 2017 World Baseball Classic. The dome, which was finished in September 2015, is pretty damn nice, featuring optimal indoor temperature for baseball, a basement mall for the fans, and "MLB-caliber" facilities for players.
Unlike the LGs, Lottes or the Samsungs of the world, Nexen is not a big business conglomerate. Instead, they make tires. It's at least a step up from the club's 2008 debut as the Woori Heroes, when they were named after a cigarette company. That didn't last long, as it turned out that the company couldn't afford the fees. As a result, they played the 2009 season without any sponsorship and went by the Seoul Heroes. Nexen stepped in the next year.
The Heroes started out as its own franchise after the Hyundai Unicorns became defunct. They refer to it as a "rebirth," and just like in the Ssangbangwool-to-SK transition, the Heroes do not carry the Unicorns' lineage and record, which includes four championships in 1998, 2000, 2003 and 2004.
Why should you root for them?
In 2016, they ranked dead last in payroll, yet they finished third in the league and made it to the playoffs. It was their fourth consecutive playoff berth and they are, once again, forecasted to be playoff contenders in 2017. After building the club up from 2008 to 2012, the Heroes have become known for front-office smarts like acquiring Byung-Ho Park, growing talents like Jung-Ho Kang, and signing good foreign players.
In my opinion, their burgundy and white uniform combo is very sharp. Though it might be a different story they sport the gameday uniforms with a full set of sponsors. There are at least five in this photo alone: The side of their cap also includes a sponsor, but hey, try to understand: They gotta get the money somehow.
The team's star right now is 2B Geon-Chang Seo. As I mentioned before, Seo was an undrafted signee with the LG Twins but was cut after suffering an elbow injury. Nevertheless, Seo persisted. He was picked up by the Heroes and immediately started making an impact. In 2012, he hit .266/.342/.367 with 39 stolen bases, the second most in the league. He absolutely exploded in 2014 when he hit .370/.438/.547 with 65 extra base hits. He also became the first KBO hitter ever to record 200 base hits in a season. Beside the records, what's so awesome about Seo is his hitting mechanism. He designed his batting stance to minimize unnecessary movements and maximize his quickness. Result:
How about a slow-mo? Still a lightning-fast reaction:

When he won the 2014 KBO MVP award, Seo used a bouquet of flowers to exhibit his unique stance:

In 2014, the Heroes and Boston Red Sox set up a strategic partnership. According to this Yonhap News article, the teams agreed to share sabermetric analyses, evaluation techniques, farm system monitoring, and training techniques, among other things. So if you're a Boston fan, you should be rooting for the Heroes to do well.
Lastly, for those into comics, the Heroes' mascots look like the Avengers meets Transformers.
Why should you have second thoughts?
I told you how much I like their regular unis, right? In 2016, they introduced the purple alternates, and I gotta say, they are ugly as hell.
While the Heroes are an efficiently run baseball club, they remain a frugal one because of financial limitations. One of the motivating factors in letting Jung-Ho Kang and Byung-Ho Park go to MLB was money—they earned $17.85 million from the combined posting fees, big money by KBO standards. I was told in late 2015 that the Heroes would only allow Byung-Ho Park to be posted if he signed with the Octagon agency, who ended up netting Park a four-year, $12 million deal. It was, at the time, seen to be too much of a bargain by many. Why might this have happened? Because Nexen wouldn't get any of Park's salary, only the $12.85 million posting fee from Minnesota if a contract was signed. Nexen wanted to make sure a deal got done and fast, and Octagon made it happen.
Names you may know:
A pair of KBO-to-MLB exports, IF Jung-Ho Kang and 1B Byung-Ho Park, were stars with Nexen before being posted. Shane Spencer, former Yankees wunderkind, is the manager of the Heroes' minor league team.
For the 2017 season, Nexen acquired RHP Sean O'Sullivan to shore up the rotation along with KBO veteran LHP Andy Van Hekken. In MLB, Van Hekken is known for throwing a shutout against the Indians in his debut for Detroit back in 2002. He then around several minor league systems until being picked up by Nexen in 2012. In five seasons with the Heroes, Van Hekken has thrown for a 3.52 ERA in 132 starts. In 2014, he went 20-6 with 3.51 ERA (150.1 ERA+), earning a Golden Glove for pitchers that year. OF Danny Dorn, who briefly played for the Diamondbacks in 2015, is entering his second season with Nexen.
Championship seasons:
None
NC Dinos
2016 finish: Second (84-58-3), lost the Korean Series
The Dinos are another very young franchise. They started play in 2013 to make it a nine-team league (now 10 thanks to the KT Wiz). They are based in the city of Changwon in Gyeongsangnamdo, located very close to Busan (where Lotte plays). The city used to be the alternate home field for the Giants, and as you might expect, Lotte was not happy to receive neighbors.
Just like Nexen, NC is not a big conglomerate. They are though, in my opinion, much cooler than a tire manufacturer. NCSOFT Corporation is a computer game company that has produced Lineage, Guild Wars, Aion, WildStar, City of Heroes, etc. You know how Seattle Mariners are partially owned by Nintendo? Imagine the Nintendo Mariners. You'd root for the Nintendo Mariners, right?
Why should you root for them?
The Dinos employ one of the best players of the league ... who also happens to be one of the funniest. 3B Sok-Min Park played for Samsung from 2004 to 2015 before signing with the Dinos as a free agent. He hit .307/.404/.578 with 32 HRs in 2016, good for a 4.78 WAR and a spot on the Team Korea in the 2017 World Baseball Classic. However, his trademark is providing gifs for bloggers.
He has the wildest swings-and-misses you'll ever see.
When fielding, he specializes in theatrics:

Sometimes, he gets laughs just for his dumb luck:

And, lastly, there's...whatever this is:

The Dinos, as noted, are located only about 20-30 minutes from Busan, which means that they've had to compete with the Lotte Giants' regional popularity since their birth. In order to draw eyes, they've used exceptional marketing strategies to gather fans. For instance, they signed a character from a popular Korean kid's show, Pororo the Little Penguin, to be one of their mascots. Here's Pororo exploring the NC offices.

Worry not, they've also got a pair of dinosaur mascots for you: Meet Dandy and Seri.
And, oh baby, they can pull some moves in between innings:
NC's gold alternate uniform, I gotta say, is super fresh. It's up there on my bucket list of KBO merch items to buy. In 2016, they introduced an alternate jersey paying to the 16th-century admiral Yi Sun-Shin—it mimics his armor and everything—and, I gotta say, it looks great. Here's video of Eric Thames unboxing his jersey and being genuinely excited about it:
Lastly, the team itself, for its short history, has accomplished a lot. The only year they failed to make the playoffs was their inaugural 2013 season. Along with Nexen, NC doesn't boast huge financial resources, but they've been able to sign the right foreign players, develop young talents, and acquire useful veterans to finish third in 2014 and second in 2015 and 2016. Last year, they advanced to their first Korean Series. Even though they were crushed by the Doosan Bears in a four-game sweep, it is pretty impressive that the team was able to reach such a high level in just their fourth season of existence.
Why should you have second thoughts?
The Dinos just lost one of their best young pitchers to a game-fixing scandal. RHP Tae-Yang Lee, who had a breakout 2015 (10-5, 3.67 ERA in 137.1 IP) and was a member of the Korean roster in an international tournament that year, was suddenly removed from the roster during the 2016 season. It was revealed that he had been convicted for his involvement game-fixing. Here are two instances in which he is said to have intentionally allowed runs, vs. KIA on May 29, 2015) and vs. Lotte on Aug 6, 2015:
On January 25, 2017, the KBO officials officially banned Lee for life, ending his brief KBO career at age 23. At the same time, the police also investigated Dinos RHP Jae-Hak Lee, who has been their ace for as long as the team has existed (43-27, 3.95 ERA in 588.0 IP in four seasons). Luckily for NC, Lee was cleared in February and is expected to play a full 2017
In August 2016, it was reported that RHP Min-Ho Lee had been charged with domestic violence. Pictures of his wife's bruised arm circulated. The Dinos later acknowledged the charges and fined Lee the equivalent of $9,000 and commanded him to perform 50 hours of community service. Most considered the punishment to be light, especially because it didn't include a suspension. The Dinos continued to let Lee pitch in their games as if nothing had ever happened, a disgraceful look for the organization.
Names you may know:
You should know all about 1B Eric Thames. He had three very dominant seasons as a Dino, including a historic 40-40 feat in 2015. His performance in Korea earned him a three-year, $15 million contract with the Milwaukee Brewers this winter, which meant a collective sigh of relief for fans of the other nine KBO teams. RHP Eric Hacker (formerly in the Yankees' farm system) has been with the Dinos since their very first year. In four seasons with NC, Hacker is 44-27 with 3.56 ERA (136.6 ERA+) in 109 starts—as consistent and reliable as one can get in the KBO. He is joined by RHP Jeff Manship, who was in the Cleveland Indians' bullpen last year and even pitched in the World Series. OF Xavier Scruggs, who played 24 games with the Marlins in 2016, is the franchise's new foreign hitter and he, of course, has a very tough act to follow.
Championship seasons:
None
Doosan Bears
2016 finish: First (93-50-1), won the Korean Series
The Doosan Bears are located in Seoul and are one of the original KBO franchises. At that time, they were the OB Bears, after a beer company that was owned by the Doosan Group. At the time, rather than naming the team after the parent company, Doosan decided to name it after its popular beer brand. Only in 1999 did they gain their current name.
Doosan is another Korean conglomerate company. They deal with stuff like publishing, construction, and railroads. If you haven't learned anything about baseball from this article, you at least know that massive business conglomerates rule South Korea.
Why should you root for them?
Simply put: They were dominant in 2016 and should be much the same in 2017. They had a .650 winning percentage and swept the NC Dinos to take the championship. Barring any disastrous developments, the Bears are the strong favorite to lead the pennant race this season and, perhaps, continue on with their dynasty.
Last year, the Bears' rotation was otherworldly. They combined for 70 wins (out of 93 team wins) and a 20.56 WAR. Leading the way is RHP Dustin Nippert, who had a 22-3 record and 2.95 ERA in 27 starts. It was his sixth season with Doosan and his finest yet, winning him league MVP honors. The Bears fans, enamored with his performance and charity work, have dubbed him "Ni-neu-nim" (니느님), a combination of "Nippert" and "Haneunim," meaning "God." Nippert married a Korean woman after the 2015 season, leading to many to speculate that he wants to play and live in Korea long-term.
The most interesting character in the rotation, however, is LHP Hee-Kwan Yoo. He is an ultimate "slow'em to death" junkballer. In 2016, he averaged 79.3 mph on his fastball but baffled the hitters by mixing pitches up and attacking the corners. He had a 15-6 record with a 4.41 ERA (115.9 ERA+) while earning a 4.13 WAR. Here's what his junk looks like.
Once in awhile he'll drop in a 77 kph eephus-like curve to befuddle the hitters. That, by the way, is 47.8 mph, folks.
Not only does Yoo know how to mix 'em up, he has some flair for comedy. When the Bears clinched the Korean Series back in November, Yoo showed up with his Iron Man costume and...well...just watch:

Lastly, Yoo's nickname is "Olaf" because of his supposed resemblance to the snowman character from Frozen. You be the judge.

The Bears roster is filled with talent. For the 2017 World Baseball Classic, eight Bears players were chosen to the 28-man Team Korea squad, the most from any KBO team by far. Fans like to say that even if Hyun-Soo Kim came back to Doosan, he wouldn't have a spot to play.
I want to say their uniform design of white-red-dark navy is nice and safe. It is not too flashy, and not too boring. Their old OB Bears gear, however, is considered a bonafide retro gem in Korea.
What's fun is the evolution of their bear mascot. They've gone from mellow, stoned bear to cuddly cartoon bear to good bear/bad bear to intimidating robot bear.
Doosan is one of the most popular teams in the KBO. In 2016, they drew over a million fans for the eighth year in a row, the first team in league history to do so. Even before their 2015 and 2016 championship runs, they always drew healthy crowds, perhaps because the Bears were perennial playoff contenders in the 2000s while the LG Twins, rivals sharing the same stadium, were mired in their dark ages. As a result, Doosan had first crack at an entire generation of fans. It's only gotten more stark now that the Bears are the league's best.
Lastly, for you bat-flip fans, Sung-Heun Hong, who played catcher and DH for Doosan from 1999 to 2008 and 2013 to 2016 and was one of the best hitters of his time, had a mean one:
Why should you have second thoughts?
In 2017, becoming a Doosan Bears fan would be kind of like joining the Yankees bandwagon in 1998 or becoming a diehard Warriors fan in 2015. If you don't care, by all means go for it.
Even though it has quieted in recent years, the Bears had a reputation for legal troubles and scandals. Some KBO fans dubbed the team's nickname as "Bum-jwe-Doo" (범죄두), or "Crime Doosan." There's too much to list everything here, but back in 2011, RHP Tae-Hoon Lim was involved in one of the worst scandals in Korean entertainment history. Lim was romantically involved with Ji-Sun Song, a popular television personality who hosted MBC Sports+' Baseball Tonight. On May 7, 2011, Song wrote on her personal blog that she had been battling severe depression as a result of Lim's treatment of her. A few weeks later, she committed suicide by jumping from her 19th-floor apartment. Lim, once a promising young pitcher for Doosan and the 2007 Rookie of the Year, became one of the most reviled figures in the sport.
The team's starting LF, Jae-Hwan Kim, is one of their offensive stars. Last year he put up a 325/.407/.628 line while hitting 37 HRs, which is very hard to accomplish at pitcher-friendly Jamsil. So what's the problem? Back in 2011, Kim failed a drug test, making it difficult for fans around the KBO to support his rise. He'll always carry the tag of a PED user, but again, if you're just here for the success, that probably won't bother you too much.
Names you may know:
Baltimore Orioles OF Hyun-Soo Kim was a franchise star with the Bears from 2006 to 2015. In both 2008 and 2009, he hit for .357 averages, earning him the nickname "Batting Machine." Kim hit for a career slash of .318/.406/.488 in 10 seasons before signing with the O's. As mentioned, RHP Dustin Nippert is the top foreign player in the KBO at the moment, after two mostly unsuccessful stints out of the bullpen for the Diamondbacks and Rangers. RHP Michael Bowden, a former Red Sox prospect, had a solid first season in the KBO (18-7, 3.80 ERA in 180 IP) and is expected to be a rotation anchor this year. Oh, and he also tossed a no-no. Their foreign hitter is a former Met Nick Evans. Like Bowden, Evans was a first-year player in the KBO in 2016 and earned another contract thanks to a solid showing.
Championship seasons:
1982, 1995, 2001, 2015, 2016
---
So, have you chosen a team yet? If you want to follow the KBO this season, you can stream the games live via the Naver TV app. Great news: it's free! Just keep an eye on your data usage. You can download it on Apple or Android phones or even your browser. Here's a tweet from Dan Kurtz of MyKBO explaining how to use it:

MyKBO is the ideal way to follow the KBO for English-speakers. Dan does a great job keeping the fans up-to-date with his website and Twitter account. If you know a bit of Korean and want to get into advanced statistics of the KBO, both Statiz and KBReport are great resources. Daniel Kim, a baseball broadcaster for the KBS Network, is another great follow because of his expertise and his English skills. Jeeho Yoo is a reporter for Yonhap News and covers Korean baseball in English. Lastly, I tweet about the KBO all year!
---
Sung Min Kim writes for River Ave. Blues, and has written for MLB.com, The Washington Post, Baseball America and VICE Sports. Besides baseball writing, he is also passionate about photojournalism and radio broadcasting. Follow him on Twitter @sung_minkim.