Everyone knows fall is the best time of year, because it's the peak season for sports, weather, and Muppets. That much is settled science. But did you know that autumn is also the sweetest spot on the Homemade Hot Sauce calendar? If you can manage to look past all the squash, kale, and hippies at your local farmer's market, you'll notice that the stalls are currently stuffed with things that are actually useful, such as apples, onions, and hot peppers ready to be chopped, simmered, and blended into a sauce you can put every damn where your cold and bold heart desires.
Ingredients
* Three apples
* Eight habanero peppers
* Medium red onion, diced (approximately 1 cup)
* Juice from half a lemon (approximately 1 to 2 tablespoons)
* Tablespoon salt
* Two and a half cups water
* Tablespoon fresh grated ginger
* Half-cup apple-cider vinegar
* Shot of bourbon
Instructions
1. Peel apples and chop into half-inch pieces.
2. Slice peppers in half, remove seeds and stems, mince.
3. Place apples, peppers, and onion in large saucepan with lemon juice, salt, and a quarter-cup water. Bring to a boil, then reduce heat and simmer for eight minutes.
4. Add ginger, vinegar, bourbon, and one and a quarter cups water. Cover pan and cook on medium heat for three minutes.
5. Remove lid, simmer for three minutes.
6. Pour the resulting applesauce­-looking mess into large bowl, and cool to room temperature.
7. Add last cup of water; blend to saucy consistency.
Recipe will yield approximately five cups. Store in rinsed-out 40-ounce malt-liquor bottle (St. Ides works best for this application), empty water bottles, or those jaunty little swing-top jugs from the kitchenware section of T.J. Maxx.
The sauce should keep fine for several weeks using any half-assed storage method. If you want a long-haul sauce, sterilize your containers before bottling. I've never bothered, and I've never died of botulism, but consider this your ass-covering disclaimer.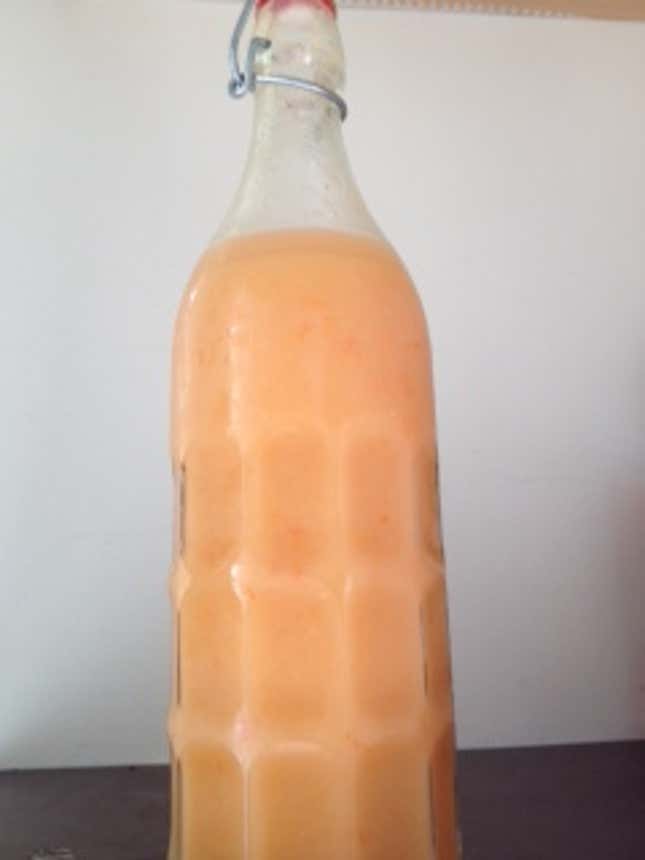 Notes
1. I used Spencer apples for my most recent batch; it doesn't much matter which breed you use, though I'd recommend against Macouns or Honey Crisp or any other big-ticket fruit. And come on, man, no Red Delicious. Have some dignity. I bet peaches would work, too, any maybe pears. I use apples because they are the easiest to buy and store.
2. Eight habaneros will yield very hot sauce. To dial it down, you can use fewer peppers or substitute a gentler model, such as Serrano or jalapeño. If you're tired of feeling your face, you can bump things up with a few more habaneros, or swap in Trinidad scorpions or Carolina reapers.
3. Wear gloves to chop the peppers, or your hands will die, as will all body parts that come into contact with your hand-corpses. You'd be surprised. (Be careful not to burn your dick off, is what I'm saying.)
4. If you don't like ginger, skip it. I find it provides depth and vibrancy, but if you're not into that kind of thing, replace it with garlic or nothing, no big deal.
5. I always cook with Old Crow, but that's just my dumb affectation; it needn't be yours. Use the cheapest whiskey you'd be willing to drink neat.
6. I bet replacing the final cup of water with apple cider would be good as hell.
7. Hot saucery is an inexact science. Yield varies based on the size and juiciness of the apples, and heat depends on the unpredictable gumption of the peppers. This recipe skews hot and thick, as it is easier to cool and thin sauce after the fact. Once you blend the chunky stuff into smooth stuff, simply mess around with water (or cider!) until you get the desired heat and consistency.
8. In addition to being ideal for all of your standard hot-sauce applications, I find that adding this to plain yogurt makes me feel tougher about my yogurt habit. It's also good mixed with soy sauce and then dumped on chicken. I tried it with iced tea, but it sank to the bottom of the glass. Anyhow, get kinky.
---
Will Gordon loves life and tolerates dissent. He lives in Cambridge, Mass., and has visited all of the other New England states, including, come to think of it, Vermont. Find him on Twitter @WillGordonAgain.

Art by Sam Woolley.