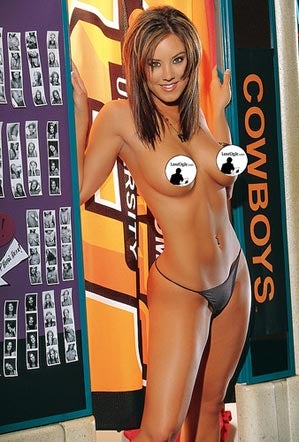 As Peter King can tell you, when you're a public figure, sometimes people poke a little fun at your family (especially if you, you know, talk about them all the time.) But Oklahoma baseball coach Sunny Golloway is probably an innocent bystander here, as much as anyone whose daughter poses in Playboy can be.
It's not confirmed through him, but there's a report that Galloway's daughter is in the Girls Of The Big 12 issue. And even worse ... she's representing Oklahoma State.
Rumors ran rampant throughout the internet that one of the OSU women featured was actually Sunni Kate Galloway, a daughter of OU head baseball coach Sunny Golloway. We've finally been able to verify this with an independent source, and are now proud to bring you The Lost Ogle's version of the Playboy picture.
No official confirmation one way or another, but we suppose, when the Sooners and Cowboys meet, that could be called "bulletin board material."
Girls Of The Big 12 Are Hot, Probably Good At Baseball [The Lost Ogle]