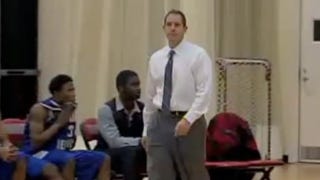 Last night, Emma brought you the sorry tale of Jason Popp, whose 15-0 Richmond Heights High School boys' basketball team was trying to overthrow him since he regularly called them the n-word.
Well, this afternoon came word from Cleveland that Popp "was suspended for the rest of this year with the option to come back," per the News-Herald. His assistant will try to extend their season to 16-0 tomorrow night.
Popp is accused of using "inappropriate language as well as racial and economic harassment," according to a letter drafted by parents of the boys varsity basketball team. ...

Gross said he didn't hear a lot of the alleged conversations, but he didn't travel on the bus with the team and wasn't with the team during pregame.
The Plain-Dealer caught up with superintendent Linda Hardwick, who said the whole damn district needs cultural-sensitivity training. Thus, she is open to Popp's return should he get culturally sensitive.
"Coach needs to show these young men that he's willing to work," she said. "He needs some connection with them. He needs to find a way to regain their trust."
This update was brought to you by tipster Jason, who wrote, "HS hoops coach in the middle of 15-0 season gets run off by whiny parents cause he is too hard on the kids."
New head basketball coach takes over in Richmond Heights [News-Herald]
Richmond Heights removes Jason Popp as boys basketball coach for remainder of season [The Plain Dealer]