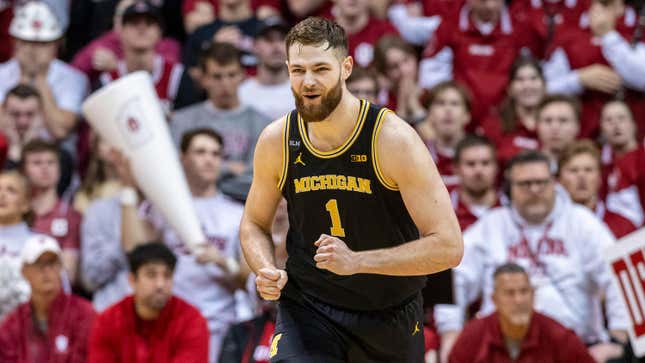 Guys like Hunter Dickinson give do-good gaslighters, who love to rail against NIL deals and the transfer portal, more content to shove in our faces as evidence that unpaid athletes making money is fostering a Wild West culture in college athletics. That's not exactly true. The underbelly is just exposed like someone who really shouldn't be wearing a crop top. Fanbases accustomed to locking down recruits for four years are quickly realizing how the business runs when the supposed adults are too greedy to actually do it.
Does Paul Giamatti get off on doing bad stuff now?
Dickinson, Jaden Rashada, and other players are becoming more outspoken over not getting theirs, and it hurts that they're so crass about it. College sports fans are notoriously thick-skinned, and handle transfers and commitment reneging about as well as a 3-year-old at a sit-down dinner. So after Dickinson was on the receiving end of the most predictable backlash ever, he responded on a podcast*.
"The people hating on me would leave their job right now for a $10,000 increase," Dickinson said. "I got, at Michigan, less than six figures. I got less than six figures at Michigan for the year."
Telling Michigan alumni, who probably make six figures, and likely value the job security that comes with it, that they'd sell all their Maize and Blue gear for a measly $10K is a glaring oversight, and almost as bad as the time Hunter wore a ski mask the to Wisconsin game a day after the mass shooting at Michigan State.
Hearing student-athletes talk about money is a new development that people are turned off by simply because it's not yet normalized. When a kid complains about not getting six figures, people who make less than that do a spit take and chuck their coffee mug at a wall.
(*Of course, it's a Barfstool outlet that gave Dickinson a platform and probably encouraged the bombastic approach. This sidebar has nothing to do with this article, which is why it's in parentheses, but what are the odds Dave Portnoy's run comes to an end via a college athlete-Barfstool sportsbook scandal? Is Harrah's even taking that action?)
Why are U-M supporters even mad about this yahoo leaving?
Dickinson led the Wolverines in scoring each of his three seasons in Ann Arbor, and the team will certainly miss his 18 points and nine rebounds per night. The big man's contributions didn't translate to a tournament berth in 2022-23 as they did his freshman and sophomore campaigns, and the team was relegated to the NIT— a drab, gray affair that's even more blah after you've been a No. 1 seed in the real show.
Juwan Howard is probably on the hot seat, and even though that has more to do with Howard slapping an opposing assistant coach than on-court performance, the butt warmer is engaged. Players know that, and Dickinson knows Kansas offers a better opportunity to win, and more NIL money. That was enough to convince him to become a Jayhawk.
Not counting the COVID cancellation, KU hasn't missed an NCAA Tournament since 1989, so Dickinson should return to the Big Dance in his last year to do so. Plus, he's getting some extra cash, and those are all good things for him. He acknowledged the decision was "selfish" but also difficult to make.
If Dickinson was the starting quarterback, then Michigan fans should be concerned about the wealth of their boosters. However, they're not going to pony up the same money KU hoops can offer. Don't like the unequal footing? Paying the players is an option and one that could be regulated to offset the difference in NIL money in certain cases.
I'm told all the time that I should be happy to see Damian Lillard go to a contender, and that's the same line of bullshit I'm going to feed to Wolverine supporters. Dickinson hasn't done anything wrong per the updated rules of player movement, he's just an asshole.
It's not an indication that the system is flawed; it's just someone using it properly — and I agree that the process doesn't look natural. The way the soon-to-be senior went about it felt eerily like an NBA player dumping the team that drafted him for Golden State, and that ticks off college fans more than anything.
Fans expect loyalty to the school colors above all else, but we know a certain shade of green is the most powerful hue of all.