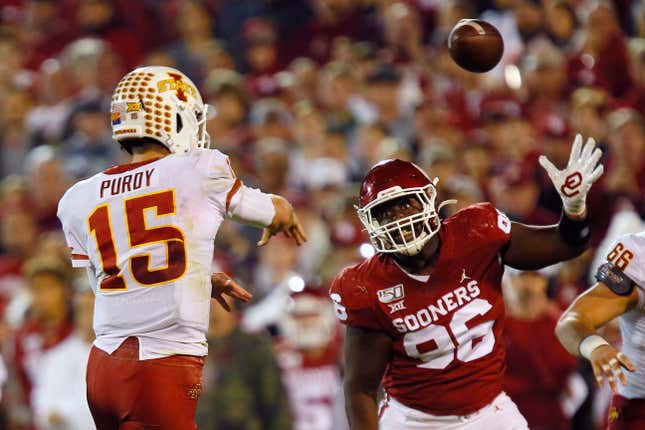 I doubt a college football game from 2019 will be used as scouting tape for an NFC Championship Game, especially when Brock Purdy was only a sophomore and that was the sole season that Jalen Hurts played in Lincoln Riley's offense at Oklahoma.
Big Money & No Results | Rough Week 1 for these NFL QBs
Highlights from the matchup went viral on Twitter earlier this week. Taking a look at the box score and the final score it appeared to be a good old-fashioned Big 12 fireworks show. Oklahoma won at home, 41-42. Purdy totaled six touchdowns on the day and Hurts scored five.

I went back and watched the entire game, and it played out more like freeze tag than it did a track meet. It was fast at points, but overall very choppy. Also, if Purdy's performance against the Philadelphia Eagles that night is similar to his Nov. 9, 2019, one in Norman, Okla., the San Francisco 49ers will get scorched.
The first Hurts-Purdy showdown
Iowa State was down by 21 points on two different occasions. They trailed Oklahoma 28-7 in the second quarter, and 42-21 at the end of the third. Purdy's arm was erratic that day. He converted some of those wide-open passes over the middle of the field that completes regularly with the 49ers, but he was off target on several attempts and also threw into coverage.
The true star for Iowa State that night was Breece Hall. Before his brief moment as a national star with the New York Jets before an unfortunate injury, with the Cyclones Hall earned the only unanimous All-American bid in the history of the football program. He was a true freshman during that 2019 game in Norman. He touched the ball 23 times for Iowa State, and shredded Riley's single-ply defense for 6.1 yards per carry and 8.3 yards per reception.
Hurts came into that game as a Heisman favorite. He was leading the nation in passer rating and quarterback rushing yards while the Cyclones were fighting for bowl eligibility. While his numbers were great with the five touchdowns, 69.2 percent completion percentage, and 68 yards rushing, he too was less than perfect with his ball placement.
CeeDee Lamb hauled in a touchdown in the first quarter that Hurts lofted into triple coverage, and one potential first-half interception was dropped by Iowa State. All of the good was shown from Hurts with the strong running on his two rushing scores, as well as his ability to keep his eyes downfield while dodging defenders to make plays in the passing game. However, his fourth-quarter interception came at the worst possible moment of the game.
So how did Purdy engineer a comeback in which Iowa State came within one point of defeating Oklahoma, which would have given the program two consecutive losses for the first time in 20 years? The fourth quarter was truly chaotic.
Following Iowa States' first touchdown of the fourth quarter, Lamb fumbled in Oklahoma territory on the next series. The comeback looked plausible early, but Iowa State ended up turning the ball over on downs on an ugly drive. A holding flag was thrown against the Cyclones, but was picked up shortly after to the dismay of the Norman faithful. The next two plays Iowa State got called for consecutive false starts. Two plays later, Oklahoma got called for a questionable defensive holding penalty. This 12-play drive that had three penalties, took up nearly seven minutes, went for 19 yards, and no points. The last goal-to-go plays were both Purdy mistakes.
Oklahoma's next two drives were a three-and-out followed by the Hurts interception. It was at this point in the game when Purdy channeled his late-2000s Tim Tebow and led Iowa State on a ferocious comeback. He had some huge scrambles that saved drives, and his best throw of the night got dropped.
Iowa State went for two to try and win the game following their final touchdown. Purdy threw a dart into double coverage that was dropped.
Those tuning into the NFC Championship Game should expect a much cleaner football game, but if any shades of sophomore Purdy in Norman present themselves on Sunday, he won't be able to recover from any three-touchdown deficits.