Here are just a few, tiny things that happened in a dark, bizarre, depressing Year of our Lord 2018:

Jokic? Embiid? The NBA MVP is obvious... right? | Keep it a Buck(et)
A somewhat famous white guy who goes by Lil Dicky released a music video, called "Freaky Friday," that he wrote and stars in alongside and a much more famous black guy, Chris Brown.
In this music video, the white guy makes a big show of saying the word "nigga," repeatedly and with abandon, to himself and others.
In an oh-so-clever turn, the white guy drops these percussive "niggas" only after a mystical old Asian guy has swapped his mind into the body of the black guy, making the white guy saying "nigga" A-OK, since he did so when inhabiting the black guy's body. Get it? Hilarious, right?
To quote the offending passage: "Wonder if I can say the n-word (wait for real?) / Wait, can I really say the n-word? / What up, my nigga? (woo) What up, my nigga? / Big ups, my nigga, we up, my nigga / You pussy ass nigga, man, fuck y'all niggas / 'Cause I'm that nigga, nigga, nigga, nigga / I'm that nigga!"
This jumbled mess of a video that features strained attempts at comedy, insipid songwriting, and eyeroll-inducing yet ultimately impotent controversy-courting has racked up a zillion views on Youtube, presumably off the strength of America's inexhaustible legion of cornball white kids.
Some of these cornball white kids who have eaten this shit up include members of the Virginia Tech women's lacrosse team.
Demonstrating an alarming but completely unsurprising level of insensitivity, these lacrosse players got together on the team bus and sang along to the white guy's song, gleefully belting out every "nigga" from the lyrics, putting in their white mouths the words the white guy put in the black guy's mouth for the express purpose of trying to wink his way around the single cultural rule black people have (for the most part) successfully imposed on white people, which is that whites are not allowed to use the word "nigger" or any of its variants in polite society, at least not without social ramifications.
Demonstrating an alarming but completely unsurprising level of stupidity, these lacrosse players not only sang "nigga" at the top of their lungs, but 1) did so on camera and 2) posted the video to Snapchat.
Someone else saw the video, shared it in an even more publicly accessible format, and the video caught the attention of lots of people—including Virginia Tech, and news outlets like ours.
While the athletes themselves haven't faced any serious repercussions for their insensitivity and stupidity—as is right, since they were just being dumb kids and probably only deserve a healthy dose of public shaming with the aim of enlightening them and others for the future—the rest of us spectators to the controversy have been drafted into the latest-and-yet-one-of-the-oldest skirmishes of the culture war.
On one side of the battle you have sensible people who have seen the video and said, "Hm yes, a group of white kids shouting 'nigga' along with a song and then posting video of it all is indeed a bad look."
On the other side, a small but ginned-up faction of gibbering masturbators and the hucksters who attempt to siphon for themselves the chunk of the masturbators' discretionary income that hasn't already been poured into the Patreon accounts of their favorite MRA Wordpress prophets are running around on Twitter tearfully whining about political correctness and censorship and pointing out The Real Racists.
Their argument is that public shaming—which is, again, at this point the only form of punishment the athletes have received—is beyond the pale because white people repeating the word "nigga" when a black artist says it first in a song lyric is perfectly fine.
What strange times we live in, though when we have white kids saying variations of "nigger" on Instagram on the regular and the people who run the country surely feel no need to wait for the specific part of a Chris Brown song before letting loose with the racial slurs, you'd have to be living under a rock not to find all this weirdness somehow normal.
So, who's to blame here? If you look, you'll find plenty of bloody hands. The lacrosse players themselves deserve blame for not knowing what everyone in the world should know in the Year of our Lord 2018, which is that loudly singing "nigga" in front of others is a bad and stupid thing to do and will get you publicly shamed. The lacrosse players' parents deserve blame for failing to brand this clear, foolproof, easy-to-follow advice onto the brains of their children before sending them off to college. The mainstream white society deserves blame for apparently being unable to communicate to each of its members why exactly it is that white people saying "nigger" in any form and in any context is hurtful, dumb, and insensitive to any black person who might overhear it.
G/O Media may get a commission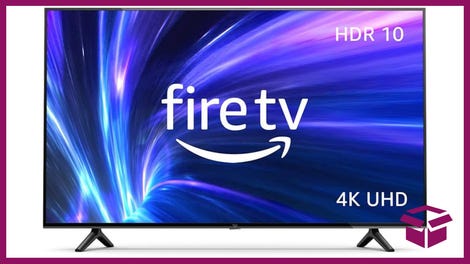 42% Off
Amazon Fire TV 50" 4K Smart TV
(I've been the sole black kid in rooms of otherwise well-meaning white kids who've been rapping along to songs with the word "nigga" in them, so the reasons why this is bad are crystal clear to me. I've been personally hurt when those white kids saw no need to omit the lyric in my presence and left stewing in a strange mix of emotions; angry at them for not doing me the tiny courtesy of leaving that one word to 50 Cent during the singalong sessions; feeling simultaneously so invisible and so glaringly out of place in the aftermath; feeling powerless in the knowledge that as one person in a group of many I wouldn't be able to adequately express or convince them why what just happened was wrong; feeling like a coward when that powerlessness kept me silent even though I'd been taught not to let things like that slide in my presence; feeling like the best course of action was to bottle up all these emotions and either ignore these casual insults to my personhood and get back to having fun or to avoid socializing with my peers in fear that I once again suffer a similar sleight. On the other hand, I've also sat through an impromptu singalong of Nelly's "Ride Wit Me," nervously bracing myself for the incoming "niggas," and feeling inordinately heartened as the collective of drunk white kids skipped each "nigga" and yet still carried on singing the rest of the song with all the joy and pleasure the song inspires. As should be evident to anyone who seriously considers the issue, this isn't some empty virtue signaling by the PC Police. There are real people and feelings involved.)
The online horde of white morons who take even the slightest speed bump on the straight, wide, speed limit-free highway to unimpeded power and success deserve blame for being morons. The disingenuous bullshit salesmen who stoke the fires of the moron horde deserve blame, especially after they've exposed themselves as the insincere chickenshit poopy diaper babies they really are after turning down a totally reasonable request to put their money where their mouths are by filming themselves singing "nigga" along with a song of their choosing. The list of blameworthy individuals and cultural norms here could go on and on.
One person who decidedly is not to blame, though, is Lil Dicky himself. Not because he's done nothing wrong, but in fact because of the opposite. The song in question feels like it was specifically designed to elicit the kinds of response it is now getting, to make people mad for his gross attempt to "get away" with saying "nigga" by writing the word down and paying a black person to say it for him, to embolden white people to sing the word along with Dicky-via-Brown, to give new life to the tedious, decades-old "controversy" about who can say "nigga" and when, and to get thinkpieces written about him and his video either castigating him or supporting him. That all of this would come from the song was perfectly foreseeable. It was the entire point.
Dicky, a comedy-rapper, is the worst kind of hybrid act. He's not funny enough to be a comedian, nor is he talented enough to be a rapper. But as Donald Glover's music career can attest to, if you do two things poorly but do them both at the same time there is a sizable segment of the public that will pretend you're doing something great.
Dicky's brand of comedic rap takes a lane that at once clearly emerges from hip-hop culture even as it refuses to earnestly engage with it, and in fact openly mocks it. Some 30-plus years after the Beastie Boys broke onto the scene, nearly two decades after Eminem became the biggest rapper in the world, and after countless other white rappers have become accepted and beloved figures in hip-hop, Dicky seems to be the last white rapper out there who still feels too self-conscious about his participation in the culture to really throw himself into it. Thus he hides behind a layer of ironic detachment, making weak meta-rap jokes rather than revealing himself and his feelings, using the co-sign of black hip-hoppers to head off the criticisms that would surely be in store for a white rapper who seems too insecure in his own skin to say anything meaningful or interesting, and instead resorts to laughing at those silly black people.
There doesn't seem to be much in the way of focused criticism of Dicky, which to an extent is actually encouraging. He is such an irrelevant figure in the actual music world that places you'd expect to cover him feel comfortable ignoring him, and that this informal agreement to snub his music is good. But there's also a touch of arrogance on the part of the gatekeepers on display here, or at least of naiveté. "Freaky Friday" has racked up over 56 million views on Youtube in two weeks, and the likes of the Virginia Tech women's lacrosse team has the lyrics memorized. Choosing to ignore people like this clearly isn't an effective tactic, because Lil Dicky is certainly not being ignored.
At the same time, though, you can't expect an agitator not to agitate, a struggle-rapper not to struggle-rap, an insecure white man not to look down on others under the pretext of comedy to make himself feel better. Dicky—who got his start in advertising, cracking up his coworkers by giving his monthly progress reports in rap form—knew what he was doing, and he'd certainly do it again. So no, you can't really blame Dicky for succeeding at what he set out to do. If we're going to single out one person who could've headed this whole thing off and blame them, we'll have to look elsewhere.
I blame Chris Brown. While it may sound absurd to expect any kind of responsible decision making on the Part of Chris Brown in the Year of our Lord 2018, I still think he should have known better than to participate in the farce that is "Freaky Friday." Brown's participation in the video is critical. The entire conceit here is that Dicky is depressed in his own life, sees the carefree, rich, cool, corporeally uninhibited, "nigga" pass-having Brown, and pines to experience that. (It shouldn't be lost on anyone that the dynamics at play here—a stuffy, well-to-do white jealously yearning for the freedom to just let loose and dance like those unworried, hedonistic blacks—are the same kind of gross stereotypes that have been promulgated in white society since slavery and probably well before.) Without a black body to do his bidding, Dicky's premise doesn't work. So it's wild that Brown—who, whatever else he is, still presumably considers himself a proud black man—would allow himself to be used in this racist fantasy, to rent his celebrity and body and skin and mouth to Lil Dicky so that Dicky could pretend to don that body and shuck, jive, and cry out "nigga!" to the full extent of his sad white heart's desire.
If for no other reason, Brown's senses of racial solidarity and personal integrity should've kicked in and told him to turn Dicky down when asked to loan his body for what amounts to an expensive form of blackface. Obviously Dicky would've phoned up other black artists until one inevitably agreed had Brown turned him down, meaning Brown himself probably couldn't have headed this thing off single-handedly. But maybe Chris Brown and the next few names on Dicky's rolodex could've been persuaded that selling out your people by collaborating with a lame like Lil Dicky isn't worth it, and in the process could stop things like "Freaky Friday" from getting off the ground in the future.
In that spirit, I feel comfortable blaming Brown for not doing so. If he were to have a change of heart and come out against the video and apologize for his complicity in it, I promise to be the first one to go up to him, dap him up, and bellow in a sing-songy voice, "You that niggaaaaaa!"