Among the many reasons you'd be galactically screwed if you lined up on the perimeter to defend an NBA player, speed is the scariest. Before you stand some of the tallest, longest, twitchiest, most volatile athletes in the world, with good options available at every juncture: stop dead and pop a jumper over you, put the ball on the floor and send a juicy deltoid into your chest before erupting into a dunk, or halt somewhere in between to glide up into a floater. A large part of your plight is their speed, the threat of speed. They can get to any one of these spots before your brain. To use the popular idiom, NBA wings can get from 0 to 100 as quickly as any athlete in any sport, and your chance at defense may disappear in the span of a gather step. Of course, raw speed is far from the only tool they can use to kill you.

Jokic? Embiid? The NBA MVP is obvious... right? | Keep it a Buck(et)
For another, there's also change of speed. Toying with a defender's expectations is as powerful as outright dominating their knowing attempt. If you start moving at a certain speed, and can convince your defender that you'll keep moving at it, and so they ought to move along with you—then suddenly you're free to pump the breaks, opening up a pocket of separation to do whatever you need to do. This, and perhaps some charitable interpretations of the carry rule, helps explain how a now-deceased 5-foot-9 person used to be able to sneak by so many stronger and longer defenders with a masterful hesi. It's also why James Harden looks so leisurely as he Euro-steps through a thicket of limbs, his face a picture of yogic contentment.
You can deploy change-of-speed on a particular play—a single move to shake loose a defender. Or you know, you can deploy change-of-speed just generally, as a human being. That can be your whole shit. The first one works by defying a defender's expectation of how a basketball player would move in a specific instance. The second one works by defying a defender's expectation of how a basketball player would move. Maybe, to return to the idiom, your competitive advantage is going from 0 to (very generously) 40, and back down to 20 again; maybe that poses a broader puzzle. You can play your whole career in slow-mo, and even call yourself that, if you are Kyle Anderson, the 6-foot-9 Spurs starter in possession of many basketball-relevant skills, none of which have anything to do with going fast.
There he was on Sunday, picking something out of Harden's teeth and then embarking on what the original poster of this video very faithfully describes as a "Slow Break." Keep your Giannis wrecking-ball routines to yourself: Anderson's might be the most enjoyable transition player in basketball, after you account for the sheer comedy coefficient. All of us are Tarik Black here, jogging right alongside the play and yet powerless to defend it, as if hypnotized by Anderson's languid strides.
G/O Media may get a commission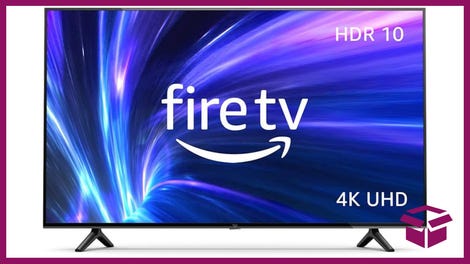 42% Off
Amazon Fire TV 50" 4K Smart TV
I am not telling you a secret here: Anderson isn't the most gifted mover laterally (or forwards or backwards or upwards [though he'll occasionally surprise on that last count]), and may not be the most obvious candidate for staying in front of an opposing ball-handler. But he remains a troubling defender. For that he can thank his patience and predictive abilities, and most notably a 7-foot-3 wingspan that lets him stay in a play even when he seems to be slightly behind it. With that reach he is free to cast about for deflections—he ties Giannis with 2.5 a game—and outright steals—his 1.5 a game are good for 15th in the league, per NBA.com. Anderson, in his first season as a Spurs starter and helping fill the Kawhi-shaped void, can guard both forward positions, but has seen more run at the four than in previous seasons, per the position estimate on Basketball Reference. "Instead of chasing guys off screens, you're guarding guys setting the screens," Anderson told the San Antonio Express-News, referring to the roughly 36 percent of the time he plays up a slot. "And you've got much bigger guards guarding you. I like it."

Many of Anderson's best robberies, like the one above, come deep in the court, somewhere in the murky area between the arc and mid-court, when his quarry is perhaps already mentally shifted to starting up the next offensive set. There he was in January slinging a well-aimed tentacle totally around the body of Victor Oladipo, himself a master of the steal and an able ball-handler, and then taking it to the hole, just one of three times he'd get the better of Oladipo that game.
Never will I get tired of watching faster defenders easily catch up with Anderson, only to scurry around, next to, in front of the big thief, who, sheltering the ball with his sizable frame, will lumber along unfazed to finish at his own leisure. If he is at all nervous in these moments, these apparent open-court footraces against superior athletes, you could never tell. The whole point of Kyle Anderson is that he knows its not actually a footrace at all. He has chosen to escort the ball to its destination, instead of sprinting it there. Throw in one (also very slow) pump-fake and you're good.

Robert Covington, victim in the above clip, is coincidentally also the only small forward who posts a better defensive real-plus-minus than Kyle Anderson, whose 3.28 mark puts him 12th in the entire NBA. Yes, yes, enter all the usual disclaimers about the holistic defensive metrics, but Anderson is beginning to prove himself on that front. If you don't trust your own eyes, trust those of Popovich, who called his 24-year-old curio a "star" after Sunday's game, which tasked Anderson with guarding James Harden, the hardest defensive assignment in the NBA. Harden ended up with a pedestrian 25 points, shooting 8-of-19 from the field and 1-of-6 from three. Teammate Rudy Gay cautioned foes: "People see him and his nickname is 'Slow Mo,' so they think he's a slow, lethargic basketball player ... But he's a very smart player. Defensively, he's very pesky."
We've gotten this far without taking in the most tantalizing Anderson clip of all, the rare coast-to-coast delivery. Here was some of his earliest masterpiece, from 2015 Summer League game. All it takes is one andante behind-the-back dribble for Anderson to get both of these befuddled Nets defenders on the same side of his body; now there are two dudes attempting to occupy the same defensive space, both struggling to read his speed, and eventually just fecklessly pinging off of one another and into Anderson for the foul.
Back in January, Anderson was helping take us down to the very nadir of the Cavs defense. On his snail Eurostep he often likes to double-clutch, shielding the ball right behind his head before taking it to the hole.
Anderson is not the sole beneficiary of his off-pace hijinks; his off-the-dribble playmaking is also important to his role on the Spurs. There he was last night, slowly ball-faking DeAndre Jordan in the air to open up a precision pass to a strongly fronted LaMarcus Aldridge.
League D982aa1a-29b7-0963-61fa-1c8bb9e30c02.nba 2257934 1280x720 3500
And here's a neat play from the 2016 playoffs, where Anderson leaps into herky-jerky hesi to get Lance Stephenson out of his shoes, and gets a wall of white jerseys staring at him. Then he casually plops the ball right through them to David West, who in turn swings out to open Kawhi in the corner.

Very occasionally he will burst into something explosive, that probably exhausted his reservoir of "Turbo" for the rest of the game; he's especially creative when finishing on the left side of the bucket with his right hand.

Before Anderson was drafted, one of his most frequent comps was his eventual teammate Boris Diaw. Sometimes you'll see a Kyle Anderson line, like a well-varied charcuterie board—a 20-point, 6-rebound, 4-assist, 3-steal, 2-block outing, a 12-11-4-5 one—and reminisce about his doughy predecessor, and wonder how France is treating him. In truth, Anderson's physical circumstances aren't a perfect match, and not just because he has more height and length to play with. Diaw, who famously leapt into the rafters with flip-flops and a mouthful of cappuccino at a pre-draft workout, seemed to withhold his raw athleticism from the league for reasons of, how you say, lifestyle, content to sip his red and eat his pastry and laze artfully through the NBA, relying on his deep feel for playmaking and space-clearing thiccness. With Anderson, the slow motion is perhaps less a life choice and more a constraint he's made the best of, but the viewing pleasure persists all the same. There'll always be a soft spot for an NBA player moving at dad tempo.
Anderson becomes a restricted free agent this summer. His game has its flaws—getting his three-point percentage to even league-average levels would be a huge boon—but with time and a little luck he might develop into more than just another oddity in Pop's Batman-style utility belt. Maybe there will be greater urgency to that development if it turns out Kawhi is in fact packing his bags. Whatever: no state of emergency could ever get Slow Mo to move at anything beyond his own speed.