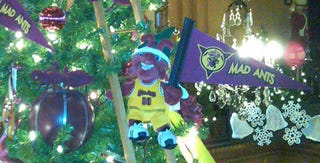 Sure, it's a little early—unless you're Jewish—but everyone's favorite NBADL mascot would like to wish you a happy and healthy Non-Denominational Holiday Time ... with visions of unspeakable horror dancing in your heads.
Deadspin operative Rob G. spotted this Fort Wayne-themed beauty at Indiana's annual Festival of Trees. Also, known as "Indiana." Seriously, they love their trees down there.
If that doesn't help you fall asleep on Christmas Eve, I don't know what will.
* * * * *
Thank you for continued support of Deadspin. Tomorrow, the one and only Stev D steps into the breach for his Weekend Daddy debut. Two words of advice, pal: Never rat on your friends and always keep your mouth shut ... unless you think it will get you pageviews. Then fire away.
Sunday: Idiot Barking Dog. Enjoy the weekend, but be good, for goodness' sake.