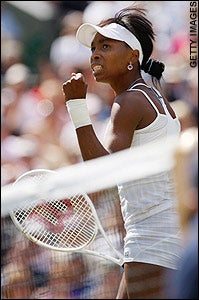 Contrary to popular belief, Venus Williams is still playing tennis. (Kind of like when I saw Paul Shuey pitching for the Orioles last night. In fact, it's EXACTLY the same thing.) She made the Wimbledon final against Marion Bartoli, a tennis player you may remember hearing about first in this sentence. Williams made short work of Bartoli today with a 6-4, 6-1 victory.
This may be her fourth Wimbledon title, but never before did she win seeded this low. She was crowned champion as a 23 seed, presumably having won the Big Sky Conference tournament. Actually, no woman won Wimbledon seeded this low. And even though Bartoli was an 18 seed, does anyone really think this was much of an upset?
On the mens side, before I look at who plays in the final, I'm taking a wild guess it's Roger Federer and Rafael Nadal. [Looks it up.] Wow. I'm like Kreskin over here.
Williams Beats Bartoli to Win Fourth Wimbledon Title [Bloomberg]