The shootout is dumb and bad. It is a sideshow, a skills competition, a way to decide a hockey game that bears only the slightest resemblance to hockey. It is a poor answer to a question no one was asking. And yet, every once in a while, a shootout gets so absurd, so endlessly, deliriously bananas, that it nearly justifies its own existence. Nearly.
Last night's record-breaking 20-round shootout between the Panthers and Capitals, eventually won by Nick Bjugstad on his second go-round, had a fever-dream quality not unlike a multi-OT playoff game, only compressed; if it's going to go long, you find yourself hoping it never ends. It inspired a loopily perfect lede from the Washington Post's Alex Prewitt:
By the end, when the dust had settled on NHL's longest shootout ever and the visitors had begun reconciling a loss with the thrill of making history, the box score looked like the love note of an overzealous middle-schooler.

For the Washington Capitals: XXXOXXOXXOOXXXXXOXXX

For the Florida Panthers: XXXOXXOXXOOXXXXXOXXO
Watch it. All of it. All 18 minutes, every round. No skipping ahead. I'll know.
"I've never seen anything like that," Panthers goalie Roberto Luongo said. "The great thing is I don't know how many time guys bailed me out where they had to score to keep it alive, and they did every time. It was amazing."
G/O Media may get a commission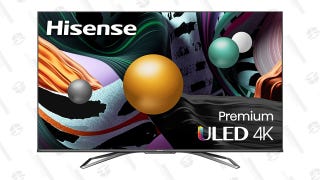 Save $350
Hisense ULED 65" Android 4K HDR Smart TV
Or, alternately:
Five times the Capitals scored, forcing the Panthers to match or skate off with a single point., and five times the Panthers answered. Finally, in the 20th round, Alex Ovechkin shot wide, and Bjugstad roofed it.
A lovely move, but this doesn't come close to being the greatest shootout of all time. That honor still belongs to the Rangers' and Capitals' 15-rounder in 2005 (three players—Ovechkin, Brooks Laich, and Tomas Fleischmann—took part in both), and what still remains the most amazing shootout climax imaginable.