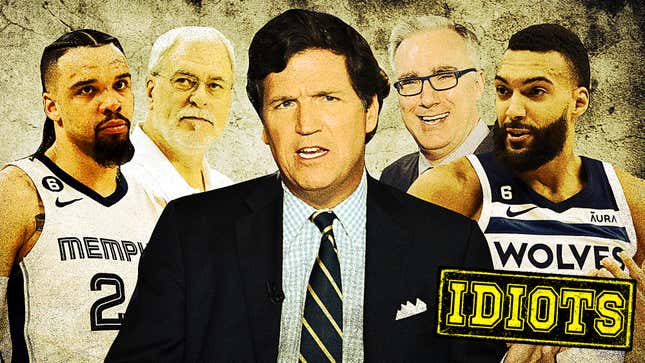 Welcome to Deadspin's IDIOT OF THE MONTH! We're here to make you think about death and get sad and stuff.
Honorable Mention: Draymond Green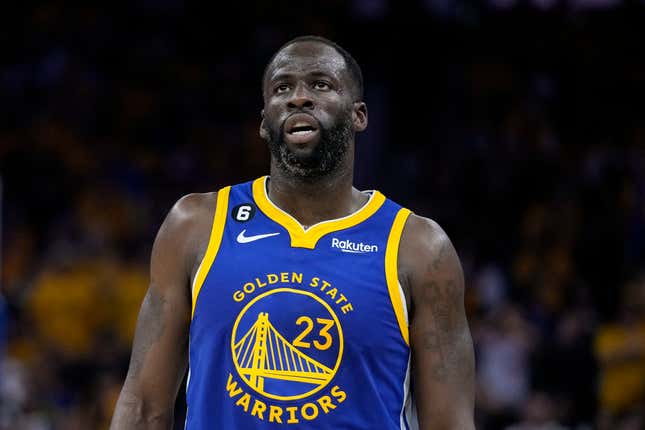 He stomped a guy. We all saw it. The fuck, man?
5. Tucker Carlson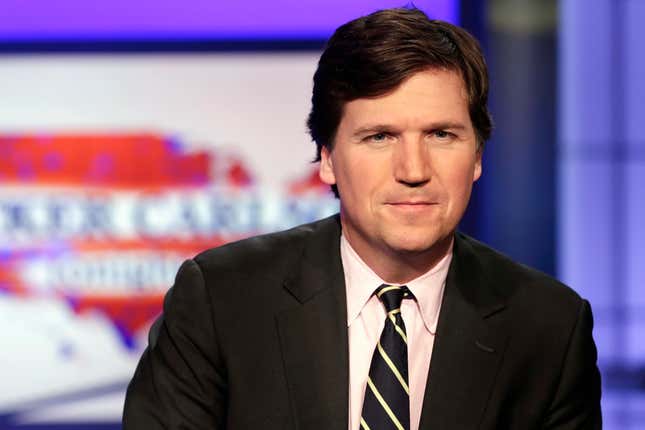 We already know which face Tucker Carlson made when he was getting an unexpected call from The Turk of Fox News. It's the same confused look he makes while taking a dump on the truth while muddying the political waters by becoming the right wing's modern-day misinformation courier. Between the $787 million settlement in Dominion Voting Systems lawsuit hinging on the content of his and other colleague's embarrassing text messages, the impending $2 billion civil suit being pursued by Smartmatic, and the civil suit filed by a former Fox News producer that specifically names Carlson, chairman Rupert Murdoch had enough of Carlson, and unexpectedly canned him on Monday, April 24.
Carlson's text messages which were made public exposed him as a charlatan who'll take any disingenuous position that would advance his career. As opposed to being a serious member of an adversarial press, Carlson was publicly a Trump lickspittle while privately texting colleagues, "I hate him passionately," and that "We are very very close to being able to ignore Trump most nights, I truly can't wait," only to do a complete 180 on air. Carlson was one of many Fox News entertainers posing as journalists who privately espoused thoughts that ran counter to their public positions.
The final straw may have been texts from Carlson that described a Fox News exec as the other C-word. Carlson's reputation still hasn't recovered from Jon Stewart bodying him for pretending to be CNN Crossfire's Stephen A. Smith nearly two decades ago. Now, Carlson will be relegated to the graveyard of former Fox News hosts Bill O'Reilly, and Glenn Beck. Like most dark spirits, Carlson will rise again on OAN, Blaze, or whichever stupid outlet emerges as the television version of Truth Social.
4. Dillon Brooks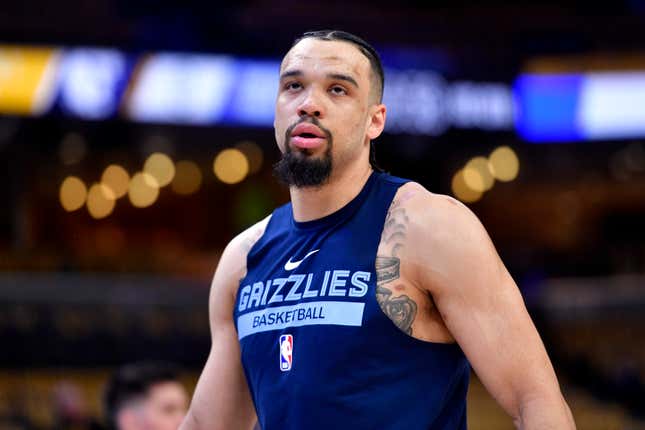 Frontrunners and trash talkers who duck the media — and then run off when the chips are down — get no love around here. This could be aimed at the entire core of the Memphis Grizzlies roster, but we're going to focus on the loudest mouth, yielding the least return for the team. That distinct honor falls upon one Dillon Brooks. His voice is heard the loudest, yet his talent produces the least amongst Grizzlies starters in the first round of the postseason.

"I don't care. He's old. … I poke bears. I don't respect someone until he gives me 40."
Brooks had much to say about the Lakers and LeBron James, most notably before falling behind 3-1 in their opening-round playoff series. At the time of this writing, Memphis still trailed 3-2 in the series. Like many people in the age of social media, Brooks feels like he can talk crap, and that validates him because he's playing on the biggest hoops stage in the world.
No one thinks Brooks or the Grizzlies, in general, should fear any player, or team, but when you fix your lips in preparation to go at a guy like LeBron, you'd better be ready to back it up. Not that James is above reproach, but you can't talk the way Brooks has and perform in the manner he has on the court in this series. If you're going to run your mouth non-stop, the least you can do is shoot better than 22 percent from three-point range. If Memphis loses this series, it's time for Brooks to shut the hell up. Nobody wants to hear him, of all people on that team, talk anymore.

All the beef Brooks has been part of this year, from Undisputed host Shannon Sharpe to James himself, and smacking the King in his "Midsection," which earned him a flagrant two foul, it's all become silly. And that's saying a lot based on Brooks' fashion decisions this season. If you can back up the trash talk, nobody raises an eyebrow. When that's the best part of your arsenal, and it's mediocre at best, go sit on the bench, and have a Gatorade. Because at that point, "we don't believe you; you need more people."
3. Rudy Gobert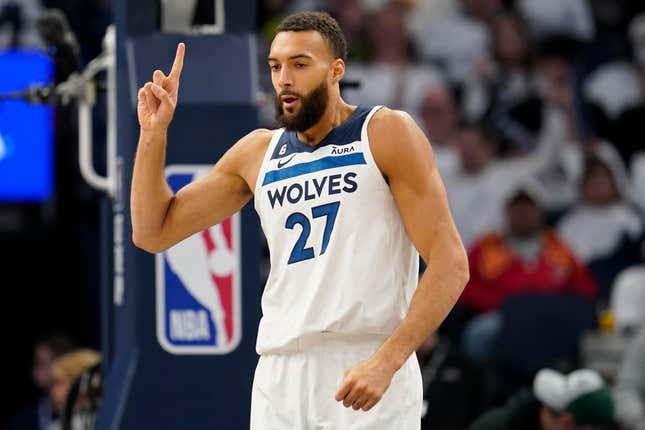 You'd think Rudy Gobert would have learned his lesson about boundaries after triggering an entire league shutdown three years ago. And yet, there he was using that extended wingspan to take a jab at teammate Kyle Anderson during the 82nd game on Minnesota's schedule His tenure in Utah was buffeted by his fractured working relationship with Donovan Mitchell, and his only year in Minnesota has been an unmitigated disaster.
Gobert is held in lower esteem among players than any Defensive Player of the Year the NBA has ever seen. He's won the award three times and yet, his value in a seven-game series is perpetually debated. Maybe it's because he's French, but players feel comfortable belittling him. Before they became teammates, Anthony Edwards said of Gobert, "He don't put no fear in my heart, I don't know why."
In Utah, his personality rubbed teammates the wrong way. Gobert claimed that the catalyst for his Draymond moment was Anderson calling him a "bitch." Being called out of his name by a reserve nicknamed Slow-Mo was probably the last straw, but getting his revenge during the regular season finale was emblematic of the poor decision-making that he's become synonymous with.
Teammates fighting behind closed doors happens occasionally, but Gobert throwing haymakers mid-game, in front of company, earned him a one-game suspension, lowered his trade value another tick, and nearly cost Minnesota in the play-in tournament. Minnesota hamstrung its future and linked it to Gobert's sinking anchor. Not only has he proven to be an albatross, but he's a chemistry killer.
2. Keith Olbermann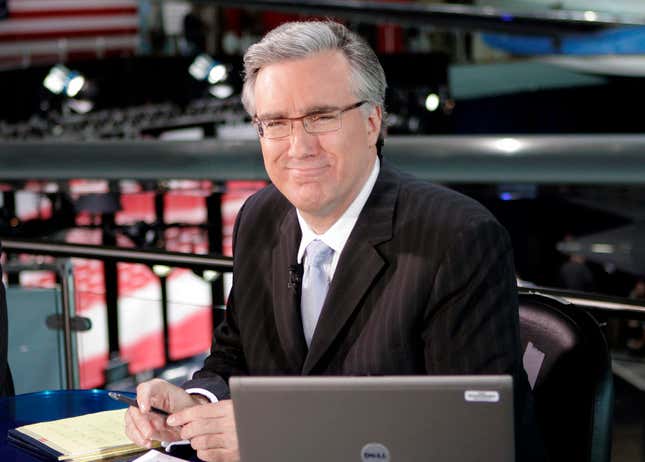 A person does not need to be an expert to speak against an objective wrong. There are too many man-made shades of gray in this world. Right is right, and wrong is wrong.
Keith Olbermann was wrong.
He thought Angel Reese was in the wrong for taunting Caitlin Clark as her LSU Tigers defeated the Iowa Hawkeyes for the National Championship. Reese was actually just giving Clark a taste of her own medicine. And even if Clark hadn't been hitting previous opponents with the "You can't see me," children's eyes would not begin to bleed because Reese decided to rub in the victory.
Who was out of line, though, was Olbermann — for tweeting out that Reese "is a fucking idiot." Barstool's Dave Portnoy called her a "classless piece of shit," and both deserve those vulgar insults thrown back at them. Olbermann later apologized for being "uninformed" that Clark also engages in trash talk, and said that both were wrong. He also said that he doesn't follow basketball in any way.

If that's the case, then bro, why you all up in the Kool-Aid and don't know the flavor? You mozied into the sporting event of the day and were so offended by a competitor reveling in victory while on the field of play, you felt the need to belch out your disgust at a college student.
If Reese had clocked Clark in the head with a chair Balls Mahoney style, that would have deserved to be called out as wrong by anyone regardless of their basketball expertise. Being a hype after knocking off arguably the best player in her sport though, doesn't deserve anything close to being called a fucking idiot. Even "too much dip on your chip," is a bit much.
The person that day who deserved to be cursed out was not anywhere near American Airlines Arena in Dallas with the initials KO.
1. Phil Jackson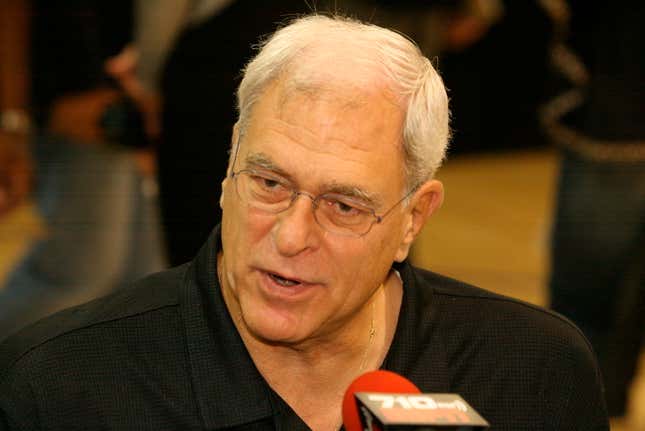 Phil Jackson had some things to say, and it put him on this list.
"It was trying to cater to an audience or trying to bring a certain audience to the game," he said about the NBA having Black Lives Matter on the court in the bubble, and how it's the reason he hasn't watched the NBA since. "And they didn't know it was turning other people off. People want to see sports as non-political. Politics stays out of the game; it doesn't need to be there," he whined on the Tetragrammaton podcast.

It feels like Jackson wants Black people to be quiet and Black athletes to shut up and dribble, despite the fact that his entire claim to fame as an NBA player and the greatest coach in league history is all due to the talents, and intellect of Black people.
And then some had the audacity to be "shocked" by his words as if he hadn't been showing us who he was for decades.
"You can't make this up … The same Phil Jackson that won championships with some of the greatest Black athletes in the history of the game: Michael Jordan. Scottie Pippen. Shaquille O'Neal. Kobe Bryant," said Jalen Rose. "Made millions on their backs. And off their sweat equity."
Google will remind you that Jackson speaks his mind.
There was the time that he said that players had "been dressing in prison garb" when the dress code was mandated. Scottie Pippen called him a racist. Isaiah Rider warned people about him. Lebron did, too.
The evidence was always there. Especially when you remember that Jackson is a hypocrite. Check this out from a 2010 story from when J.A. Adande was at ESPN.
"That was surprising to hear coming from a man who not only supported Bill Bradley for the Democratic presidential nomination, he wore a Bradley campaign pin on his suit during games. Jackson reminded me that the NBA made him stop wearing it. And apparently, that was the end of his political proclamations…although he did take one parting shot.
"I kind of wish [Bradley] would have been the president," Jackson said. "After all was said and done, that [George W. Bush] situation."