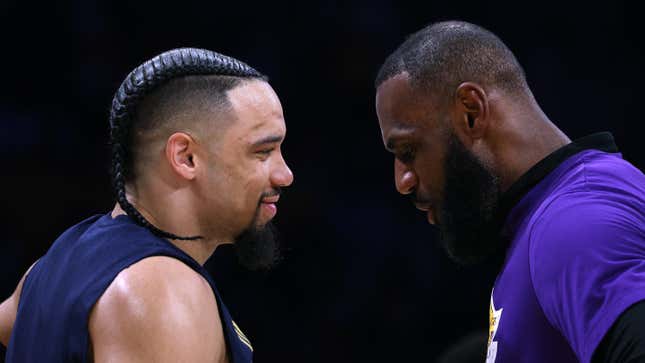 I'm only halfway through Netflix's Beef series — chronicling the escalating conflict between two unstable drivers on opposite ends of the socioeconomic spectrum and the reverberations of their road rage incident in Southern California, but it fits Dillon Brooks' plight. Dillon Brooks' one-sided beef with LeBron James has hurt Memphis, culminating in his flagrant 2 ejection on Saturday night. All season long, Brooks' obsession with riling up his nightly assignments to throw them off their game has malfunctioned his own functionality as a 3-and-D forward. Remember the beef with Shannon Sharpe? That started with Brooks jawing with Sharpe, too.
Hey Shannon Sharpe, the Memphis Grizzlies are the NBA's Kings of the Ring
Brooks might talk the talk, but...
For much of the season, Brooks has been one of the NBA's worst rotation players. Yet the Grizzlies wing has conducted himself like he's got nothing to prove and slipped further into this shirtless villain alter ego who exudes stoic overconfidence. The game hasn't matched the talk.
That's probably why we shouldn't be surprised that in Brooks' mind, this seven-game series devolved into a platform for his cage match against James. After Memphis prevailed in Game 2, Brooks' passion bucket was overflowing enough for him to mock James' "advanced" age.

The least valuable player of the postseason flew over his skis — disrespecting the playoff and regular season scoring king. Yet, James kept it zen, barely acknowledging Brooks' existence. One quarter into Game 3, the Lakers had leapt out to the largest first-quarter lead in playoff history. A minute into the second half, Brooks let his ego get the better of him when he took a cheap shot at James' groin.

Dillon Brooks is no Draymond Green
It's the second intentional groin tap Brooks has tried to get away with this season. Earlier this season, Brooks exaggerated a fall and then cartoonishly flailed his arm into Donovan Mitchell's midsection. Yet, the NBA ignored its own policy on repeat offenders by declining to slap him with a one-game suspension. Internally, the Grizzlies are elated. Deep down, they should be asking themselves if keeping him away from the team for one more game in L.A. would have been beneficial to them. Not only has he been a volume shooting liability on the offensive end, but he doesn't give them the versatility that has kept Draymond Green in Golden State's good graces. Even he had the self-awareness to come off the bench for Game 4.
Memphis' cantankerous battle toad has lost sight of his objective. In his quest to provoke opponents, he's become a reverse Russian Roulette participant. Brooks is a supposed sharpshooter, draining a career-low 39 percent from the field and his 32 percent shooting from distance is well below the league average. His league-worst efficiency field goal percentage has spilled over into the Lakers series, where he has rolled over and croaked. Through three games of the Lakers series, he's produced tin music, shooting 5-of-20 from the field. He hasn't done much else, dishing five total assists and one steal in 71 minutes. Furthermore, Brooks' presence appeared to animate the crowd and, through that energy osmosis, the Lakers were more energized and acutely focused than ever.
The Lakers get to play 6-on-4 defensively with Brooks doing his part to shoot Memphis out of the series. No franchise generates more antipathy right now than the Grizzlies and Brooks is rallying L.A around James. After Game 3, the headline-grabbing remarks from an active player in The Athletic's anonymous poll calling the Grizzlies "frontrunners," and "provocateurs who "talk when they're winning," and "don't say s— when they're losing," sounded eerily accurate.
Whether it was for his team's sake or his own damaged pride, Brooks was reluctant to speak to the media, telling ESPN's Tim McMahon, "I ain't talking."

Lesson learned. We'll see how long he retains it.

---
Follow DJ Dunson on Twitter: @cerebralsportex