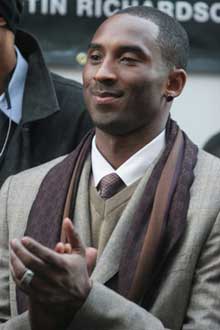 We don't know why more athlete/celebrity bodyguards don't write tell-alls. (It's entirely possible they don't know how to write.) It seems like they'd have all the best stories, going to the places no one else is allowed to touch.
Kobe Bryant's bodyguard has written book about his time with the Lakers guard, including a certain night in Aspen. It's hardly the most high-class affair, but it's got some juice nevertheless.
[The bodyguard] and Bryant meet in July 2003 in Kobe's luxury apartment in Westwood where the player is being entertained by two of his mistresses. Bryant proposes to his bodyguard to eliminate the witness in the Colorado rape case.
Frankly, when you click around this page, the bodyguard seems like a bit of a crank ... but it's Kobe, which means we get a chance to direct you to this story again.
Kobe Bryant's Bodyguard's Tell-All Book About The Rape [Larry Brown Sports]