Tonight, IFC premieres Documentary Now!, a new parody series from Fred Armisen, Bill Hader, and Seth Myers. Its first target? Grey Gardens, the 1976 classic about mother-daughter socialite shut-ins and Kennedy relatives. It's pretty spot-on, as these things go.
A future target: Alex Gibney's 2013 documentary of the Eagles. Here's Hader presumably taking on Glenn Frey, who seems like a real dick.
I actually watched that movie, History of the Eagles, on Netflix recently, and can say with certainty that Hader nails it. In another episode, the boys will riff on Errol Morris's 1988 The Thin Blue Line; later on, they'll even get to the 1922 silent film Nanook of the North.
And of course, there's one that spoofs HBO's Vice series, with Hader and Armisen posing as two fey little hipsters in above-the-knee shorts carting around tote bags, pointing out poverty, and hunting for infamous drug lord "El Chingon." It's perfect. That episode you can go ahead and watch in full here.
The trio told NPR that the inspiration for Documentary Now! came from an old Saturday Night Live bit called "The History of Punk":
In one bit from those days called "The History of Punk," Fred Armisen starred as Ian Rubbish, a punk rocker with a soft spot for the British prime minister."We had such a great time making that," Armisen says. "That's something that we didn't have like a punchline to it? It was more about the look and accuracy of the time we were trying to recreate, which was 1977 London."
G/O Media may get a commission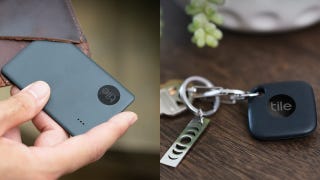 Up to 35% off
Tile Item Trackers
In the new series, they're going even further, with 20 minute episodes on each target. Oh, and IFC seems to think it's a hit; the network has already ordered two more seasons. While the show will go to a lot of different places in the name of parody, it does, however, stick to a set format, with a stone-faced Helen Mirren introducing each episode PBS-style:
The series premieres tonight on IFC at 10 p.m. It's worth your time, if only for the Vice thing.