Due to an obscure legal loophole called The Constitution, business can't restrict ladies' nights promotions to women. So when a man entered a ladies' poker tournament in Atlantic City, guess what happened?
65-year-old Abraham Kortotki signed up for the all-limit Texas Hold'em tourney at the Borgata on Saturday, and casino officials were powerless to stop him from entering. And the 261 other players, all female, were equally powerless to stop him from taking the pot of more than $20,000.
The Borgata put out a statement:
In the spirit of this event, it was our hope that only women would have participated, as has happened in the past. . . . However, given legal requirements, we must allow anyone who is over the age of 21 the opportunity to participate."
You're damn straight you must. If women think they have the right to intrude into our workplaces and subway cars, then they should stop complaining when we enter their poker tournaments.
Adding to the absurdity of this is second-place finisher Nicole Rowe, who "said she was upset Kortotki refused to share his winnings with her." Which would be much more chivalrous that what he is doing, which is donating the money to three charities.
G/O Media may get a commission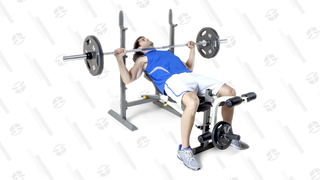 10% Off
Marcy Folding Weight Bench
So what's the lesson here? Men are better than women at everything, including sports with no athleticism required.