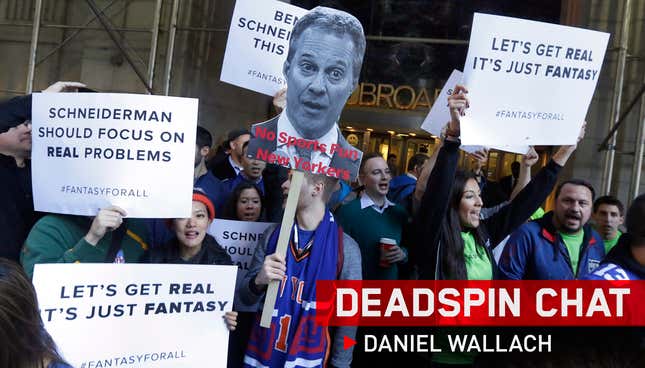 We're now joined by Daniel Wallach, a lawyer and shareholder at Becker & Poliakoff. Daniel is an expert on gaming law and sports law, and has counseled professional sports teams, fantasy sports operators, casinos, racetracks, sports betting companies, and other gaming industry participants on a wide spectrum of gaming-related matters.
Is Texas or Florida State a bigger national title contender? | Agree to Disagree
Daniel's here to talk about anything and everything surrounding daily fantasy sports and the numerous legal challenges they face on both a state and federal level. He can also answer any questions you have about a wide variety of gambling and sports law issues, including the upcoming rehearing of the pivotal New Jersey sports betting case. You can find him quoted in all manner of publications, and catch him on Twitter.
Update (2:00 p.m.): Daniel is wrapping up here. We want to thank him for coming by, and he wants to thank all of you for the excellent questions. Go follow him on Twitter at @WALLACHLEGAL to learn even more about all of this stuff.
Photo via AP, badge via Jim Cooke