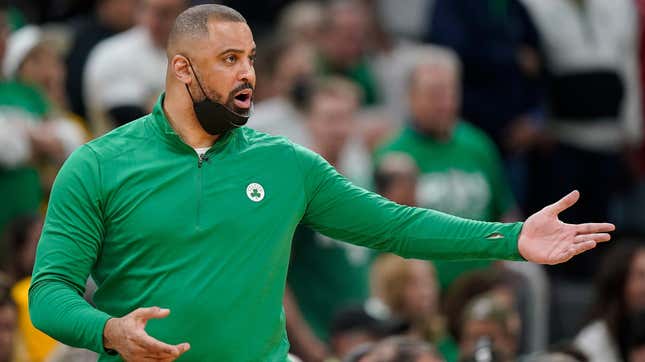 Losing to the Golden State Warriors in the NBA Finals is one thing. But, being down 3-0 in the Eastern Conference Finals to a Miami Heat team that needed the play-in to make the playoffs is another. It's also the barometer that Joe Mazzulla has to deal with in a post-Ime Udoka world.
Grant Hill looks to repeat Team USA's 2004 "success"
At this point, it's hard not to wonder if the Celtics would be in a better place if Udoka wouldn't have done what he did. Last September, the Celtics suspended their former coach for an entire season for "violations of team policies," as Udoka had "an intimate relationship with a female member of the franchise's staff." The news came after Udoka had Boston looking like a team that would rule the eastern conference for years, "The future is bright and we're just getting started," he said after losing in the Finals in his first season on the job, and his first as a head coach.
"You've got a coach who embodies everything that we embody," said Marcus Smart about Udoka last season. "We don't want to be babied. We're grown men, we're professionals and we want to be treated like that, and he comes in, and he does that. That helps us a lot."
Boston could use that help right now
The Celtics are one game away from getting swept. A return trip to the Finals seems impossible, as no team has ever come back from a 3-0 deficit in NBA postseason history. Losing 128-102 to Miami in a game in which the Heat were up by 22 points in the first half and 33 in the second, is as bad as it can get for a team that's made it this far — especially when your first-year head coach has looked overmatched a year after your old first-year head coach was able to beat Miami in seven games in last year's conference finals.
"Joe's going to be in charge. It's not easy timing for him or the rest of the staff, but he's an exceptionally sharp and talented person," said Brad Stevens — Boston's former head coach and current President of basketball operations — when it was announced that Mazzulla was getting promoted due to Udoka's suspension. "This will be an unbelievable challenge, but I'm really confident in the team and the coaching staff that's going to take the court on Tuesday. It's not what we expected to happen, but I'm very confident in them."
By February, Mazzulla had become the third first-year coach since 2000 to be a head coach in the All-Star Game. It was also the month that Boston made his title permanent.
"It's one of the best locker rooms I've been around," said Blake Griffin, who joined the team this season. "We had some really close teams in L.A., but this team is right there if not more. Everybody comes in with a purpose every day, everybody works really, really hard. Everybody genuinely cares and enjoys seeing another person succeed. We've managed to keep that throughout this season, throughout highs, and lows."
Things were going really well for the Celtics — until Jimmy Butler showed up.
"I just didn't have them ready to play," Mazzulla said after Game 3. "I have to get them in a better place to be ready to play, and that's on me."
"I think some of that defensive identity has been lost," he added, "and we have to get that back."
A Celtics team that was second in the league in defensive rating during the regular season has fallen to tenth in the playoff. Boston held the Atlanta Hawks to under 100 points once in the first round and did it three more times to Philadelphia in the second round. The Heat have averaged 120.6 points per game against them this series.

In the past few weeks, we've seen Monty Williams, Doc Rivers, Nick Nurse, and Mike Budenholzer all get fired. So trust me, it wouldn't be insane if the Celtics let go of Joe Mazulla to bring in a coach with more experience.
If that were to happen, it would mean that the Celtics would be on their third head coach in as many seasons. It would also mean that both of next season's games between Boston and the Houston Rockets would have Udoka facing a coach that was twice removed from sitting in his old seat. There's so much to ponder about the future of the Boston Celtics and how Udoka may or may not feel about his old team. But, the one thing that we know for certain is that all of this could have been avoided if Ime Udoka would have just been a better man. This is all his fault.