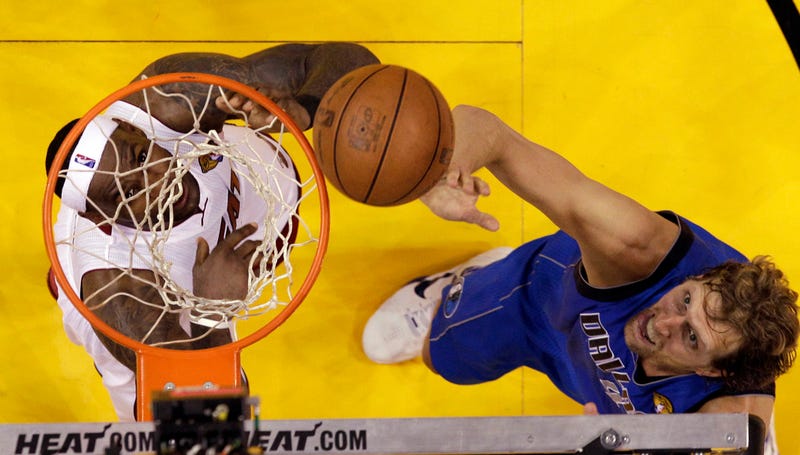 The book on NBA Commissioner Adam Silver reads that he is an innovator, more open to radical change than expected from somebody whose most salient job responsibility is protecting a multibillion dollar industry. And now that Silver has kicked Donald Sterling to the curb and signed a new media rights deal, he's beginning to make good on that reputation. But how far is he willing to go in his quest to improve basketball?
According to Grantland's Zach Lowe, at the Board of Governors meeting later this month NBA owners are expected to modify the draft lottery to worsen the odds of getting top picks for the league's worst teams. This will purposefully affect team-building strategies, and presumably make end-of-the-season games more attractive as the incentive for bad teams to sit out their best players with "muscle strains" will be lessened.
The NBA is also experimenting with reducing game length. This Sunday the Nets and Celtics will play a preseason game with a length of only 44 minutes, eliminating one minute from each quarter as well as two timeouts overall. In a release announcing the changes, NBA President of Basketball Operations Rod Thorn said that it was a study to "give us some preliminary data that will help us to further analyze game-time lengths."
But if Silver really wants to shake things up, he should explore reducing the length of the NBA season.
While it lasts 82 games over almost six months, most of the excitement in the NBA concludes much earlier. Last year 14 of the 16 teams that would eventually make the playoffs were in a playoff position just 12 games into the season, and with over a month left to play 14 of the 16 playoff teams were within one spot of their eventual seeding. There were too many (read: more than zero) back-to-backs, resulting in the widespread phenomenon of a "schedule loss," where teams have little chance to win some games because of travel and exhaustion.
There are huge impediments—money, logistics, tradition—standing in the way of a shorter season, as well as some very serious downsides. But while previously the idea was mostly just bandied about by thinky writers, now players and coaches are getting into the act.
Reacting to the 44-minute game, Heat coach Erik Spoelstra told reporters the issue that concerned him was season length: "I think there's too many games, to be frank. I think if there's some way to find a way to cut out some of the back-to-backs so there aren't 20-plus of them, I think that's the bigger issue." LeBron James concurred, telling reporters games could be 50 minutes long for all he cared. "Once you play, it takes a toll on your body," James said. "So it's not lessening the minutes, I think it's the games."
Dirk Nowitzki was the final big name to weigh-in, proposing that the season be reduced to "mid-60s" games, while acknowledging it wasn't likely to happen. Even so, Nowitzki made a compelling case for why basketball would be better with fewer games:
Honestly, I never was a big fan of back-to-backs even when I was 20 years old. I think that you should never have to play at the highest level [when] there is two consecutive nights and flying in between. You obviously make it work. We have the best athletes in the world, we feel, but I think it hurts the product some. Last year, some teams get here for the fourth game in five nights and we've been sitting here on rest and just blow them out.
It cannot be said enough: reducing the length of the season isn't likely to happen anytime soon, if ever, and to be taken seriously as a proposal somebody will have to lay out how the league, its teams, and players can plausibly recover at least some of the hundreds of millions of lost local television and game day revenue. But if Adam Silver wants his legacy to be that of a visionary, its an idea he ought to take seriously.
After all, the biggest stars already are.
Photo via David J. Phillip/AP