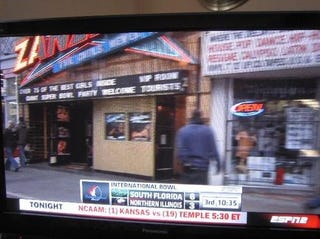 During their coverage of this afternoon's International Bowl (now involving two countries!), ESPN2 did a fly-by of some of the splendors of downtown Toronto. Naturally, they included the historic Zanzibar strip club, which I understand doubles as the American Embassy.
And why wouldn't they? After all, Zanzibar now features "75 of the best girls". Without a further qualifier, I'm going to have to assume that means "in the world". International, indeed!
Hat tip to reader Jonah Jonas for the screen grab.
****
Well, would you look at that - it's only January 2nd, and already I've broken my resolution to spend fewer Saturdays on the couch. I hereby resolve to spend the evening moving this idiot body around...or at least tweeting standing up.
Now that's a sly plug. Enjoy your Leach-less Alamo Bowl.