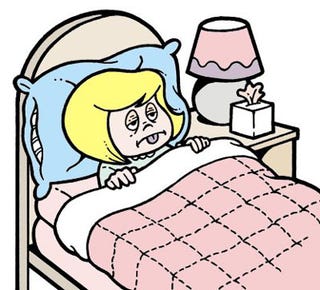 Your Los Angeles Lakers are not invincible. Bynum's hurt his knee again, and now, in infectious disease news, Steve Blake has the chicken pox.
The epidemiology is a mystery: Blake's wife tweeted, "NO my kids didn't give it to him. They were vaccinated and are healthy. No clue where or how Steve got chicken pox." Hm.
If you remember your chicken pox rules, you know that people don't get infected with chicken pox if they've already had chicken pox before. But some important Lakers have never had chicken pox!
Among them: Kobe Bryant, Ron Artest, and Andrew Bynum. Or so the Lakers say.
Bynum, Ron Artest and Kobe Bryant never had chicken pox, and it isn't clear whether they have had vaccines for the illness, but Bynum was the only one who confirmed that fact to reporters. Artest said he had the illness when he "was a baby," and Bryant smiled while dropping an expletive when asked if he's already had chicken pox.
Things are so bad that the Lakers had to call up Derrick Caracter from the Bakersfield Jam. The stuff of titles, the tribulations through which great champions are forged.
Lakers' injury list exacerbates concerns over play following 102-93 victory over San Antonio Spurs [LA Times]