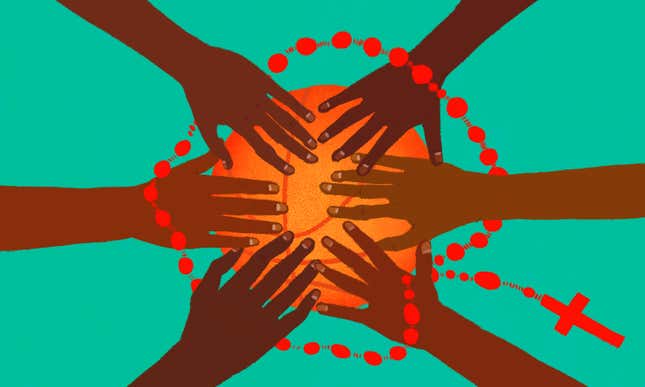 A priest takes the first shot.
It's the way these basketball tournaments always begin. After the Indian and then American national anthems have been sung and the prayers said, a priest takes—and, more often than not, misses—the tournament's ceremonial first shot.
Air Jordans are more American than McDonald's French fries | Deon Cole's Ultimate Sports Fantasy
At 8 a.m. on a July Saturday on Long Island, the seventh annual Dynasty Classic begins.
Dynasty is one of the largest Indian-American Christian basketball tournaments in New York state, and everyone in the gym—with the exception of six referees and a girlfriend in the crowd—is brown. Over 200 players from 22 Indian churches have gathered this morning. They say Our Fathers in pregame huddles, and if one church has a wedding, most of its team has to skip a tournament.
They call themselves Malayalis, or Maloos. Being Malayali, I thought I'd heard every stereotype in the book. But at Dynasty, I discovered a new one. "When they turn 12, every Maloo guy is like 'Ball is life!'" The friendly girls at Dynasty's ticket counter laughed as they said this, but it was clear they weren't joking.
Most of the congregants from the over 20 Indian churches in the New York City area come from the same part of India: Kerala, a state nestled in India's southern tip, which is 18 percent Christian. These families speak the same language (Malayalam), eat spicy fish curry that annihilates Western stomachs, and are way too up-to-date on each other's business.
Tony Patteril estimated that 90 percent of the young Malayali Christians in New York played basketball. I had interviewed Patteril a while back for a story on Indian Catholicism, and he mentioned his church's basketball team as a throwaway line. Curious, I asked where they played, and was dumbfounded when he replied that there were a number of Indian Christian tournaments around the state. In Silicon Valley, where I'm from, the sport of choice for young Indian-Americans is either debate or robotics.
We play basketball? Enough of us play basketball that there is an entire Indian-American Christian basketball league in New York? No parent had short-circuited the whole thing by turning it into an SAT prep class?
As I sputtered all of this out, Patteril looked at me and laughed. "I think this will be good for you."
---
You've never seen this many Indians balling before. Three games are played at any given time; the gymnasium is split into thirds and six teams of varying levels of skill and athleticism face off against each other. During warm-ups, I watch one guy go for a layup he doesn't have the skills to make, and he reliably misses. Five minutes later, after the game begins, he tries the same move with an endearingly similar outcome.

As they await their turn on the court, players mill around the sidelines and the lobby of the gym, where a bake sale offers cupcakes, brownies, and bottles of water. Hip-hop blares from the speakers, but no one sings along. And the shining eyes of small Indian boys track the moves of the players on the court, intently worshipping these point guards and forwards who look just like them.
Each team has been given a tournament t-shirt in a specific color. As they play, yellow, green, red, orange, black, and lavender all whirl together under fluorescent lighting. It's a bit reminiscent of Joseph's coat of many colors, if it were in pieces and worn by young Indians.
The back of each shirt bears the line "I can do all things." It's a line many NBA fans would associate with Stephen Curry—it's on his sneakers—but of course it didn't originate with the point guard. It's a bible verse: Philippians 4:13.
"There's a lot of hype at these Maloo basketball tournaments, a lot of people take it seriously," said Alex Stephens. He's the president of the Knanaya Catholic Church's youth league, which puts on an all-ages tournament: KBI, the Knanaya Basketball Invitational in Rockland, N.Y. Some teams don't take tournaments that seriously, he conceded, and just come to have fun. But, for most of them, "It's basically like the NBA, you know?"
Basketball has been played in India for decades, though its popularity is obviously nothing compared to that of cricket or even soccer. Jeriks Chellankottu, a parishioner at St Mary's Long Island who was born and raised in India, said that the sport is most popular in Indian colleges, "mainly because girls are after guys who play basketball."
But basketball is a serious enterprise for Indian-American Christians. Tournaments in New York state have been going strong for 15 years, and are growing. The churches are composed of immigrant families, and their teams of second-generation kids. There is no formal organization in charge of a league or tournaments; instead, different churches from New Jersey and New York hold their own annual tournaments. There are as many as eight Indian-American Christian tournaments each year in New York alone. They start Memorial Day weekend and run almost every Saturday during the summer.
Sundays, naturally, are reserved for church.
---
Dynasty was founded in 2010, and its genesis story is a plot straight out of a sports movie: A group of underdog Indian Christians trying to make a name for themselves and their church. Benny Mathew (no relation), one of Dynasty's founding members, was tired of his church—St. Mary's Syro-Malabar Long Island—not being given a chance to compete in more prestigious invitational tournaments.

"A lot of tournaments wanted the big-name churches," said Mathew. "People that had reputations. Our name wasn't the biggest at the time." But now, he added, "everyone knows what Dynasty is; everyone knows who St. Mary's is."
Dynasty started with 16 men's teams. At its seventh tournament there were 20 men's teams and four women's teams representing disparate parts of New York, a few neighborhoods in New Jersey, and 11 different Indian-Christian denominations.
Tournament organizers actively try to recruit teams from out-of-state, as they make tournaments appear more competitive. Though I had assumed organizers would find Malayalis across the country using the "Aunty network"—an effective information/gossip system powered largely by the phone conversations of Indian mothers and aunts—they use something far more 21st century: social media. This year at Dynasty there were a few teams from Philadelphia, and in previous years teams from Chicago and Boston have competed in the tournament.
John Papa led the group of referees at Dynasty, the way he has at most Indian-Christian tournaments for over a decade. Papa looks the way his name suggests: he's an older, genial white man who will grip your forearm for emphasis, and he tears up when he talks about how much he loves this rag-tag group of Indians. Fifteen years ago he was on his way to referee a basketball tournament at Van Buren High School in Queens when, suddenly, he wondered if he was on the wrong continent.
"I was walking this way, toward 'em, and I saw—I'm not going to lie to you," he said seriously, "I saw thousands of Indian people. Not hundreds. Being Caucasian, I kept saying to myself 'wow, this is like India!'"
Papa was at STYL, pronounced "style," the youth league of St. Thomas Orthodox Church. There were a few tournaments before STYL, but they were scattershot and are hazy at best in the community's collective memory. Everyone agrees that STYL is the longest running tournament, and the one that birthed the Malayali basketball movement. "It started slow," Papa said. "And then everybody saw how profitable and how good [it was] for the churches. Good for the teams, good for each other, good for the community."
It isn't big money, exactly. At most, tournaments bring in a few grand. Operating costs at Dynasty ran to roughly $7,5000; after the gym rental, tournament t-shirts, referees, and trophies, the church made around $2,000 in profit. Tournaments make money largely off of registration fees, which range from $200–$400. The fees are reduced, however, for out-of-state teams: at KBI, teams from outside the New York/New Jersey area received a $100 discount.
Most tournaments donate a significant part of their proceeds to charity. This year, KBI made $3,5000 in profits and gave away $1,500 to the Sneha Orphanage, a charity in India. In contrast, St. Mary's Syro-Malabar Long Island, which runs Dynasty, usually puts the profits into its youth fund. But this year the money from the tournament is going to be used to build St. Mary's a new hall, one to be used for church parties and event receptions and—what else?—basketball practice.
---
Justin Joseph, 19, is a jocular, well-mannered bro from Long Island. The sleeves of his Dynasty tournament t-shirt had been cut off to make a muscle shirt, and he was greeted warmly by players from opposing teams. He's a creature rarely seen in American narratives: the Indian jock. "Every time I come to church they call me white boy," Joseph said, laughing. "Because I played baseball, I love skateboarding [and] longboarding." Joseph was competing for St. Thomas Orthodox, and started playing when he was 14. Though he had played baseball before, basketball was an entirely new challenge.

Joseph said he quickly fell in love, both with the game and the team. He used the word "fellowship"—rarely heard outside of a Bible study—to describe his team's relationship. And he said that that his older teammates and coaches have had a large influence on his faith.
"After practice Saturday night they'll be like 'Yo, come to church.' And I'll be like 'Sure, I'll come to church,'" he said. "So then Sunday, we go to church. And I look forward to church too, because we just bro around." When I asked him to explain how one bros around at church, Joseph just shrugged. "It's what bros do, I don't know."
Not every player feels connected to the faith—but all feel connected to their bros. "I'm not religious at all," another player said. "I think the only reason I go to church is my basketball friends and my parents." But friendship is not to be discounted; it's a compelling reason to fill a pew.
Smitha Mathew (also no relation; Mathew is a common Malayali last name), a parent from St. Thomas Orthodox, said that her son has more friends in church after joining the team. In my own experience, the Indian immigrant parent who encourages sports (or anything) over education is a rarity. Angela, one of the ticket counter girls at Dynasty, had rolled her eyes after telling me that Malayali boys thought ball was life. "Pustagam (book) is life," she said.
But if basketball draws younger generations closer to their churches, perhaps it will achieve what prayer alone cannot. Which explains why church communities are so supportive of the tournaments. Parents cheer on their children, sometimes bringing chendas, a kind of cylindrical wooden drum native to Kerala, to beat on the sidelines. Nursing is a common profession among Malayali women, and at Dynasty mothers were working at the first aid station handling everything from bloody noses to sprained ankles. After being treated, players would hurry back into the gym chorusing, "Thank you, Aunty!"
Tournaments also allow players the chance to meet other young people in the larger Indian Christian community. At Dynasty, girls with carefully curled hair and heavy eyeshadow circled the sidelines; a player on one of the women's teams showed me the muddy smear of foundation on her sleeve from where another player had crashed into her. Competitors from different teams high-fived and needled each other off the court; many have known each other for years through these tournaments and religious conferences. Towards the end, women's teams from the Bronx and Sommerset swapped phone numbers and Snapchat handles.
These tournaments are a kind of Holy Trinity: faith, culture, and ball. It's a place for Indian Christians around New York to meet each other, to hang out around other people who know exactly what they're going through. Somewhere they don't have to explain the lexicon of their identity. "My town is 95 percent white," Joseph said. His church, and these tournaments, are an Indian oasis. "My graduating class, we only had 191 kids and there was one Indian, which was me. I learned to love country music."
---
Teresa Puthiyamddam plays on a women's team from the St. Thomas Syro-Malabar Church in the Bronx, one of the four women's teams at Dynasty. She noted that boys are usually sure of themselves and their abilities—regardless of how good they actually are. Girls, she said, tend to be more hesitant, not wanting to embarrass themselves, and thus less willing to compete on a court in front of their entire community. But Puthiyamddam believes that the younger girls who are growing up watching her and the three other women's teams at Dynasty will become emboldened to play.

It's all very well to have an idol like Carmelo Anthony or LeBron James, but it's an entirely different thing to have one you can reach out and touch, one who looks like you. There has been exactly one player of Indian descent in the NBA: Canadian-born Sim Bhullar, who played a grand total of three minutes for the Sacramento Kings. Indian-Americans haven't yet had their own Jeremy Lin, their Great Brown Hope.
So Indian-Americans are working with what's in front of them. Every player I spoke to cited "the older guys" as one of the biggest reasons why he or she started playing. "[Basketball] brought me a lot close to the older guys," Joseph reflected. "It closes that gap. We have this common thing now. We just bro around the whole time, it's great."
I couldn't help but wonder what it would have been like for my brother and I to have been immersed in this world growing up. Even after going to these tournaments, there's something humorous to me about an entire Indian-American Christian basketball league. And I know that humor is rooted in what I've subconsciously been told my entire life: that Indians aren't athletes. That we can't ball.
But there wasn't anyone at Dynasty who saw anything funny about the league. This was the way they had grown up. This was something they loved. This had been passed down to them by older brothers and cousins and uncles they respected and wanted to emulate.
Because most of the tournaments have an age limit, older players try to encourage and mentor younger members. Coaches vary in age and skill level, but usually are older guys from the church who have outgrown the 21-and-under age limit of most of the tournaments. John Valiplackal, 23, coaches the men's and women's teams from St. Thomas Syro-Malabar Church in the Bronx. Teams typically practice during the spring and summer, often up to four times a week, and Valiplackal commutes each day from his finance job in the city to run drills on the court of a run-down elementary school in Scarsdale.
In a way, the tournaments function as a legacy. Long after they've moved on to jobs and families of their own, former players are comforted to know that someone is still balling for their church. And younger players grow up watching them, wanting to be them, and inheriting their rivalries. At Dynasty, a pack of small Indian boys ran around on the sidelines. They dribbled basketballs around their feet in time to the beat of Desiigner's "Panda," just biding their time.
---
Every player I spoke to, I asked why. It's tricky to ask someone why they love a sport; you generally get a million reasons that don't add up to an answer. Love of anything contains multitudes.

"We just need something to come together over, you know?" One player told me, grinning. "Like white people do."
"OK," I repeated, "but why basketball?"
He stared at me incredulously.
"Don't you know ball is life?"
---
Teresa Mathew is a freelance writer and photojournalist covering race, religion, and women. She can be found on Twitter @_teamat.