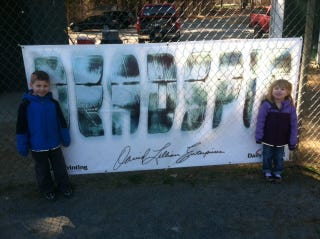 Last year, in the midst of a video war we were then waging with MLB, we put out the call for willing participants to assist us in our cause. Our offer was simple: Help us send-up MLB's autocratic control of its video highlights by sending us clips of young children reenacting famous baseball plays. In return, we pledged to sponsor a youth baseball or softball team. There would be no losers here.
We initially received a smattering of interest, and eventually a dude named Rick in suburban Boston came through. Last May, we posted video of Rick's children, J and M, helpfully reenacting Robin Ventura's charge to the mound after Nolan Ryan hit him with a pitch, plus Pete Rose's home-plate collision with Ray Fosse in the 1970 All-Star Game. Eventually, MLB relented and began posting downloadable videos on its site. We declared victory.
But we didn't want to forget the promise we had made to Rick and his kids. In the next couple of weeks, their Deadspin-sponsored T-Ball league will begin its season. The kiddos will be outfitted in helmets affixed with Deadspin stickers, and the outfield fence will bear the logo sign J and M (ages 5 and 3) are posing with above. Throughout the season, Rick will also send us highlights and game reports, which we'll proudly be posting here each week. Because we're more than just a sports penis site. Play ball!