Ballybrack FC—a real team, I swear—were strongly condemned by the Leinster Senior League—again, a real league of lower-tier Irish soccer clubs—after they committed the grave sin of lying about the death of one of their players, possibly in order to get out of a game this weekend.

The player in question is Fernando Nuno La-Fuante. Ballybrack informed the league last Friday that La-Fuante had died in a traffic accident the night before, and their game over the weekend against Arklow Town FC was canceled. Players wore a black armband and observed a minute of silence before all Leinster Senior League games last weekend.
However, while Ballybrack was not playing, Leinster officials were seeking out La-Fuenta's family to offer their condolences, and they began to run into a strange set of roadblocks. Ballybrack told officials that La-Fuenta's body had been transported back to Spain on Saturday, which aroused their suspicions. They quickly learned that La-Fuenta had simply returned home weeks earlier. Leinster Senior League chairman David Moran spoke to RTÉ Sport and expressed his bafflement:
"We checked the hospitals, we checked everywhere. Nobody could find anything about this young fella. Obviously, some of his teammates released stuff on social media saying he went back to Spain four weeks ago.

"We don't honestly know why they did it. It seems a bit extreme to do something like that to get a game off. All they had to say was they were giving a walkover and they'll get their fine and that's the end of it.

"It's very extreme to get a game off. We acted in good faith. We had a minute silence at the weekend for that young lad. It's absolutely ridiculous."
G/O Media may get a commission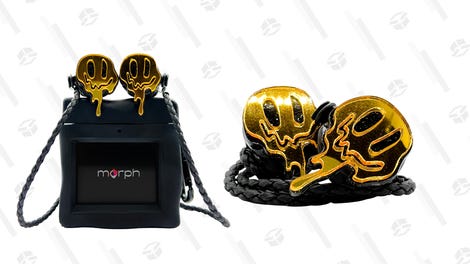 morph audio
Morph Earphones
Moran also released a lengthy statement, announcing that the league would be investigating Ballybrack.
The club issued a confusing statement, blaming the mix-up on "a person who has been experiencing severe personal difficulties unbeknownst to any other members of the club."