Even before Tottenham winger Gareth Bale swept the Premier League season individual awards last year, winning player of the year, young player of the year and Football Writers' Association player of the year, we knew that Real Madrid wanted him. We just didn't know how badly.
Yesterday, though, we got wind that the Spanish runners-up were finally making a move for the 24-year-old Welshman. And though the reports were conflicting, all agree that Real Madrid is prepared to smash the all-time transfer fee record to get him.
The Guardian says Spurs chairman Daniel Levy already turned down a €100 million, or £86.3 million pounds from Los Blancos for Bale. The Sun is reporting Tottenham's already turned down an £81 million offer, and Real Madrid are countering with £51 million plus players Ángel di María and Fábio Coentrão—a total of about £95 million. talkSPORT says Spurs don't want to part with their star for less than £100 million, or well over $150 million. These are the English rags, so the journalism during the transfer windows is shoddy at best even when the stories aren't flat-out fraudulent, but every offer smashes the record £80 million fee Real Madrid paid to buy Cristiano Ronaldo from Manchester United in 2009. The question everyone's asking is obvious: Is Gareth Bale worth all that cash?
First, some background. Bale joined Spurs from Southampton in 2007, and after five seasons of showing some promise—first as a left back, then as a winger—Bale went absolutely nuts last year with 21 goals and four assists in the league to carry a not-so-great Tottenham team to a fifth-place finish, just one point shy of fourth place and a Champions League slot. Lionel Messi and Ronaldo both scored and assisted more than Bale for their respective teams last, but even they might not have been as valuable to their clubs as Bale was to Spurs. Messi and Ronaldo play on historically great, well-rounded teams and are surrounded by stars bought for fortunes themselves. Short of Bale, Tottenham last year were pretty feckless at times in front of goal. Starting striker Jermain Defoe only scored 11 goals last campaign. Emmanuel Adebayor had five. But Bale scored lots of goals, spectacular goals, and they often came in matches' dying moments to deliver Spurs a win when a draw or even a loss would've been just.
G/O Media may get a commission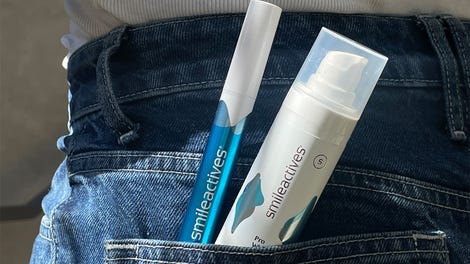 58% off
Whitening Powerhouse Pen & Gel Duo
It was a dream season, so impressive it felt a fluke. But Real Madrid clearly believe that last year wasn't a flash in the pan but the first of many successful seasons for one of the best players in the world. And with rivals Barcelona strengthening their side with Neymar earlier this summer, Real Madrid have to respond. They've made their mind up to bolster their attack with Bale, which would be horrifying. They already have Ronaldo, a brute who scores from anywhere and wears down defenses with his unfair athleticism, probing, almost violent runs through defenses and long-range strikes. Bale would ostensibly mirror Ronaldo on the opposite side, and there hasn't been a defense assembled that can handle those two combined with Karim Benzema, Mesut Özil and the rest. If Ronaldo ends up leaving the Bernabéu, Bale would be the perfect replacement.
Still, Bale had almost no help last year, and scored 21 goals in a free role. Cavani, who just transferred to Paris Saint-Germain from Napoli for £55 million, scored 29. Liverpool striker Luis Suárez, who could leave this summer for around £50 million, had 23 goals and five assists last year. These players occupy the highest rung beneath Ronaldo and Messi. (Last year, Messi tallied 46 goals and 12 assists in La Liga, while Ronaldo finished a relatively underwhelming domestic season with 34 and 10.) There's no way Real Madrid can justify spending between £86 and £100 million for Bale, unless they decided they're going to have him, whatever the cost.
And since they have, Spurs can't compete. Real Madrid are one of the biggest clubs in the world. They'll multiply his wages. He'll win trophies almost every year. He'll be playing into the later stages of the Champions League every year. Madrid's warmer during the winter than London. With reports that Bale's trying to force his way out, it's a good bet he'll spend next season playing in Spain. Tottenham should be ecstatic.
Because the reality is that Bale almost definitely will not double his output and string together seasons to rival Messi and Ronaldo, who are the only two players in the world worth nine figures. And as good as his last season was, it still wasn't enough to challenge for a title or win the Champions League. Spurs need more help. They signed Brazilian midfielder Paulinho this summer, and are reportedly close to signing Spanish striker Roberto Soldado. They're great additions, and would take the pressure off Bale if he stayed. But as good as the Welshman is, £86 million is enough for Spurs to overpay for three or four more great players to replace Bale that would strengthen the entire team. With Arsenal quiet so far in the transfer market, Spurs would be favorites to finish in the top four.
Gareth Bale is not worth anywhere close to nine digits, and yet Real Madrid are offering Tottenham nine digits, and the only thing keeping Levy from selling Bale is foolish pride. After selling Luka Modrić to Madrid last year, they don't want to be seen as a feeder club, as rivals Arsenal have looked in their transfer dealings with Manchester City and Barcelona.
But...fuck that. Bale could get injured this season. He could have a down year. Real Madrid could lose interest, or decide next year that Bale's only worth £70 million, or £50 million, or less.
This is an offer that, by design, should be impossible to refuse. Real Madrid want Tottenham's best player, their talisman, their hero. In exchange, they're offering Spurs a shot at the Premier League title, and Champions League qualification. What's more important?
Photo Credit: Getty Images