Last week, Italian runners-up Napoli sold their best player, striker Edinson Cavani, to French champions Paris Saint-Germain for €64 million. It was the fifth-highest transfer fee ever for a player, and there were sure to be implications all over Europe as international soccer inched through the summer transfer window and to the start of next season. It only took a week, but the fallout has already crossed the English Channel and washed into London.
That's because Cavani is a transcendent hitman who almost single-handedly carried Napoli to the top of Serie A and into the Champions League with last season's 29-goal performance. When he left, Napoli acted quickly to replace the star. Luckily, they had a whole, whole lot of money to burn as they searched Europe for El Matador's successor. This week, they found their next starting forward: Real Madrid poacher Gonzalo Higuain.
What's sad is that Higuain was already spoken for, kind of, at one point, more or less. He was to have been the first big signing to begin a new era at England's Arsenal FC. Arsenal have been somewhat of a laughingstock in England for years: the smallest and cheapest of the big clubs, the club who bought wonderkids and developed them into stars only to sell them, and often to their richer rivals. A selling club. An organization run for profit instead of glory. They haven't won a trophy of any kind in eight full years, but somehow, through coaching and will and talent and, most of all, pure, unadulterated, unbelievable luck managed to stay in the the top four of the Premier League and qualify for the Champions League. They were never going to come close to almost winning the Champions League, mind you, but it's the greatest club tournament in the world, and that comes with money and prestige with which to buy great players. The thing of it was just that they refused to spend big money on talent.
This summer, that was supposed to change. They'd built a new stadium, the Emirates, and their debt was finally under control. They have a £30 million-a-year new uniform sponsorship with Puma starting in 2014. As Sky Sports pundit Gary Neville pointed out in May, they've only spent a net £9 million in transfers over the last 10 years. In theory, Arsenal finally have money to compete with Manchester United, City, and Chelsea at home, and the richest clubs abroad.
G/O Media may get a commission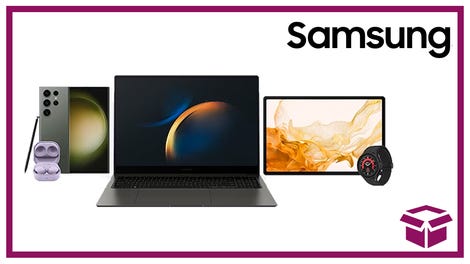 24 hour deals
Discover Samsung - Daily Deal
This is huge, because Arsenal's problem isn't only that they don't buy players. It's that they don't pay them. The team had a strict, self-imposed wage cap, and of the four biggest names to leave Arsenal—Thierry Henry, Samir Nasri, Cesc Fabregas, and Robin van Persie—Nasri and van Persie's exits were in part because they were incredible soccer players, and they were being underpaid at Arsenal, and teams in Manchester said they'd multiply their salaries. So they left.
But Arsenal chief executive Ivan Gazidis said that salaries were no longer a problem. Earlier this summer, there were rumors that Manchester United striker Wayne Rooney was for sale for £25 million, and probably would charge his next team around £200,000 a week. Gazidis shocked everyone by saying, "Of course we could do that. He then continued, and said, "We could do more than that. We have a certain amount which we've held in reserve. We also have new revenue streams coming on board and all of these things mean we can do things which would excite you."
Hot damn. Arsenal were here, according to the man in charge. Of course, they went after the cheaper Higuain, rather than Rooney. But it was all good, because Higuain is a rare breed in that he's a pure finisher, and has an almost innate gift to score goals, and that's what forwards get signed to do. And so Arsenal flirted, and Higuain flirted back, and Arsenal bid about £23 million, and Real Madrid accepted, and then Higuain almost or actually boarded a plane from Spain to England, and then Real Madrid said, "nah, pay us like £10 million more," and Arsenal said, "fuck that, we had a deal," and Real Madrid said, "we're keeping him then," and Arsenal said, "you do that, we'll get someone else" and then this week, Higuain moved to Naples.
The problem with this development is that there is no one else, not anymore, not as far as available world-class strikers go. The truly great, transcendent strikers are cornerstones of clubs, and many are never for sale. But this summer was an exception. Neymar, the best young player in the world, was available, as were Cavani, Higuain, Rooney, Radamel Falcao, Stevan Jovetić, Luis Suárez (more on him in a jiffy), and, sure, Zlatan Ibrahimović, because Zlatan is a pure mercenary with all the talent in the world and almost no loyalty, and we love him for that.
Neymar moved early from Santos to Barcelona. Falcao went to AS Monaco. Cavani teamed up with Ibrahimović at PSG to form an utterly terrifying combination, and PSG's owners are going to let that partnership ride for a while. Jovetić was snapped up by Manchester City. Higuain's now at Napoli. Arsenal bought...Yaya Sanogo.
Of that murderer's row of strikers, the only two Arsenal still have a chance at snagging are Rooney, who will likely either stay or move to Chelsea, and Suárez. So basically just Suárez.
The problem with Suárez, though, is that he plays for Liverpool in the Premier League. And Liverpool really don't want to sell him.
Because here's the thing about Luis Suárez: He is fucking magical. He's one of the top 10 players in the world. But more importantly, there are only three players or four players in the world that were more valuable to their respective teams last season than Suárez was. Of the three or four, two are Lionel Messi and Cristiano Ronaldo, who aren't human beings, and another is Gareth Bale, who did shit like this whenever he wanted all last year. Suárez led Liverpool to an impressive seventh place in the league. Seventh place isn't impressive, you're probably thinking. It is, though, because Liverpool sucked last year. They weren't a good team. They still aren't. But Suárez put the team on his back last season with 23 goals and five assists in 33 appearances to save them from humiliation. He'll carry them next year, too. This is largely because of his style of play.
Many of the world's greatest forwards, like the ones we mentioned earlier, are assassins. They're cold, ruthless finishers that take the slimmest of an opening, the slightest of a chance, and score. They're the final, clinical, inevitable exclamation of their teams' attack. Suárez is of their ilk.
But he's also different, more, and in some ways, better. For 90 minutes, he sprints and slides and nutmegs his way through tight spaces, tiptoes sidelines, and beats multiple players at a time to open space up for his teammates. He makes kind of bad players kind of good. He's just as dangerous picking the ball up at midfield as he is anywhere in the final third. His frantic, 50-yard slaloms are every bit as impossible yet every bit his trademark as Ronaldo's knuckling, bone-breaking free kicks and Bale's last-minute winners. He's the truth.
He's also Uruguayan, like Cavani. They partner on Uruguay's national team, and when you see the two of them together, they're about the same quality. And if you remember, Cavani went to PSG for €64 million, or about £55 million. Liverpool manager Brendan Rodgers knows Cavani went for £55 million. When Arsenal came knocking for Suárez, Rodgers said they'd need to pay somewhere close to £55 million. Logic.
It's an inflated price, as it was for Cavani, but Liverpool are in no rush. This is a crucial difference from most American sports. Over here, the worst place to be is the middle of the standings. If you're not challenging for the title, you blow the team up, tank a season, stock up on draft picks, and hope to land a star free agent. You restart. Soccer is different, though. There's no cap. Teams deal in money as well as clout. You can't tank, because if you're bad enough, you'll get relegated. At the very least, you won't qualify for any European tournaments, and you won't attract top talent. It's far better to tread water with one star, because he may in time attract another.
Suárez is the only person keeping Liverpool, one of the world's biggest, most storied clubs, from sinking into the cesspool of anonymity that is the middle of the Premier League table. But according to reports, he wants to join Arsenal and compete for silverware in England and abroad badly, enough to try to force his way out. And as much as Liverpool would like to keep him, everyone's got a price.
Strangely, Arsenal and Suárez's camp thought that price was £40 million. There's a complicated clause in his contract that states when a bid of £40 million is placed...something happens. What happens when that figure is breached, however, is cloudy. Suárez's agents and, by extension, Arsenal thought a bid over £40 million meant Liverpool were compelled to let him speak to the club and move on if he wanted. Liverpool, however, say that they only have to notify Suárez of the bid, which they did. After having two bids shot down for Suárez, the nouveau-riche, notoriously niggardly Gunners this week bid £40 million and a pound in what will hailed in perpetuity as the most Arsenal move ever.
This is how Liverpool owner, American John W. Henry, responded:
Liverpool laughed off the bid, and now Arsenal are screwed. Because even though Suárez will reportedly lodge a formal transfer request, Liverpool still don't have to sell him unless they want to. And now Arsenal, who were boasting about their money earlier this summer, have to splash the cash to get their man. And everyone knows they have it.
But there's actually debate as to whether Arsenal should even overspend for Suárez. Because in addition to being a terror on the pitch, the guy's a sociopath. He's racist. He kicks out, argues with refs, accrues yellows. He bites people. He has to sit the first six games of the next English campaign for biting Chelsea defender Branislav Ivanovic. So not only would they be overpaying for a player, but they'd be overpaying for a player who will miss time. Even if he is a perfect angel next year and doesn't get injured, he'll still miss a significant chunk of the Premier League season. By the time he comes back, Liverpool may already be out of the title hunt. So, too, could Arsenal, if they sign him. And yet.
For all their money, Arsenal have the same team as last year when they barely squeaked by hated rivals Tottenham to finish fourth in the league. It's no secret where their deficiencies are, and how to fix them. They need a world-class striker. They also need a great, creative winger. They need a physical defensive midfielder, cover for their centerbacks, and a keeper to challenge starter Wojciech Szczęsny. They have signed none.
Though £55 million is too much, it's probably what they'll have to spend, minimum, to stop being the smallest big club in England and Europe. They have a world-class target, and they say they have the money to buy him. But what they don't have is time. And what's cruelest is that in the end, it may be Gonzalo Higuain's escape to Italy that undoes Arsenal.
According to BBC, Napoli spent £34.5 million to acquire Higuain from Real Madrid. That means there's one less transcendent striker up for grabs. It also means Madrid is a world-class attacker short and a whole lot richer. And so far, they have one main target in mind: Tottenham's Gareth Bale.
Some outlets say Madrid are going to bid a whopping £80 million for the Welshman. But Bale means more to Spurs even than Suárez does to Liverpool. Tottenham almost can't sell. If they don't, Real Madrid will likely move to Suárez. Suárez would love to play for Madrid, and because he wouldn't be playing in England, the Uruguayan wouldn't have to sit out a single match.
Either way, this doesn't look great for Arsenal. In one scenario, they could be left out in the cold, with only second-tier forwards available to purchase, which they already have in droves. In another, their closest rival will be £80 million richer and desperate to buy before the transfer window closes in September. Arsenal need to move quickly, because next year, they'll be in a fight for trophies, a Champions League berth, and the Premier League title, no matter what happens this summer. And for all the talk about Suárez and overspending and risk-taking, the answer to the Gunners' dilemma might be as simple as this: If you're going to be in a fight, would you rather have one of the most explosive weapons in the world at your disposal, or your dick in your hand?
Photo Credit: Associated Press