South Carolina has had to scrap on the road this year, but has looked nigh-unbeatable at Williams-Brice, including spanking Georgia this past weekend. A lesser intellect would be content to chalk that up to typical home-field advantage. But the denizens of the SECRant message boards are no lesser intellects.
Here's a wonderful alternate theory, from Georgia fan "Jefferson Dawg," as brought to our attention by the Palmetto Public Record:
Think about it.......
(All good conspiracy theories begin by asking readers to think about it.)
Carolina has looked average playing on the road so far this year.... barely scraping by Vandy and even trailing Kentucky after the first half. But, at home, they're blowing people out when they're able to hypnotize the visiting team with gay techno glow-stick music.

I'm sorry if that sounds crazy to you, but there's something not right about that song. And if true, this is a criminal act.

Google "Musical Hypnosis" if you don't believe me..............
Jefferson Dawg is referring to USC's relatively new tradition of blaring Darude's "Sandstorm" before opening kickoff, as fans bounce around and swing towels. (It's like you're really at an NHL game circa 2003!) It's certainly hypnotic, though whether in the "make-you-do-worse-at-football" sense, we can't say. And as the Palmetto Public Record points out, the Gamecocks were exposed to the gay techno as well. Still, it's a better explanation than Georgia not necessarily being the cream of the SEC East crop.
Think about it, sheeple.
G/O Media may get a commission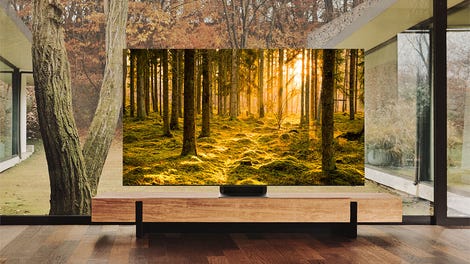 Up to 40% off
Samsung Smart TVs