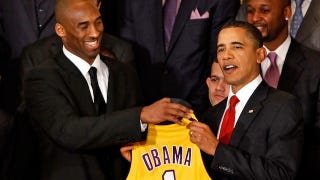 Just over a week ago, the Italian basketball club Virtus Bologna reported that it was working "very intensely" with Kobe Bryant's representatives to bring the Lakers star overseas during the NBA lockout. There were multiple points at which it was "almost a done deal." This week, the almost-done-deal shifted a bit, to an almost-done one-game deal worth $2 million.
Team owner Claudio Sabatini told La Gazzetta dello Sport that he'd agreed to a video conference with Bryant's agency at midnight, during which they'd agree on a one-game deal, a multi-game deal, or nothing at all—but Bryant's representatives never showed up. Like a forgotten prom date, Sabatini stayed up until 3 a.m. and was never contacted.
"I'm not sure how to interpret this," the owner said. Maybe Skype was malfunctioning.
Today, Sabatini—apparently not one to hedge his bets—posted a letter to President Obama on Virtus Bologna's site that invoked Martin Luther King's "I Have A Dream" speech (maybe you've heard of it). Here's Sabatini's letter, which the team published in English [sic'd] and Italian:
We would have liked to keep the message confidential and private. We sent it to the President of the United States of America Barack Obama last night, but in order to avoid misunderstandings, we publish the content of the above mentioned letter.

Dear Mr. President,

We have a dream: to see Kobe Bryant playing for our Team Virtus Pallacanestro Bologna, the Italian town wellknown in the world as basket City.

According to your wishes we hope that the Nba lockout will shortly stop but in the meanwhile let us have the chance to see at least for one game the great Kobe Bryant playing with our black and white jersey and be part of our history.

Claudio Sabatini
We'll assume that it reads better in Italian.
Nota della società [Virtus.it]
Kobe, Sabatini writes to Obama: "You mustn't rock the boat" [Gazzetta]