Right now, Eden Hazard resides in perplexing plane of existence all his own. The boundaries of this plane are fuzzy and indefinite, but the simplest way to prove its unmistakable presence might be to consider the following question: Has Hazard been a disappointment?
At first glance, the answer feels obvious. Of course Eden Hazard—the shining talisman of two Premier League title-winning seasons; the man widely regarded as the single best player in the world's biggest league for the bulk of his going-on seven-year Chelsea tenure; the most brilliant nugget in a veritable golden generation of Belgian soccer players; the driving force in a Belgium team that just this summer fought its way to a World Cup semifinal; arguably already his country's greatest ever player at just 27 years old—is no disappointment. You can't write the history of Chelsea or Belgium without including Hazard, and to expect much more than that from any individual player feels a little absurd.
And yet, think back to the young Hazard: the 20-year-old who ignited Ligue 1 with 20 goals and 16 assists in his final season in France; the young man with dribbling skills and technical excellence and finishing ability that made the inevitable Lionel Messi comparisons much less facially ridiculous than usual; the kid with such limitless potential that you wondered not if he'd win the Ballon d'Or, but how many he'd end up with.
Now compare the career trajectory giddy Lille or Belgium or Chelsea fans would've traced for the 20-year-old version of Hazard with the player that exists today: a very good—great even—player firmly in his prime who's yet to make a Ballon d'Or podium, who's yet to have a single dominating performance in a big Champions League game, who's hit 20 combined goals and assists in Premier League play only once, who's definitely one of the referential forwards of his generation but is by no means the exemplar of it. Even if you don't think disappointment is the right word to describe the discrepancy between what Hazard's talent portended back then and the Hazard we see today, it's difficult not to feel like there is some vague but real stratosphere Hazard still hasn't quite made it to.
The most solid proof of Hazard's sub-elite status is probably the fact that Real Madrid snubbed him this summer after losing Cristiano Ronaldo. And if Hazard was ever going to reach the level of greatness expected of him, if not on the level of Messi and Ronaldo then at least on par with the likes of Neymar and Bale and Griezmann and Salah, then he'd better start doing it now.
G/O Media may get a commission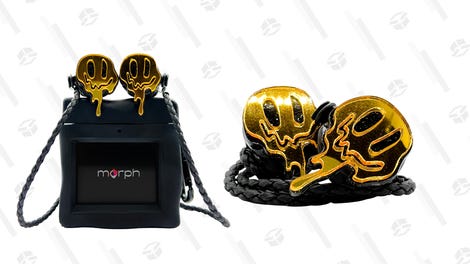 morph audio
Morph Earphones
None of this is Hazard's fault, necessarily. Players are what they are, and no one has to apologize for not being the impossibly idealized hypothetical versions of themselves that exist only in the minds of fans and detractors—especially not a player as great and accomplished as Hazard. Hazard is phenomenal. His control of the ball when it is at his feet is otherworldly and is legitimately unsurpassed. He plays with an efficiency and intellect, always making the right decision in the tensest of moments with the least conceivable time and space to think and move, that justifies the description of athletes as a geniuses. He dominates the most important area of the pitch with his ability to wriggle into any spot near the opponent's goal, and from there playing the perfect pass or whipping in a shot destined for one of the edges of the goal frame. Hazard has just about every imaginable attacking skill in his arsenal, and as he's proven with Chelsea's titles and Belgium's historic semifinal run, he has the ability to use those skills to win scores of games.
Hazard's talent is inarguable. Just as inarguable is the fact that he has yet to produce the sort of numbers, on the sort of stages, that would put him in the truly elite class of players. As mentioned earlier, he's only tallied a combined 20 or more non-penalty goals and assists once in his Premier League career, back when he and Diego Costa fired Chelsea to the title under José Mourinho in the 2014-15 season. Over the past four seasons, Hazard has averaged 15 goals-plus-assists every year. Those are very good numbers, but they are nowhere near the figures the best players routinely notch.
Obviously, Hazard's stats don't stand up to the likes of Messi and Ronaldo, as those two freaks have made a habit of blasting in 40 or more annual goals and assists for the better part of a decade. Right behind those two on the global soccer hierarchy you have Neymar, whose average of 27 league goals-plus-assists over the past four years is itself mind-blowing and almost doubles Hazard's tallies. Neymar is the singular star of his generation, the realized version of the player many once thought Hazard could be. The Brazilian matches and in some areas surpasses the Belgian in every physical and technical skill, and combines that with far more production than Hazard has ever even hinted at.
But even outside the godly tier of players like Messi, Ronaldo, and Neymar, Hazard's numbers don't compare too favorably to players in the bracket beneath that. Gareth Bale—a guy who would probably be recognized as closer to that godly tier than the one below had he been able to stay healthier over the years—has averaged 19 goals and assists over the past four seasons, and has done so while playing over 2,000 fewer minutes than Hazard. If you (wrongly) chalk up the bulk of the aforementioned four players' stats to La Liga's supposed inferiority to the EPL, then you could even look to Hazard's non-striker attacking peers in England and notice that he doesn't rate as all that special. Philippe Coutinho (17), Christian Eriksen (18), Sadio Mané (16), and Raheem Sterling (15) each averaged more goal contributions than Hazard during that timespan, and some of those players' seasons came while they played on objectively inferior teams than Hazard's Chelsea squads. Throw in Mohamed Salah's 41 goals and assists last season for Liverpool, plus his two 20-plus goals and assists seasons with Roma, and you have a sizable cadre of players right around Hazard's age that have bigger numbers but smaller reputations.
Numbers aside, Hazard's style of play often reveals the gap between himself and the other greats. He routinely the single-minded drive, the all-consuming hunger that is the hallmark of a natural goal hound. Multiple times per match you can notice Hazard knifing his way into the penalty area and, rather than trying to twist the blade in a little deeper to create a shooting angle, turning away in favor of a safer pass, his commendable preference for the most efficient play preventing him from pressing for what really matters. Scoring is far and away the most important thing in soccer, and for all the aesthetic beauty and heady efficiency Hazard brings to the pitch, he simply doesn't help his team score enough to be considered one of the best of the best.
Even this relative scoring and assisting deficit isn't entirely his fault. Hazard has played on great teams alongside very good attack-minded teammates, but only once did he play alongside a truly world class attacking companion (that being during Diego Costa's strangely brief Chelsea stint). In a very real sense, Hazard is too good for a Chelsea that can't even consistently make it into the Champions League. On top of that, Hazard has spent almost the entirety of his career in England playing for explicitly defense-first managers. Rafael Benítez, José Mourinho, and Antonio Conte aren't exactly the ideal set of coaches you'd want designing an open attacking gameplan in which a star wide man can fully express himself. Hazard might not seem to have the killer instincts of soccer's most decisive players, but that could be a facet more of what goes on around him than inside him.
That is why new Chelsea manager Maurizio Sarri could prove so important to Hazard's career. Sarri's possession-centric, movement-focused, freedom-granting style of play is probably the closest thing out there to Pep Guardiola's free-flowing positional system from which the best Messi emerged. Under Sarri, Hazard is at last the true focal point of an attack-minded playing style. And while it's obviously still early days, it appears the switch in focus is working.
In just five appearances so far this season—two of which have come from off the bench—Hazard has five goals (two being penalties) and two assists. He's shooting more than ever (his 3.2 open play shots per 90 minutes is a whole shot more than than his previous highest average), he's creating more shots for others than ever, and he's getting on the ball way more often (he's averaging 114 touches per 90 minutes this season, which is considerably more than his 77 touches per 90 in the previous four years).
Just this weekend he scored his first hat trick of the season in a 4-1 romp over Cardiff City. As you can see from his match highlights above, Hazard is empowered to drift anywhere on the pitch he feels necessary, and, crucially, no matter where he goes he's always supported by nearby teammates willing and able to offer a passing option or a decoy run or whatever else is necessary to make it as easy as possible for Hazard to get into the most dangerous areas. Hazard is making good use of this new freedom and support, demonstrating a ruthlessness and a cutting edge he's largely lacked for most of his career. When Hazard looks as sharp as he did against Cardiff, he really does resemble a Messi-like player who could score 30 goals and set up 15 assists every season and go down in history as one of the game's greats.
If ever Hazard were to finally jump into that highest tier of players—the true, consistent difference makers who score or create the goals that lead to wins and trophies—now would be the time. At 27, he has the age and experience and physical abilities to be at the peak of his powers. With Sarri as manager, he has a coach whose entire philosophy is predicated on getting the most out of him. Coming off a spectacular World Cup, he has the confidence to believe that, when honed and aimed in the right direction, there's no door that can withstand the force of his skills. And with Real Madrid deciding against bringing him to Spain, he has the motivation to make them regret not calling him up to where he belongs, in the biggest of the big leagues.
Hazard has everything he needs to make the jump. All that's left is to wait and see if he can actually do it. And if he doesn't do it now, he probably never will.