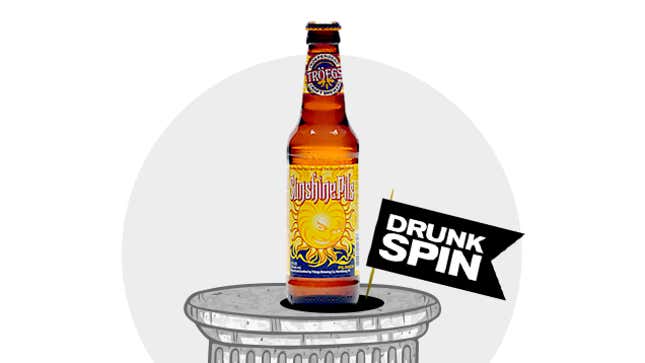 One foolish afternoon a long, long time ago, Drunkspin risked a lifetime banishment from the good graces of the Craft Beer Movement by suggesting that even the very finest beers—the ones with corks and waiting lists and wicked kickass dragons and/or puns on the labels—contain alcohol, which has been shown in some studies to have intoxicating affects on humans.
Does Jimmy Butler have the best NBA Finals origin story? | Agree to Disagree
It turns out we were mistaken, as further research has shown that the inclusion of trademarked hops, exposure to wooden barrels, double-digit prices, and convoluted origin stories involving European bicycle trips with three-legged dogs are just a few of the many attributes that prevent Official Craft Beer from causing drunkenness. That is science, and it is also supported by logic. Bud Light gets you drunk, because Bud Light is for dirtbags. Small Batch Chad's Rum-Barrel-Rested Imperial Big Titmouse Stout (It's A Kind Of Bird, Dummy, I Like Birds!) does not get you drunk, because it is for enlightened motherfuckers like you and me. Drunkspin regrets the error.
But even though I've been massaging my poor brain with healthy doses of luxury beer, something has been making me feel stupid lately, and I think I've finally figured out what it is: I haven't read a Malcolm Gladwell article in a few months. There's no surer way to feel clever than to digest one of his explanations for how the world works. Sometimes they're truly insightful, and just as often they're facile bullshit, but the affect on my brain is always the same. Malcolm Gladwell makes me feel smart. Why, it's as if he's a walking, talking, funny-hair-having bottle of craft beer!
One of the more interesting Gladwell passages I can remember is the bit about the "Pepsi Challenge," in which he theorized that soda-pop taste tests are rigged to favor sweeter samples. It makes sense, and it might even be true. If you only take a sip of something, you'll be more impressed by bigger flavors. A couple of lowly lager brewers I follow on Twitter recently discussed how this affects beer rating, which got me to thinking that it's somewhat irresponsible to go passing out stars based on a single sip. Brief exposure is always going to favor certain flavors (such as floral, fruity hops) that could be less appealing over a long, 12-ounce haul. And since craft beer doesn't get you drunk, you might as well go ahead and have six or eight at a time.
Today's as good a day as any to smarten up with a beer best consumed by the glug, such as Tröegs Sunshine Pils, a German-style Pilsner from one of Pennsylvania's finest breweries. Sunshine is a bit to the hoppy side of the style, but it's still a fairly subtle beer that makes a mild first impression. At 4.5-percent alcohol-by-volume, it's more suitable for the kind of pervert who still derives pleasure from closing her Untappd account for an hour or two while she works her way though a six-pack. (You can even save some for tomorrow if you don't need all six at once. Don't worry, I checked with the committee: While not certainly not advised, it is still technically legal to drink the same beer two days in a row.)
Sunshine Pils opens with a light lemon aroma augmented by slightly spicy yeast. It smells good and tastes better, as a nice biscuity malt character carries straight through to the unexpectedly dry, black-peppery finish. This is an ideal choice for a rainy day when you're just looking to sit back and contemplate something other than your next beer
---
This is Drunkspin Daily, the Concourse's adequate source for booze news, reviews, and bullshit. We'll be highlighting a beer a day in this space; please leave suggestions below.

Image by Jim Cooke.
Will Gordon loves life and tolerates dissent. He lives in Cambridge, Mass., and some of his closest friends have met Certified Cicerones. Find him on Twitter @WillGordonAgain.