For the second time in the past month, Green Bay Packers tight end Jermichael Finley has sustained a serious head injury while playing football. And while he appears to be recovering movement following a temporary paralysis immediately after the injury, it's a stark reminder that the effects of head trauma in football can be brutally immediate.
We still don't know which neurologic injuries will be transient and which will be permanent. If Finley is able to regain all sensation in his arms and legs, he will have suffered something called transient paresis, a terrifying consequence of cervical spine injury.
An athlete can experience this kind of injury in one of four ways. The neck may be 1. hyperextended, 2. hyperflexed, 3. compressed, or 4. subjected to indirect blunt force.1 If any of those occur and interfere with the spinal cord, the thin bundle of neurons that extends down from the base of the skull and serves as a conduit for sensory and motor information as well as a center for coordinating certain reflexes, it spells serious trouble.
Hyperextension and hyperflexion of the neck can result in what we commonly call whiplash2, which is a catchall term for sudden strain to the muscles, bones and nerves in the neck. When someone experiences whiplash, ligaments or vertebrae can fold into the spinal canal and compromise the spinal cord. The exact reason for neurologic symptoms hasn't been sorted out, but it appears to be related to physical trauma to the neurons or a compromise in blood flow.
In addition to whiplash, neck injury can result from compression or blunt force trauma, which destabilize the vertebrae, ligaments, and connective tissue that support and protect the neck. Any one of these body parts can then herniate into the spinal column and cause neurologic symptoms, like the ones Finley experienced. But before we try to prognosticate, it will be important to know what type of injury Finley sustained and, more importantly, what his neck anatomy looked like before and after the latest injury.3
G/O Media may get a commission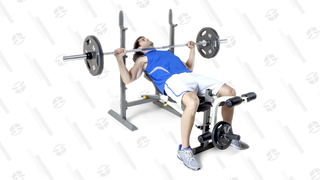 10% Off
Marcy Folding Weight Bench
About that: In the fourth quarter of last night's Packers game, Finley took a slant pass from Aaron Rodgers and lowered his head just as Browns safety Tashaun Gipson was moving in to tackle him. Gipson hit Finley's head with his shoulder, and Finley fell limply to the ground. The tight end spent next few minutes on the turf as Packers' training staff immobilized his head and neck before a stretcher took him off the field and to an intensive care unit.
Players and fans were understandably disturbed by the play. When teammate Andew Quarless initially approached Finley, he said his fallen teammate couldn't move and players could be seen with tears in their eyes as he was carted off the field. ESPN has since reported that Finley has regained almost all movement and a source has since told NFL.com that Finley's hospital stay is precautionary and that "he's going to be fine."
The truth is that it's too soon to tell.
Every time a football player is tackled, he's potentially at risk for one of those four types of neck injuries. If he's hit in the wrong way and the spinal cord is compromised, a player like Finley can feel unusual sensations in his arms or legs immediately. The most common symptom is the so-called burning hands syndrome, which is suggestive of a lesion to the central part of the spinal cord. In addition to numbness and tingling, the player may be unable to move certain parts of the body. This can range from mild weakness to full paralysis. Often, there is no other neck pain at the time of injury. Symptoms generally last less than ten to 15 minutes, but may last as long as 36 to 48 hours. It's important to know that Finley is still in a critical recovery window and will be for at least another day.
It's not clear that Finley should ever return to the football field even if he recovers. A recent study suggests that some NFL players can safely return to the field after certain types of head and neck injuries. That's far from medical dogma, though, especially for a repeat victim like Finley.
His first injury of the season occurred on Sept. 22, when he was the victim of a helmet-to-helmet hit by Bengals safety George Iloka. Finley staggered off the field and was soon diagnosed with a concussion. The Packer was shaken by the head injury, as were those around him. Speaking to ESPNWisconsin, Finley said at the time, "I get calls from my grandma all the time. I tell her I only want to play 8 to 10 more years, and she says, 'Boy, you need to quit this dang game.' That's the thing. I know the risks. But family members that care about you, they see it from a different perspective than we do."
It's a perspective worth considering. While fans may want Finley back and the organization may want him back, one can reasonably argue that he should never put on pads again. There are reports of athletes with transient neurological symptoms—the same as Finley reportedly experienced here—who subsequently developed permanent neurological injury. No one wants to see his name added to that list.
After his previous concussion, Finley's five-year-old son had one request. "Daddy," he said, "I want you to stop playing football." He's not the only one.
---
1A recent case of a Canadian professional hockey player recently developed transient paresis after being struck in the back of the neck by a puck Winder MJ, Brett K, Hurlbert RJ. Spinal cord concussion in a professional ice hockey player. J. Neurosurg. Spine. 2011; 14: 677–80. [Context Link>).
2Before the invention of the car, whiplash injuries were called "railroad spine" as they were often seen in connection with train collisions
3Football players often have unusual neck anatomy. In 1993, a new condition was described called Spear tackler's spine that occurs in football players who habitually tackle using the top of the head as the initial point of contact. These players have narrowing of the cervical spinal canal and straightening of the normal neck curvature. They are also predisposed to permanent neurologic injury and should avoid all contact sports.
---
Matt McCarthy is board-certified in internal medicine. You can follow him on Twitter here.
Image by Sam Woolley