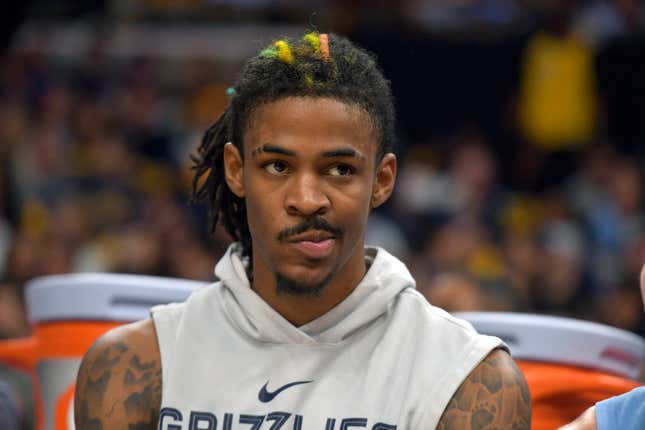 The other Nike dropped for Ja Morant on Friday with NBA commissioner Adam Silver levying a 25-game suspension for one the league's brightest stars. The Memphis Grizzlies All-NBA point guard also will have to fulfill a program that he formulates himself (whatever good that'll do) as part of his punishment for flashing a gun on Instagram Live — two times.
Ja Morant or Zion Williamson: Who is having a worse offseason? | Agree to Disagree
Though Morant committed no crimes, acting like a jackass is a suspendable offense at the discretion of the commissioner, of course, and Silver released a statement to go along with the 13 million interviews he gave on the subject during the NBA Finals.
"Ja Morant's decision to once again wield a firearm on social media is alarming and disconcerting given his similar conduct in March for which he was already suspended eight games. The potential for other young people to emulate Ja's conduct is particularly concerning. Under these circumstances, we believe a suspension of 25 games is appropriate and makes clear that engaging in reckless and irresponsible behavior with guns will not be tolerated.

"For Ja, basketball needs to take a back seat at this time. Prior to his return to play, he will be required to formulate and fulfill a program with the league that directly addresses the circumstances that led him to repeat this destructive behavior."
Did Silver get it right?
As I'm contractually bound to do, I must tell you that my prediction was 20-plus, and take a subsequent victory lap for Price Is Right-ing the number. Self-congratulations aside, this feels appropriate. I do think Silver opened himself up to some criticism with this yet-to-be-defined program. It's basically a third chance for Morant to get some help with whatever it is his deal is.
Partying, social media, and strippers are in the wheelhouse of any 23-year-old pro athlete, and what Morant needs more than any kind of made-up reformation curriculum is time and maturity. He'll get both during this suspension, and will be unable to participate in any public league or team activities, including the preseason. Also, under the new parameters for regular season awards like the All-NBA team, Morant can't miss more than two games, or he'll be ineligible.
The timing of the sitdown will play a factor as well because if you miss the first 25 games of the season, you're not making an All-Star team either. He could be voted in, I guess, but I don't know how that works, or if Silver would be cool with Morant being rewarded simply for being popular.
The main takeaway is the league probably wants a little reprieve from Ja Morant as its youngest American spokesman, and hopefully, Morant will be a more conscious and grateful one when the spotlight returns to him.