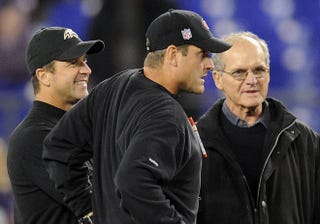 Every morning, the fine folks at Sports Radio Interviews sift through the a.m. drive-time chatter to bring you the best interviews with coaches, players, and personalities across the sports landscape. Today: the coaching patriarch refuses to play favorites.
Jack Harbaugh joined 790 the Zone in Atlanta with Mayhem in the AM to talk about how nervous he was watching both of his sons' teams this weekend in the playoffs, if they plan on traveling to watch the games or stay at home and watch them on TV, what he thought about the games this weekend, on Jim Harbaugh being able to turn Alex Smith around, if he is breaking down any film for his sons this weekend, and how he would react to his two sons playing in the Super Bowl.
How nervous he was watching both of his sons' teams this weekend in the playoffs:
"Very, very, very nervous. My wife and I, Jackie, were here in Wisconsin watching both games over the weekend and it was rather exciting around the house. A lot of shouting, a lot of congratulating, a lot of lamenting, but thankfully in both cases we were happy and successful."
If they plan on traveling to watch the games or stay at home and watch on TV:
"This is how it goes for us. We're able to stay here and watch and we've got understanding neighbors when they hear the pounding and the shouting they understand that it's just part of the weekend routine for us. We're very comfortable and very happy where we are and enjoying from long range."
What he thought about the games this weekend:
"I thought they were great games. I talked to Jim after the ballgame on Saturday and I think that's one of the very, very best playoff football games that I've ever watched. Watching the game and at the end of the ballgame, the last four minutes there where the score changes four different times, Saints go up, the 49ers answer, Saints go up, 49ers answer. You had the idea that when the clock ran out whoever happened to have the ball last was going to be successful. That was a fantastic football game and then yesterday the Texans just played so, so very well. They're defense was very good, offensively they made some plays, and it was a tremendous football game. Not as high scoring as Saturday but just a fantastic game."
On his son, Jim, getting Alex Smith to turnaround his career:
"I think when you look at the 49er team just from afar the way we look at it that was a team that was blessed with very, very good football players and you can see with the Pro Bowls, I think there were eight or nine players that the fans and players and coaches selected for the Pro Bowl and All-pro team. Patrick Willis, Frank Gore, and you can just go down their roster. Tremendous football players. I think all of us, parents, coaches, teachers, clergy, and people that deal with youngsters, there's a tremendous lesson here is that there is potential in so many different individuals and sometimes that potential is brought out by trust and understanding and believing in them. Bob Feller, longtime pitcher I saw after he passed away, they asked him what his father had brought to him that he felt allowed him to be the professional athlete and person that he was. He mentioned three things. The first one was he played catch with him, spent time with him. Second was he took him to ballgames. The last one and I think the most important one and the one you allude to with the Alex Smith thing is he believed in me and trusted me. I think there is a tremendous lesson there. Not just with Alex Smith, Jim Harbaugh, San Francisco 49ers, playoff football team but for parents and coaches as well."
Whether or not he has gotten film to break down for this weekend's game:
"I don't know what my assignment will be this week. Last week I had a special assignment from Jim. He sent me some Green Bay Packer tape and I spent a couple hours looking at that. Those notes are moot. We just don't have anything to do with them. I haven't gotten my assignment for this week so we'll see what happens."
How he would react to his two sons playing in the Super Bowl:
"That's a long way away and we haven't thought about it, discussed it, so we just kinda play that out. The most important thing is this is about Jim and John and we hope that they both have success as all parents out there can understand that have children that are involved in any type of activity."
What weaknesses he sees with his two sons:
"They have no weaknesses. They're just like their mother. They're stealth."
This post, written by Chris Fedor, appears courtesy of Sports Radio Interviews. For the complete highlights of the interview, as well as audio, click here.
More from Sports Radio Interviews
• Gary Kubiak says the best is yet to come in Houston.
• Junior Dos Santos predicts someone will get knocked out in his Overeem fight.
• Tony Sparano can't wait to work with Mark Sanchez.