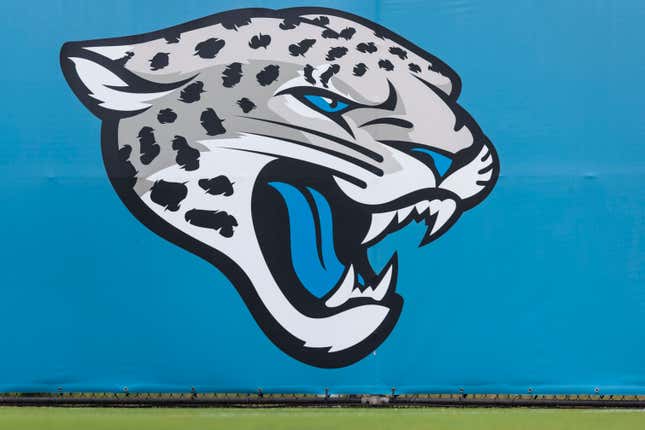 We're about to find out a lot about the Black players and coaches who are employed by the Jacksonville Jaguars.
How running an NFL team is like running a restaurant | Chef Emeril Lagasse
The Governor of the state you work in has done everything in his power to show how much he hates you. The league you play in has never valued you — from your bodies to your brains. And the city you live in has become the latest example of the need for gun control and how much racism runs rampant in this country — after Buffalo reminded us of it just a year ago. Yet, for the most part, you have said and done nothing of consequence, besides take it like a bunch of weak first graders getting punked for their lunch money.
How do the players NOT kneel?
If the Jaguars don't kneel during the national anthem in Indianapolis on September 10 when they face the Colts during Week One — due to Ryan Christopher Palmeter's hatred of Black people being the reason why he killed Angela Michelle Carr, Jerrald Gallion, and Anolt Joseph "AJ" Laguerre Jr. — then we will be forced to take their silence as acceptance, while understanding that muscles do not equate to having actual strength.
"To see three precious Black lives taken in a state where you have an asinine governor attacking Black people, attacking Black history and then you have people making excuses saying it's not a gun issue when he had an AR-15. I mean, other nations have hate but we're the only nation that keeps having mass shootings because of policy decisions," Tennessee state Rep. Justin Jones told CNN's Jim Acosta.
"And we don't have to live this way. We don't have to live this way anymore."
A politician in Tennessee being more outraged than football players who live and work in Jacksonville is a large part of the problem — especially after the last few years showed us how impactful athletes can be when they take up racial and social causes.
"Whether it's a school in Nashville — a private school — or whether it's a Dollar General in Jacksonville, Florida, this terrorism that we're living under is a policy choice we made to appease extremists, gun extremists in the gun lobby and we need to call it out for what it is," added Jones.
With the events of this past weekend's tragedy taking place during the first weekend of college football, and just weeks before the 2023 NFL season kicks off, it has been a reminder of just how stupid Jay-Z was — and still is — for selling his soul to Roger Goodell for a still undisclosed amount of money and the ability to throw better Super Bowl halftime shows when he infamously said:
"I think we have moved past kneeling. I think it is time to go into an actionable item … I'm not minimizing [Kaepernick's] part of it. That has to happen. That is a necessary part of the process. But now that we all know what's going on, what are we going to do? How are we going to stop it?"
Being a billionaire doesn't mean you're a genius — Elon Musk has taught us that. And just because The Brooklyn Public Library celebrated you, it doesn't mean you read books.
If we've learned anything since 2016, it's that if anything is going to be done, Black people are going to have to be the ones to save America — again. So if the Jaguars are looking around waiting for someone "more important" to say or do anything, they're wasting everybody's time, as the team has already put out a pathetic statement that does nothing.
The league will do the same with similar language that goes against everything we've ever seen them stand for. DeSantis has also extinguished all he will do, as he publicly commented and showed up to administer his "thoughts and prayers."
Pro sports continue to enable Ron Desantis
What's so frustrating about Jacksonville is that it didn't have to happen, just like Buffalo, or all the other countless acts of violence we've become numb to. This country's refusal to address gun laws and racism will continue to lead to more, not less, incidents like this. It's why the NAACP issued a travel advisory in May because Black people know how dangerous a place like Florida can be for Black people just to exist in. Yet, despite that, the NFL decided that Florida should host the 2024 NFL Pro Bowl in Orlando — a city that doesn't have an NFL team.
"Building off the success from last year's reinvented format that elevated flag football and introduced fun forms of competition and entertainment, we are thrilled to bring The 2024 Pro Bowl Games to Orlando," said Peter O'Reilly, NFL executive vice president, Club Business and League Events, in a statement. "Hosting multiple Pro Bowls in years past, Orlando is a world-class destination and a favorite getaway for our players and their families, and we look forward to working with the city of Orlando and Florida Citrus Sports to create the ultimate all-star celebration for players, their families, and our fans."
If the Jaguars aren't setting aside time to figure out what they're going to do as a response, then they've rendered themselves forever useless in things that matter outside of football. Back in 2017, this very same franchise dropped to one knee in protest against the countless antics that Donald Trump was involved in.
However, back then kneeling was the trendy thing to do. It was more about who wasn't doing it, instead of who was, and why. We're at a moment in which the Jaguars need to remind America — and Jay-Z — about the "why." Besides, if randomly killing Black people for sport isn't enough to make the players and coaches on that roster take a knee, then nothing ever will be.