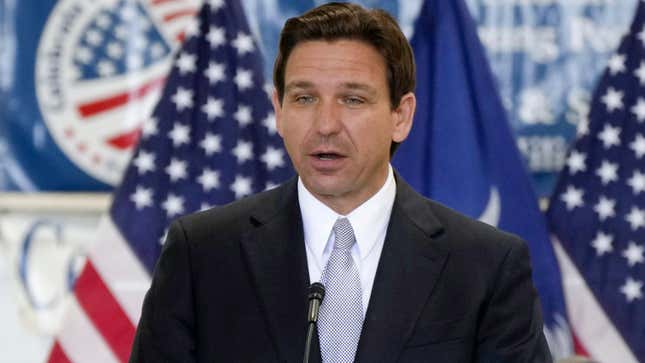 There's nothing more infuriating than a fake ally. And no one is a better model of that than the NFL.
Should the NFL adopt a draft lottery? | Agree to Disagree
If this league were a person, they'd be one of the most untrustworthy human beings on Earth. The NFL swings from one end of the spectrum to the other. For instance, The league has "end racism" sketched into its endzone. But, that didn't stop it from announcing that it'll be holding the 2024 Pro Bowl in a state that has a governor who believes that some Black people benefited from slavery.

"Building off the success from last year's reinvented format that elevated flag football and introduced fun forms of competition and entertainment, we are thrilled to bring The 2024 Pro Bowl Games to Orlando," said Peter O'Reilly, NFL executive vice president, Club Business and League Events, in a statement. "Hosting multiple Pro Bowls in years past, Orlando is a world-class destination and a favorite getaway for our players and their families, and we look forward to working with the city of Orlando and Florida Citrus Sports to create the ultimate all-star celebration for players, their families and our fans."
You would think that a league that is majority Black wouldn't consider any city in Florida as a "world-class destination," but this is what happens when a Black league doesn't have proper representation in the room where these decisions are made.

Florida Republican Governor Ron DeSantis is determined to return Florida to the days of the antebellum South. Just last year, he signed a bill that limited discussions of race in schools and businesses. "We will not use your tax dollars to teach our kids to hate this country or hate each other," he said. That's the kind of quote a person who fully understands America's hateful past, and present, gives.

Earlier this year, DeSantis — who stands against critical race theory — figured out a way to mandate Asian-American history in schools while also banning courses on systemic racism.
"When you advance a bill that uplifts AAPI communities, but don't want to acknowledge the fact that in the same state, there are real intentional efforts to invisiblize or erase Black history, or [critical race theory], you are on the wrong side of history," said Gregg Orton, national director of National Council of Asian Pacific Americans, about the situation. "With Florida, it's hard to draw any other conclusion than they are actively trying to use the Asian American Pacific Islander community as a wedge here."
Also in May, DeSantis signed a bill banning DEI initiatives in public colleges, as Florida will no longer spend money on DEI at its public institutes of higher learning unless the programs have been federally mandated.

Leave it to the NFL to be convinced that Florida is the state for its Black players and their friends and families should come and "celebrate" — and spend their money. This "say one thing, but do the other" ideology that the league operates by is how they've gone about things for a long time.

In 2020, the league committed $250M over a 10-year period to combat systemic racism. Three years later, the NFL's "Inspire Change" contributions had reached $300M in the advancement of social justice. And just last week, the league announced the 31 medical students — 14 from HBCUs — who will be participating in the second year of the NFL Diversity in Sports Medicine Pipeline Initiative.

Don't be fooled by the donations. The NFL loves to cut a check but hates to do the work.
The league is still being investigated by New York and California Attorneys General for hostile workplace discrimination for racial and sexual harassment and age bias. In March, NFL Media got rid of veteran NFL reporter Jim Trotter for repeatedly asking NFL Commissioner Roger Goodell about the league's lack of diversity in the newsroom and across the league. And the NFL is still dealing with Brian Flores' class-action suit against them for its alleged racist hiring against Black coaches. Earlier this week, the judge in the case doubled down on her ruling that the case is headed to trial, not arbitration — which is what the league was hoping for.

Despite all the things the NFL has been accused of, and all the things Ron DeSantis has done, the league still thought picking a city in Florida that doesn't have a franchise was the best place for the Pro Bowl. There isn't anything about this decision that makes sense. That is until you realize that despite the propaganda and countless donations, the NFL is more aligned with contributing to racism than ending it.