On Friday, ESPN reported that the Jacksonville receiving corps was so decimated by injuries, Justin Blackmonlessness and just being the Jaguars, that the team was forced to use ball boys and equipment assistants as scout-team receivers. Fox picked up on the report and tweeted out a link to a story of its own. The Jaguars response on Twitter? Nu-uh!
The Jags have Cecil Shorts and Ace Sanders as the only healthy options left on the roster at the position. That much does not appear to be in dispute.
To combat this, ESPN.com's Michael DiRocco reports that the Jaguars have been using ball boys, equipment assistants and practice squad quarterback Matt Scott as wide receivers on the scout team during practice this week.
This is where the Jaguars account took issue.
G/O Media may get a commission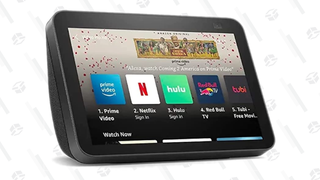 Most likely (and hilariously) the Jaguars are making some kind of semantic argument. Maybe it wasn't a ball boy, maybe it was the person in charge of the kick-off tees. The team is clearly short on receivers, though, and head coach Gus Bradley indicated the Jags are probably going to have to get practice-squad receivers Jeremy Ebert and Tobais Palmer through waivers and on the field for tomorrow's game against the Colts.
"Those guys become very realistic guys that could be active so [general manager] Dave [Caldwell] and I will have to talk about that," coach Gus Bradley said after Thursday's practice. "That would require some changes and things like that so we'll discuss what we need to do, but those guys got a lot of reps today.
Basically, the Jaguars went on Twitter to say hey, we're bad, but not that bad.
Photo credit: Getty