Every morning, the fine folks at Sports Radio Interviews sift through the a.m. drive-time chatter to bring you the best interviews with coaches, players, and personalities across the sports landscape. Today: Allen has some thoughts on the NFL's crackdown.
Jared Allen joined KTAR in Phoenix to discuss the punishments handed down for the Saints' bounty scandal, whether he thinks Sean Payton will stick to the restrictions placed on him, what he thought of the Gregg Williams audio, how he looks back on a 2009 playoff game against New Orleans and the broad changes being made across the league.
If he thinks Sean Payton will abide by the terms of his suspension:
"I like Coach Payton, honestly. … I was shocked to hear that went on under his watch. I've never known him to be that type of guy. And honestly, I think he'll take the punishment like he's supposed to, I really do. And really, with Joe Vitt taking over, it's the same show. It's his ship, it's his coaches, they know what's gonna run. I think, personally, more importantly, they need to get Drew (Brees) back there, because then you got some continuity and some familiarity at the most important position. So yeah, I don't know how you enforce it, but lucky for me, I just get to go play."
If he was shocked by the Gregg Williams audio clip:
"Yeah, you know, I was a little shocked. … Don't get me wrong, you get some coaches that are rah-rah guys. Other coaches are just like, 'Ya know, go out and do what you're supposed to do.' So for us, we know Gregg. … We watch some film and put ourselves in situations - we don't really get a rah-rah speech. But to hear someone call a player out by name - I can remember coaches getting fired up … and that's one thing– but, yeah, to say, 'We're going to target this dude's head or take out his knee, his ankle's busted up' - yeah, that's a bit aggressive in my book. I guess my beef with the whole thing is, when someone takes somebody else's career into their own hands, you're ultimately taking food away from that guy's family if it's a career-ending injury. And to have that kind of God complex that where you think you can control taking a dude's knee out and be cool with it? For me, that's a bigger issue than just saying we need to go out and hit somebody and you can get (a reward) for a good play or something like that. That's one thing, but to promote injury, that's a different story."
On how he looks back on the hits Brett Favre took in the 2009 NFC championship game:
"Yeah, that high-low was pretty vicious, but here's the deal. I think what people get caught up in - and obviously the Saints were wrong in what they did and they're being punished accordingly - but the way I look at it, you can't cry over spilled milk. They won the game, we had our shots and we blew it. But their Bountygate had nothing to do with our five turnovers. … But I think, you look at those hits on Favre, and you look at that stuff - all you've gotta do is throw a flag. You can hit a guy like - they didn't put him out of the game, he stayed and finished the game. If the refs called those flags, after about two or three personal fouls and 30, 45 yards of field position, those tend to slow down. Because at the end of the day, that's great - you wanna hit people hard, you wanna pay people to cart people out - but you wanna win games."
G/O Media may get a commission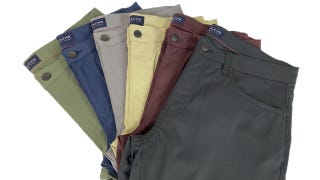 JACHS NY Fall Stretch Tech Pants
On the severity of the sentences doled out by the league:
"I think they had to act this strictly to put the integrity back in the game."
If he thinks this is the dawn of a new era as the league attempts to make the game safer:
"Let's not pretend they're making it safer for everybody. It's safer for offensive players. I mean, a wide receiver or tight end can still motion from the outside in on a pass play and just absolutely blindside a defensive end across the formation. … We can still hit running backs pretty much any which way we want. So I think there's an emphasis on - obviously there's no more headshots, they talk about concussions. I think there's a bigger problem because of these so-called concussion-proof helmets. Guys kind of throw caution to the wind. I've been rocking the old-school Riddell for a while and I just know it's limitations, you know what I mean? So I don't know, I mean, we've had a lot more head injuries, and maybe they're just getting reported I feel like in the last few years. We all sign that contract knowing the risk, so I don't know. Guys are gonna find a way to hit people. I mean, that's what this sport's about. Guys are gonna find a way to make plays, and we can limit it all we want, and you just gotta hope guys use good judgment at that time and nothing's done maliciously."
This post, written by Brad Gagnon, appears courtesy of Sports Radio Interviews. For the complete highlights of the interview, as well as audio, click here.
More from Sports Radio Interviews
• Ryan Callahan says after a shutout that the Rangers can get better defensively.
• Lardarius Webb wants to be better than Darrelle Revis.
• Family won't keep Steve Nash in Phoenix.