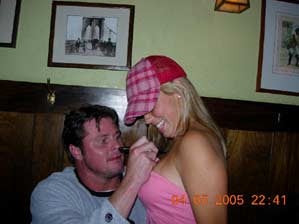 Remember how in Bull Durham, when Nuke LaLoosh wears a garter belt to help relax him on the mound? Well, apparently, Jason Giambi has a similar slumpbusting technique ... though it's perhaps one he shouldn't share with the world.
Giambi told Portfolio magazine that when he's slumping, he wears a thong. And that's not the worst of it.
"I only put it on when I'm desperate to get out of a big slump," he tells Portfolio.com. Over the years, the 37-year-old All-Star has left the "golden thong" in the lockers of slumping teammates Derek Jeter, Bernie Williams, Johnny Damon, Robin Ventura, and Robinson Cano.





"All of them wore it and got hits," he reports. "The thong works every time."
Considering the Yankees are currently in last place, one wonders how much the thong is being passed around right now. We hope this is one of those one-size-fits-all type thongs; maybe they have a special "juice-sized" thong that they broke out a few years ago but can't use as often now.
Jason Giambi Wears Thong When In Slump [New York Daily News]