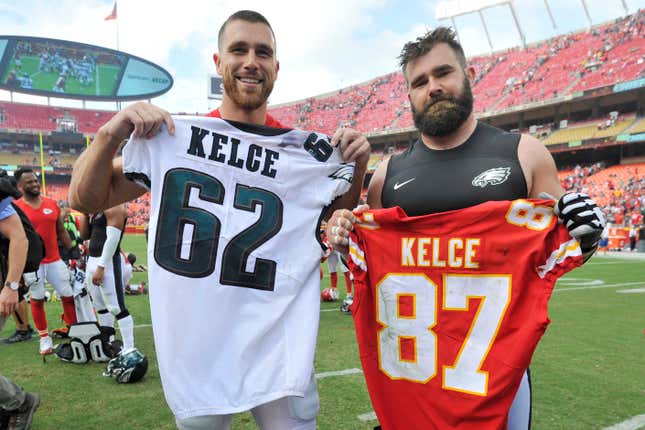 Jason Kelce and Travis Kelce were such heartwarming stories during the Super Bowl. Their mom baked them cookies and presented the delectable desserts to them on opening night. The two host a podcast together, and in one episode they both cried when discussing Mama Kelce's star turn during Super Bowl week.
A couple of kids from suburban Cleveland went on to become two of the best to ever play at their respective positions. Expect a direct-to-streaming movie made about these two when they are done playing. Also, don't be fooled by the warm-and-fuzzy family story, they are great at football for a reason. Both brothers are not afraid of a squabble.
On Tuesday, Jason started a mass brawl at what turned out to be the end of a chippy joint practice between the Philadelphia Eagles and the Indianapolis Colts. He took exception to consecutive hard hits from Colts linebacker Zaire Franklin on Eagles running back Kenny Gainwell.
The Eagles' center ran up to Franklin and leveled him with what he would admit later to the media was a cheap shot. According to reporters in attendance at the practice, the sidelines from both teams emptied and began to rumble.
At Kansas City Chiefs training camp, Travis has found himself in a couple fights this year. Unfortunately for him, when he punched his own teammates in the head, those incidents were recorded and posted on social media.
Travis apologized on social media, and Jason took ownership of starting the practice melee when speaking to the media later in the day. They absolutely needed to hold themselves accountable for what happened. They are two of the best players in the NFL on teams that are both favorites to make the Super Bowl.
It's no longer the aughts and the risk for injury falls mostly on their poor father who had to referee these two future giant professional athletes when they were growing up. They have told the story on several occasions of the last time they got into a fight.
Travis was dominating Jason in a game of one-on-one. Tempers flared because the younger brother — Travis — had finally caught up athletically to big bro. Travis threw the basketball at Jason and that is when all hell broke loose. Jason took off towards the kitchen after Travis — I imagine with the same look in eyes as he did going after Franklin on Tuesday — and punched his younger brother dead in the face. The fight was on. They broke the stove and came close to doing the same to their father.
Training camps are closing down with the last of the preseason games being played later this week. Tempers should cool down and very few punches will be thrown in the regular season. The punishment for that act on gameday is an automatic ejection.
While the Kelce brothers are mature enough to not hurt their team in that way, I still wouldn't trifle with them on the field. They have proven that they will throw down.