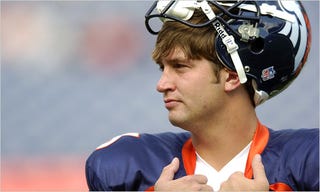 I can't be the only one praying that Jay Cutler keeps getting better and better, solely in the hopes that there is a corresponding escalation in the people he will publicly declare himself better than: "Sure, Mother Theresa helped a lot of people, but last time I checked, she never once threw for 4,000 yards". For now, though, he's still focusing his opinions on other quarterbacks. The latest? Why, that would be his Sunday counterpart, Brett Favre:
Leading up to Sunday, [Cutler] showed the obligatory reverence toward the most prolific passer in NFL history. But...he actually threw himself into the Favre conversation, claiming he has a stronger arm than the Jets' quarterback.

"Yeah, I think so," Cutler told the Denver media, laughing. "He's 39, soon to be 40. I think he may have given me a run back in his 20s, but I think I got him now."
You'll recall Cutler's earlier proclamations on Philip Rivers ("I'm just not that big of a fan of the guy") and Broncos' legend John Elway ("I have a stronger arm than him, hands down."). Next in line? Might I suggest:
1. Kurt Warner ("You call that clean livin'?")
2. Joe Namath ("You call that a floppy haircut?")
3. Eli Manning ("You call that a permanently confused facial expression?")
It's old master vs. young gun as Brett Favre and Jay Cutler enter arms war [New York Daily News]
Jay Cutler: "I have a stronger arm" than Elway [The Sporting News]