During the second quarter of Bears-Niners last night, Cris Collinsworth was amazed by how tight the San Francisco secondary was playing Alshon Jeffery and the rest of the Chicago receivers. There was no room for simple in-routes or comebacks, let alone enough to goose an offense that was scoreless for virtually the entire half. The Bears would have to at least pretend to go deep if they were going to find any daylight, Collinsworth said. And they did, eventually, sort of.
The inadequacies of Chicago's deep game shaped the game for most of the night. Counting penalties (and there were so, so many penalties last night), the Bears went deep 12 times, and came up with two completions. More or less the best thing that happened on a deep pass was Cutler getting clocked and drawing a penalty while looking for Alshon Jeffery deep right, which set up the Bears' first touchdown midway through the second on a deep overthrow from Cutler and a ridiculous one-handed catch by Marshall. The next best was probably Jeffery drawing an illegal contact penalty on a deep incompletion in the third quarter to keep a drive alive. Cutler had 176 yards on 34 attempts.
These aren't really the highlights you're used to from the Bears lately, with Cutler's trebuchet arm and Jeffery and Marshall flying around. But with those two banged up, and with Matt Forte running for a constipated 21 yards on 12 carries, the Bears muscled up. Marshall pushed around Jimmie Ward on all three of his touchdowns, and Bennett's touchdown route was literally him just splitting out wide and turning around. In the second half, Cutler was 11-for-12 on short passes.
Yeah, the Bears defense did a lot of the grunt work, obviously. But the offense is a big part of why it felt like such a weird comeback. Chicago couldn't move the ball at all in the first half—after the Niners' two first half turnovers, the Bears took two three-and-outs for a total of -28 yards. And then all of a sudden they scored three touchdowns in the second half to wipe out a double-digit lead. It was an offensive outburst without much burst. But even the Win Probability chart is more relaxed than you're used to seeing from a late comeback:
G/O Media may get a commission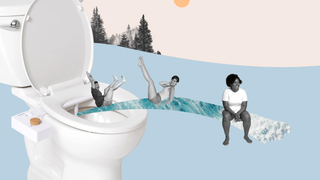 17% off
Tushy 3.0 Warm Water Spa Bidet Attachment
Usually, these things look like a stock crashing after a CEO gets picked up injecting heroin into his penis, but not here—the big jumps aren't even Bears scoring plays. By Brian Burke's Win Probability Added metric, Kaepernick's interception to Kyle Fuller early in the fourth, up 20-13, was the single most damaging play in the league this week, tanking the 49ers' changes a full 27 percentage points. His other fourth-quarter interception, to Fuller again on the next drive, sunk it another 17 percentage points, tied for eighth-worst this week.
That was Cutler last week, when he showed up in three of the six worst plays of the week, with two bad interceptions forcing the ball vertical. This week, that particular problem wasn't an option. Maybe once his receivers are back in form, Cutler can go back to heaving ludicrous picks so that he can lead equally ludicrous comeback(ish) drives. But the Bears offense looks like it would manage just fine until then.