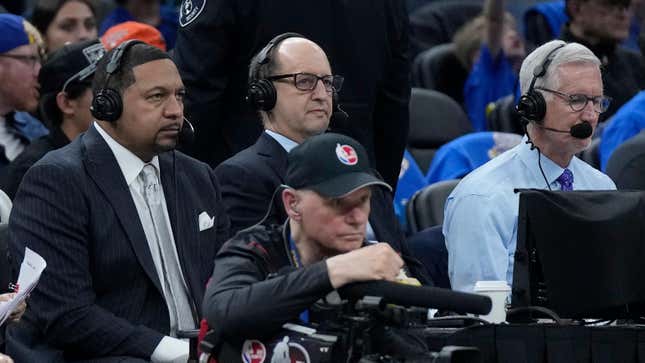 As ESPN reaches the end of its fiscal year today, the Worldwide Leader has commenced its semi-annual purge of top talent. On Wednesday, the pink slip Russian Roulette landed on Jeff Van Gundy, after 16 years with the network.
Is Domantas Sabonis at fault for the Draymond stomp? | Agree to Disagree
Amid the prosaic canvas of ESPN's buttoned-up NBA coverage, Jeff Van Gundy was a peculiar abstract blotch. ESPN's primetime NBA coverage leaves a lot to be desired. While their halftime show is a rushed affair lacking in analysis or personality, their No. 1 booth has been a different story.

Every week, Van Gundy seemed to have a tongue-in-cheek score to settle with officials or a problem that he'd offer a solution for. But at the core of Van Gundy's popularity was his seasoned rapport with Mark Jackson drawing on a 30-year friendship that began when Van Gundy was Pat Riley's assistant coach. As the centerpiece of a three-man-booth with Mark Jackson and Mike Breen, Van Gundy was often the comic foil to Mark Jackson's straight-man routine.

As grating as Mark Jackson's commentary could be at times, his jocular exchanges with Van Gundy were captivating. Just like his NBA prime, Jackson would drop a dime and Van Gundy would finish the exchange by flushing home a peculiar point.

In those off-script moments, Van Gundy's dorkiness and pastoral jock in Jackson were chicken and waffles. It didn't make sense from afar, but they found a way to elevate each other during games. Along with Mike Breen, the trio ranks only second to the studio hijinks of TNT's main Inside the NBA crew.

Whether it was a bizarre Van Gundy anecdote, his mocking Joel Embiid's ball handling, his trademark self-deprecation, complaints about the length of halftime, or proposing radical rule changes, or providing incisive analysis. But the latter is a skill most analysts have to varying degrees.

The casual jabs between Jackson and Van Gundy cut through the strictly business broadcast booths that ESPN has trotted out for its NBA coverage. The frontrunners to replace Van Gundy in the booth are JJ Redick and Richard Jefferson. Jefferson is the more affable choice who is in stark contrast to Redick's stern, all-business approach. Depending on who they throw him into the booth with, it could go sour pretty quickly with Redick. During the NBA Draft, the" awkward shooter" exchange between Redick and Andraya Carter falling flat exemplified how chemistry matters on air as much as it does on the floor.

As for Van Gundy, the Dallas Mavericks were reportedly pursuing him as their top assistant coach earlier this month, but it's debatable whether he'd want to potentially be forced to deal with the mercurial Kyrie Irving. He's also way too qualified to be Jason Kidd's assistant for too long. In that role, it wouldn't be too long before he's replaced Kidd at the top of the bench hierarchy.

It remains to be seen how much of a monopoly ESPN and ABC retain on the NBA as NBC prepares to re-enter the jockeying for NBA broadcast rights package in 2025 and beyond along with Amazon, Apple, the Worldwide Leader as well as TNT. In the long run, Van Gundy's departure may wind up paving the way for the creation of a new broadcast superteam-in-slacks alongside his brother Stan, who is currently a TNT color analyst who spent the Eastern Conference Finals waging war with Tyler Herro's sideline fits. Two Van Gundy's is the ideal, but it risks being too much Van Gundy improv comedy. Someday ESPN will have to face the basketball gods and explain their actions. They may have saved themselves a few million dollars by dumping Van Gundy, but only harmed their own mediocre broadcast product in the process.

---
Follow DJ Dunson on Twitter: @cerebralsportex