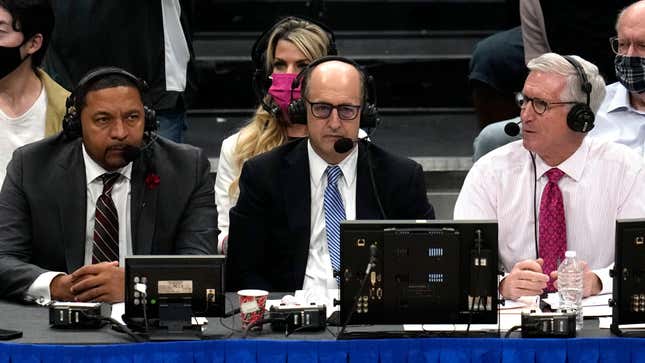 ESPN NBA color analyst Jeff Van Gundy has never been shy when it comes to speaking his mind and voicing his opinions on the game of basketball. As a former head coach in the association and broadcaster for over a decade, he knows the game's ins, and outs better than most. However, his latest commentary could leave many fans scratching their noggins. The former New York Knicks coach feels the association should essentially remove halftime from the game or at least make it shorter.
Rob Riggle, Amin Joseph, Joshua Malina and more share NBA Finals predictions
Van Gundy sat down with The Athletic recently and explained his views on the game and things he'd do to improve the flow, among other ways to speed up games.
"This whole idea of what goes on at halftime, I think, is so misunderstood. It's a lot of either praising what just happened or correcting. But you could do that in two minutes out by the bench in an elongated timeout," he said.
It sounds strange, especially to those who grew up playing/watching team sports like basketball, football, and hockey. In hoops and football, you get a longer break in the middle of games, and in hockey, after the first, and second periods. It's an off-the-wall take, undoubtedly, that hits the ear weirdly. At first read, it doesn't make much sense, but Van Gundy already has the support of an All-NBA player in Damian Lillard.
"I'm w him on halftime, lol… I do not fw it."
Lillard posted on Twitter backing Van Gundy's proposal to rid the league of halftime. Dame can only speak for himself, but if other players hold the same opinion, maybe we'll see a change in how halftime is constructed. The NBA likely won't do away with halftime altogether, especially for nationally televised games, as that would severely hinder advertising time during games. We always need to consider the business side of these types of decisions. If it doesn't make dollars, then it won't make sense to this billion-dollar entity.
Halftime isn't the only part of the NBA game Van Gundy feels should be overhauled. Van Gundy also sees no use in free throws. Well, not until the last four minutes of games.
"So my most radical one is to eliminate free throws until the last four minutes," Van Gundy said.
"I don't think you want to take away free throws in the last four minutes of a game. But let's speed it up. The only person that likes free throws is a play-by-play announcer because they can wax poetically about some story. It's the extra point of the NBA. It serves no rational, reasonable purpose."
The man speaks his mind
That's a mouthful, but we've come to expect that from Van Gundy. Although it's hard to imagine many star players coming to Van Gundy's defense behind this new stipulation he's presented. Many of the NBA's best players get easy foul calls just about every time they've got the ball in their hands. It can be excessive sometimes, and finding a way to get more consistency in foul calls would be great but getting rid of free throws until late in the game feels like a stretch.
Simply awarding points on fouls feels more like a bailout, as nobody shoots 100 percent from the charity stripe. Most players don't shoot over 80 percent, so when a 60 percent free throw shooter is fouled, now we're going to automatically add two points to his team's total. Good luck getting teams to agree with that philosophy just to save a few minutes. Van Gundy calls it the extra point of the NBA. While that might be an apt comparison, not even NFL extra points are 100 percent across the league. In pressurized situations during big games, even the best can fail. We see this in the NBA playoffs frequently regarding clutch free-throw shooting.
Hopefully, the NBA pays these Van Gundy changes no mind, and continues with their day. While Van Gundy expresses that the last four minutes would be the free throw shooting portion of the game, missed or made foul shots throughout the game have an impact on the ending many times. It would be baffling if Commissioner Adam Silver and the NBA seriously considered this, but stranger things have happened.