On Thursday, Jenny Simpson won the 1500-meters in Zurich, and with it, the Diamond League overall title in the event. She became the best miler in the world in 2014, and in a sport that often mires itself chasing times or medals, Simpson's accomplishment had nothing to do with either and was more rewarding than both.
The Diamond League, now in its fifth season, is a series of 14 international track meets that practically requires an Olympic or World Championship medal just to get in. Over the course of the season, from May to September, each discipline is contested seven times, and a cumulative score based on place decides the overall winner. In sum, the Diamond League requires a perfection of skill and a peak of fitness for a grueling four months. It stands in marked difference to how the sport of track and field usually operates.
Track is a sport crippled by two evils: the stopwatch and the Olympics. The stopwatch tries to find validation in the thousandth of a second, and the Olympics wants to have one big hoopla every four years. Both are complete crap.
The stopwatch's flaw is it places value on a race based on every race that preceded it. World records are lauded and anything short is a failure. It's like that guy at the party that won't shut up about every other party he's ever been to. Records have their place—Usain Bolt's 100- and 200m races were thrilling, and baseball was reignited by the Bonds/Sosa/McGwire home run era. But just because no one's threatening the home run record this year doesn't mean that announcers spend their time debating why not. The same can't be said for track.
And then there's the Olympics. Once every fours years a winner-takes-all competition is held. Simply advancing to an Olympic final requires Vegas-level luck of navigating through rounds, and the model has the same perils of any other playoff system: upsets abound, chaos reigns, and the best team doesn't always win. It's exciting in the same way that the playoffs are exciting. But the difference is that where basketball fans have the emotional buy-in during the regular season before the playoffs' start, the Olympic model is without. It's all frosting, no cake.
G/O Media may get a commission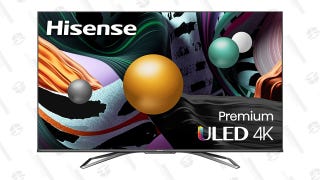 Save $350
Hisense ULED 65" Android 4K HDR Smart TV
But there is a middle road of the Diamond League. Winning a title doesn't require the stars to align like the Olympics, and the times, while fast, only occasionally break records. This year, Simpson's best ever, has focused on winning over a season, something rarely achieved because of its difficulty. Of the seven races, the lowest Simpson placed was fourth, with three overall wins and two runners-up. It allowed fans to follow a storyline, a regular season before the winner-takes-all nature of the Olympic buildup. In 2014, Simpson has put on a clinic of tactical, fast racing, and it has been substantive in a way that world records and Olympic medals aren't.
Simpson's accomplishment should be celebrated. So should records and medals. But a Diamond League title should be recognized as superior to both. In 2014, without a world record or Olympic medal, Jenny Simpson became the best miler in the world. Neither were required.