Jeremy Lin underwent surgery on a torn meniscus yesterday, and soon afterward got it into his head to hold a massive Q&A with fans on Facebook, "once the painkiller drugs wear off."
It was an absolute mess, as you'd expect from the collision of Linsanity and Facebook users.
Given the chat's demographics (90% Asian, 50% evangelical Christian, average age about 15, and evenly divided between girls who wanted Jeremy to take them to prom/marry them and boys who wanted to challenge him in Call of Duty/one-on-one) and its sheer scale (the thousands of participants asked well over 8,000 questions at a rate of around two per second), the session ended up being a tremendously disorienting experience. Can you imagine watching a Kidz Bop video at 64x fast forward on acid? Basically, that.
The Wall Street Journal has done yeoman's work, compressing the Qs and As down to a legible transcript. We'll pare it down even further, giving you all the Lintensive care Linfo you need to know, in bullet point form.
• Lin's favorite Pokemon is Blastoise. "He's a beast!"
• Lin would like to visit Japan and Korea this summer. His best friend is Korean.
• Lin "struggle[s] with pride every day," but keeps in mind that "I'm still a sinner, no matter how many points/assists/wins I get on the court."
• Some unnamed Knicks teammates "like to fart continuously."
• Lin hates all insects besides ants.
• Lin would not fight a tiger for an NBA championship. He would fight a snail.
• Lin couldn't finish the Harry Potter books because they were too long.
• Lin does not have a girlfriend, but he still won't go to prom with you.
G/O Media may get a commission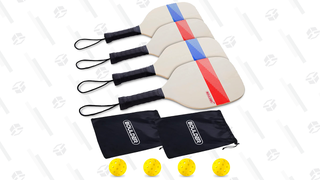 It's Pickleball
Pickleball Sets
The Q&A ended shortly after midnight when Jeremy vomited on himself.