After Sunday's loss to the Giants, both owner Jerry Jones and coach Jason Garrett were adamant that Dak Prescott is the starter and Tony Romo is the backup. On Monday, Garrett reaffirmed his support of the rookie, declaring that Prescott is his quarterback. On Tuesday? Well, Jerry Jones just can't help himself.
On his weekly radio show on The Fan 105.3 (and here one wonders if it might be easier for him to stop saying things if he didn't have a weekly radio show), Jones raved about the Cowboys' "depth at quarterback," and addressed what it would take to replace Prescott with Romo.
"I don't have a definition for it, but you'll know it when you see it," Jones said. "It's kind of like a definition I heard one time of another issue trying to define a negative topic, and they said, 'I don't know how to say it, but it's just something that when you see it, you'll know it's there.' We'll see it."
(That's Supreme Court Justice Potter Stewart's test for defining obscenity, and I too know obscenity when I see it.)
Look, Prescott's coming off three straight subpar games, and we all know he's allowed just one more stinker before rusty-as-hell Romo is handed the reins for the playoffs. That almost feels inevitable at this point. But, as local papers and radio stations are ranting today, Jerry could just shut up for a second and not undermine his 23-year-old presumptive franchise quarterback of the future, who has enough to worry about game-planning for a formidable Bucs defense without being outright told that his owner, and Tony Romo's biggest fan, is waiting and watching for his cue to make a switch.
G/O Media may get a commission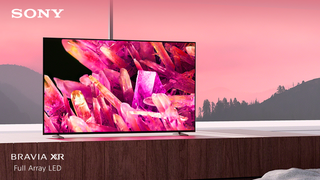 $400 off
Sony 55 Inch 4K Ultra HD TV X90K Series
Jones also said that Romo coming back and leading the Cowboys to a Super Bowl would be a story "for the ages." Good job, Jerry.
Anyway, we should all root for chaos and controversy. In Dallas, they're undefeated.
[CBS DFW]