We're now a few weeks into Jerry Jones's crusade to teach Roger Goodell a lesson about the limits of his power and, at this point in the exercise, that amounts to an aggrieved Jones staring across a bargaining table at a group of NFL owners who are getting progressively more fed up with his shit. The two parties are not exactly exchanging salvos, they're mostly threatening to sue or even threatening to threaten each other, and every development from the past week has been characterized by its inscrutability. Nothing's happening, but each party wants the other to know that They Are Serious.

This is all very dumb and spiteful, and not productive whatsoever for the NFL writ large. But it befits a man whose been ruthless in his quest to consolidate his power for decades.
Anyway, here's today's update, from the Wall Street Journal: Jones asked the owners for a private meeting, presumably to scare them into joining him and getting their knives out for Goodell. They told him to eat shit, as fewer and fewer owners are in support of Jones tilting at this particular windmill. Jones always has gotten his way in such power struggles, and he's even sued the NFL before. But given that they've discussed how they'd give him the boot and are reportedly moving closer to extending Goodell, it seems that he's as alone as ever in this matter.
This whole affair has played out slowly as warring groups of extremely rich men have sat back, talked shit, and sniped at each other without really making any moves. That's because at this point, the actual rules in play would seem to lock out Jones from the Goodell contract extension process, and the only way he can force his way back in would be to make a big drastic move. And the only way the owners could get him to shut up and take the loss would be to make a drastic move of their own, so this stalemate will stay in place until one side concedes or blows it up.
G/O Media may get a commission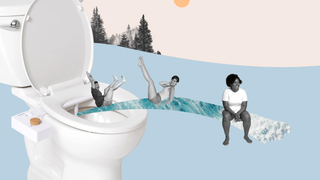 17% off
Tushy 3.0 Warm Water Spa Bidet Attachment
Oh, and more interestingly, people are maybe actually mad about the whole Papa John's debacle:
Beyond the litigation Jones has threatened, some owners have been furious over their belief that he encouraged Papa John's CEO John Schnatter to criticize the league, which the people said could qualify as detrimental conduct. Papa John's is an NFL sponsor and said on an earnings call recently that the NFL has "hurt us," citing the player protests during the national anthem.
Let us hope this case finds a way to get even more nonsensical and spiteful. Seems like a safe bet.